Schaaf holds groundbreaking for Fruitvale affordable housing project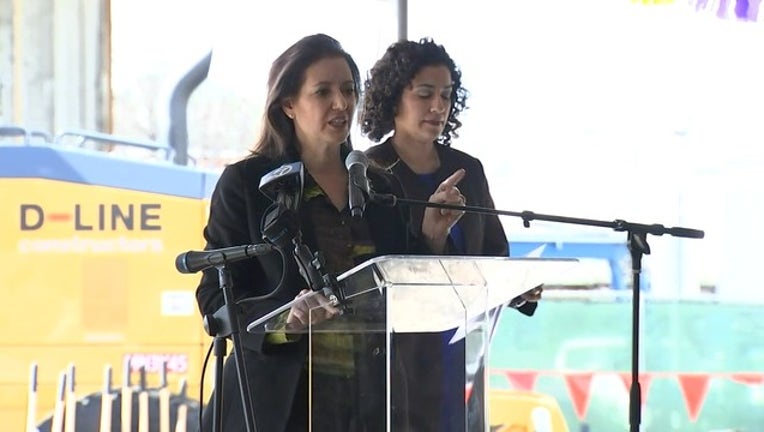 article
OAKLAND (BCN)-- Oakland Mayor Libby Schaaf and other officials participated in a groundbreaking ceremony today for a new 94-unit affordable housing development in the Fruitvale Transit Village.
The development, which is expected to be completed next year, is being built on a city-owned BART parking lot only steps away from the Fruitvale BART station, a major AC Transit hub and the planned Bus Rapid Transit line.
Schaaf said, "This day is deeply personal" because she has worked with others for many years to bring the project to fruition.
The mayor said, "BART has changed a lot" because at one point in the past it planned to build a huge parking lot near the Fruitvale station because "BART felt it had to protect its riders from this community."
The development is called "Casa Arabella" to honor Arabella Martinez, the founder and former chief executive of The Unity Council, which has worked with the East Bay Asian Local Development Corporation and the city to increase the amount of affordable housing in East Oakland.
Martinez also recalled BART's plans to built a four-story parking structure that she and other community activists thought would separate BART from the community and result in an increase in crime and pollution.
Martinez said, "With the city's help we reversed BART's decision" and she thanked BART for working more closely with the community in recent years.
Martinez said, "I'm really honored and truly humbled by having Casa Arabella named after me. This is a community that I really love."
BART Board President Robert Raeburn said, "We have transitioned from the days of old" and said the transit agency's ridership at the Fruitvale station has increased by 2,500 passengers a day since the Fruitvale Transit Village was created in 2004.
Raeburn said transit-oriented housing that's being built at the Fruitvale station and is already in place or in the works at other stations "enhances the community and benefits the environment by reducing emissions" from cars.
Planners say the development will include 94 units, 92 affordable and 2 market rate, and house about 400 people. 20 units will be reserved for homeless veterans.
The affordable housing units will be rented to people who make 20 to 60 percent of the area median income.
In addition to managing the apartments, the Unity Council and the East Bay Asian Local Development Corporation will provide onsite support services to residents, including a full-time resident service and workforce coordinator, who will connect residents with economic empowerment services, as well as a full-time veteran services specialist.
Funding for the development is coming from the city, the state, Alameda County, the Oakland Housing Authority, Federal Home Loan Bank of San Francisco, the California Municipal Finance Authority, MUFG Union Bank, Citi and U.S. Bank.
Alameda County Supervisor Wilma Chan, whose district includes part of Oakland, said the development is important because "housing is the number one issue in Alameda County and the city of Oakland."
Chan said building housing where transit services are in place "creates a better quality of life for all of our residents."