Scientists believe ship strikes killed 3 whales found in bay this month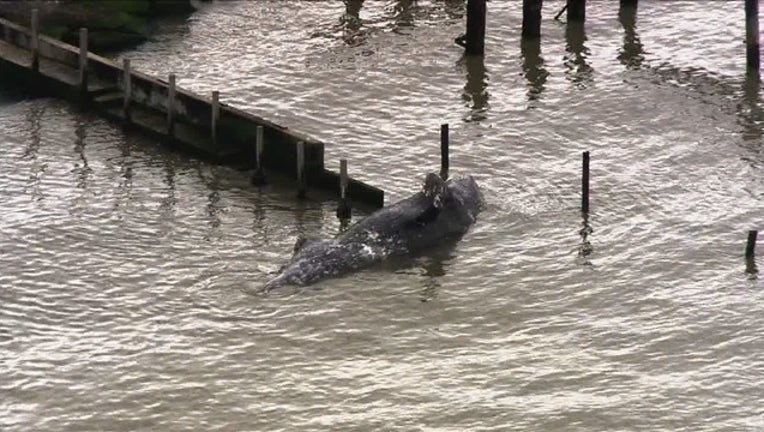 article
OAKLAND, Calif. (BCN) - Two gray whales found dead in the last two weeks in San Francisco Bay died after being hit by ships, scientists with The Marina Mammal Center confirmed Friday.
The scientists also believe a third gray whale, found dead on April 13 near Richmond, may have also been the victim of a ship strike.
During a necropsy completed on Thursday, the scientists found that the whale suffered deep propeller wounds that severed its tail. Otherwise the whale was in excellent condition, indicating that it wasn't suffering from malnutrition.
"We're incredibly concerned to discover the death of three gray whales due to ship strikes in two weeks," the center's Chief Research Pathologist Dr. Padraig Duignan said in a statement. "Investigating each death is critical so that decisionmakers can advise on shipping speeds in area where whales are known to travel."
Increased numbers of gray whales have been spotted in the Bay as the whales continue their northerly migration this spring, mammal center officials said.
This year alone, seven whales have been found dead in the bay, with three confirmed to have died from malnutrition. An investigation into how a whale found near Hercules on April 13 died remains pending.
"The death of seven gray whales in the San Francisco Bay Area this year is a cause for serious concern as it speaks to the broader challenges this species continues to face," Duignan said. "The findings of these investigations are incredibly valuable as they can help policymakers find long-term environmental solutions to help prevent these incidents in the future."
Blunt-force trauma as a result of ship strikes, malnutrition and entanglements are the three most common causes of death for whales, according to officials with The Marine Mammal Center.
Because of climate change, gray whales are becoming increasingly vulnerable to things like changes in water temperatures and food availability. Furthermore, center scientists have noticed more whales frequenting the Bay and staying for longer periods of time.
"Many of the gray whales traveling though the relative safety of our outer coast waters of the sanctuary are detouring into the dire straits of San Francisco Bay in an act of desperation," Mary Jane Schramm, spokeswoman for the National Oceanic and Atmospheric Administration's Greater Farallones National Marine Sanctuary, said. "Anyone on boats and other watercraft should prevent additional stress by staying at least 300 feet away and give them every break you possibly can."