Several suspects wanted for armed robbery of Milpitas jewelry store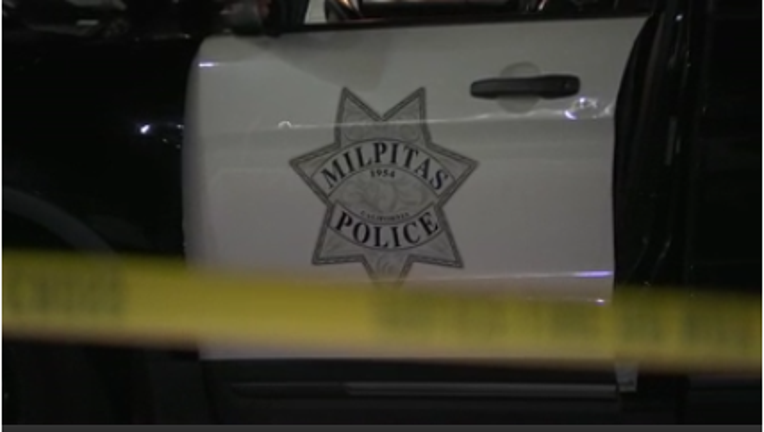 article
MILPITAS, Calif. - Police are searching for multiple suspects in an armed robbery at a jewelry store in Milpitas.
Around 2:40 p.m. at 1535 block of Landess Ave. Friday,
 police were notified about shots being fired in a robbery in progress. Police said one of the eight suspects discharged their firearm "in the direction of an employee."
Officials say no one was injured.
The suspects fled the scene in two separate cars with an "undisclosed amount of property." Police did not specify in the property was merchandise, personal effects of the employees, or money.
One suspect is identified as a Hispanic male, 6 feet 2 inches, and around 200 pounds. The remaining suspects are identified as "possibly Hispanic." 
SEE MORE: Officer shoots knife-wielding minor in Tracy, suspect in 'serious condition'
One suspect was last seen wearing a light-colored hoodie with a dark blue or black vest. Another was wearing a red hoodie, and a third also a light-colored hoodie.
They are believed to have fled in both a black four-door sedan and a burgundy SUV.
This robbery occurred just hours after a separate robbery in Mountain View. Police did not confirm if the robberies were connected; though, a black sedan is also a suspected vehicle in that case.
Anyone with information about the Milpitas suspects or the crime is urged to contact the Milpitas Police Department at (408) 586-2400. Anonymous reporting is available through the Crime Tip Hotline at (408) 586-2500 or online.
O. Gloria Okorie is a digital reporter for KTVU. Email O. Gloria at o.gloria.okorie@fox.com or call her at 510-874-0175. Follow her on Twitter @ogloriaokorie.