SFPD Chief Scott passed up for top job with LAPD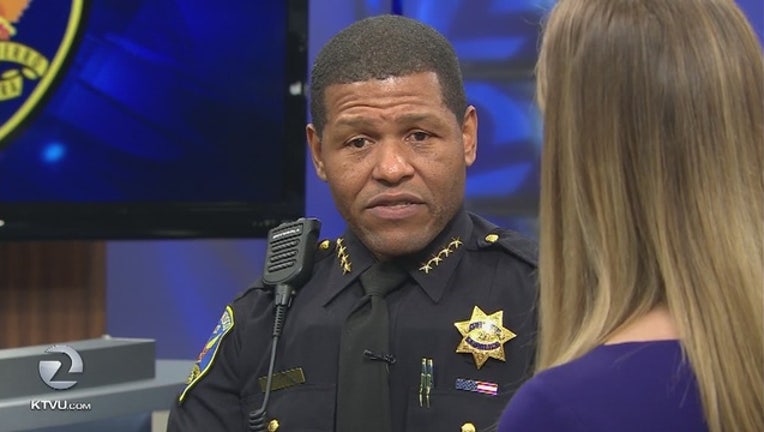 SAN FRANCISCO (KTVU) - The mayor of Los Angeles announced a veteran officer has been named the chief of police, ending speculation San Francisco's Chief Bill Scott would take the job. 
The announcement was made late Monday afternoon. Chief Scott had been one of the top contenders for the position. He spent decades as a high-ranking member of the Los Angeles Police Department before succeeding embattled Chief Greg Suhr, who had come under fire for a number of fatal officer-involved shootings that had occurred under his watch. 
Los Angeles Mayor Eric Garcetti named 36-year-veteran Michel Moore as the new head of LAPD. 
Chief Scott issued a statement after the announcement was made, reiterating his commitment to the department and for the first time, explicitly addressing his candidacy for the position.   
"By now, you have heard that I explored an opportunity to return to Los Angeles to serve as the leader of that city's police department," Scott wrote in his statement. "Throughout the process, I maintained focus on the mission of the San Francisco Police Department to provide safety with respect for all in our City. This offer provided me an opportunity to reflect on how much our department has accomplished and the challenges we face here in San Francisco. I remain committed to the work ahead to maintain public safety, reduce crime and strengthen the relationships between our officers and the people of the City and County of San Francisco."
The San Francisco Police Officer's Association, which has been at odds with Chief Scott over use of force issues regarding Tasers, said they would continue to work with Chief Scott and members of the San Francisco Police Commission to ensure the officers they represent have "qualified leadership." 
"We hope Chief Scott remains committed to this City and our mission." The SFPOA's statement read.