Sierra LaMar killer made 'noose' out of plastic bag in custody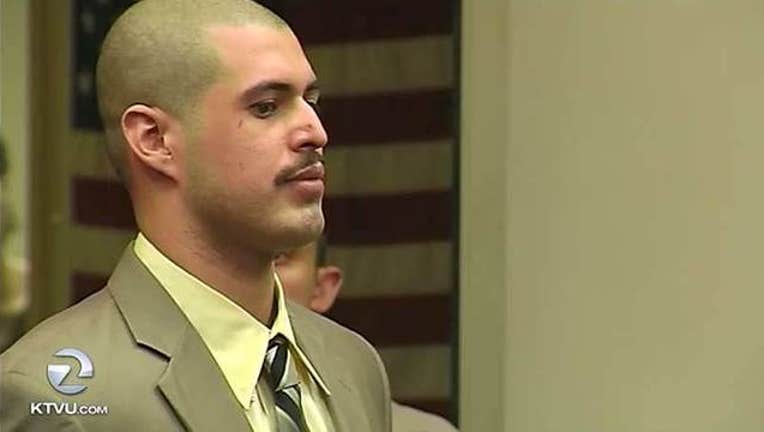 article
By Bay City News Service
The convicted murderer of missing teenager Sierra LaMar fashioned a noose out of a plastic sandwich bag while in custody last month, a Santa Clara County sheriff's deputy testified in court this afternoon.
Antolin Garcia-Torres, 26, was convicted on May 9 of the first-degree murder of the 15-year-old in 2012 as well as the attempted kidnappings of three women in 2009.
This morning marked the beginning of the penalty phase of the months-long trial, in which the jury is set to determine whether to impose either the death penalty or life in prison without parole.
On April 14, Garcia-Torres was leaving one of the holding cells where inmates are served lunch while they await court appearances when he dropped the device in an empty trash can on his way into the Hall of Justice,
Deputy Tony Chang said.
The sound the item made when Garcia-Torres threw it away drew Chang's attention, so he pulled it out of the trash, examined it with another deputy and snapped photos.
Those photos, which prosecutor David Boyd showed the jury in court today, show a tightly wound plastic noose with an uneaten, palm-sized sandwich balled up at one end.
Chang said the roughly 10- to 12-inch noose could fit over an adult's head, and was wound tightly enough that the plastic did not break when he tugged on it.
The deputy found the noose concerning in its "sophistication," he said, pointing out that because it was adjustable, he believed it could be used as a strangulation device.
When Boyd asked if Chang had seen such a device before, he said he had, but only in training. Chang admitted to Matthews that he had left the item with another deputy and had not booked it into evidence.
Defense attorney Brian Matthews suggested that Garcia-Torres, who had been left alone in the holding cell for two or three hours, simply made the noose out of boredom with no intention of using it as a weapon.
"All he has is his lunch and these plastic bags," Matthews said.
Inmates are allowed to receive legal papers in the holding cell, but Chang was not sure whether Garcia-Torres had any reading material to keep him occupied that afternoon.
Garcia-Torres appeared in court at 3 p.m. on April 14 for a hearing that the jury was not scheduled to attend.
Jurors also heard testimony from a Morgan Hill police officer who arrested Garcia-Torres on suspicion of obstructing police in 2009, two months after the attempted kidnappings for which police had not yet identified him as a suspect.
On May 29, 2009, officers Carson Thomas, Jason Broyer and Greg Dini were chasing a wanted felon down a dirt road in the area of Llagas and East San Martin avenues when the man, Jared DiSalvo, ran into Garcia-Torres' home.
When the officers ran after DiSalvo and encountered an 18-year-old Garcia-Torres in the tiny kitchen, the teen allegedly refused to get out of the way when ordered and repeatedly said "F--- you, pigs! Get the f--- out of
my house."
On the stand today, Thomas said he was in uniform and had brusquely instructed Garcia-Torres that they were chasing a wanted felon who had run into the house, but said that information did not change the teen's
attitude.
When the officers handcuffed Garcia-Torres, he allegedly told them to keep their hands off his sister, which was not provoked by any physical contact with the teen's sister, Thomas said in court today.
The jury is set to return on Wednesday afternoon, after a morning hearing to go over the inclusion of testimony regarding psychological assessment of Garcia-Torres.