Sleeping 11-year-old awakened by out-of-control truck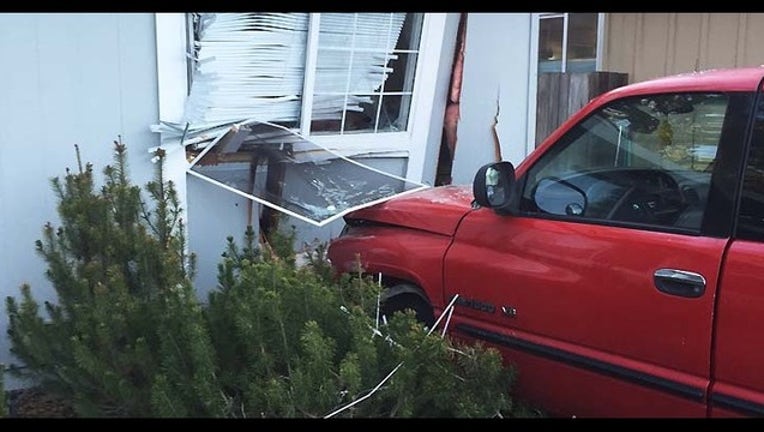 article
SANTA ROSA, Calif. (KTVU and wires) – A 23-year-old Santa Rosa man was being held on a variety of charges Tuesday after he lost control of his truck, slamming into a home and trapping a sleeping 11-year-old in his bedroom closet.
Santa Rosa police said Timothy Charles Bendana, 23, was being held in Sonoma County Jail on $100,000 bail and has been charged with three felony counts – felony hit-and-run with injury, possession of marijuana and running a hash lab.
Bendana allegedly lost control of his pickup truck, careening into Liam Fitzsimmons' family home in a Bennett Valley neighborhood at 4 a.m. on Monday.
"He didn't stop at the stop sign and hit my son's wall," his stepfather, Donald Marlatt, told KTVU. "It (the force of the crash) launched him through the closet to where his torso left an imprint in the closet."
Liam was not seriously injured and awoke amid debris in the closet of his room.
"I yelled 'Mommmm!'" Fitzsimmons told the Santa Rosa Press Democrat. "My bed is parallel to the wall, so I was amazed when I was in the closet and I looked up and saw headlights shining in my bedroom. My bed was everywhere."
Luckily, Liam only suffered minor injuries including a large scratch on his back.
"I'm grateful to God," Marlatt told KTVU as he stood amid the debris of his son's room. "It was all God's work… He protected Liam."
Bendana, who lived nearby, fled the scene on foot and was traced to a family member's home in Novato where he was arrested.
Authorities said during a search of Bendana's home they discovered glass pipes, marijuana plants and other materials needed to make hash.
"The truck had major damage, and there is no indication the driver intended to stop," Santa Rosa police Sgt. Ryan Corcoran told the paper. "We also found evidence in the driver's home that indicated he was growing marijuana and producing hash that he intended to sell."
Bendana was expected to make a court appearance on the charges later this week.