Soaring rents in the Bay Area may be coming to an end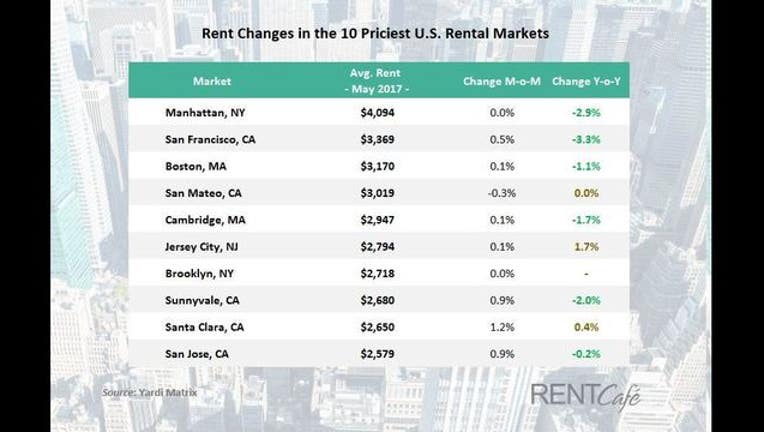 article
SAN FRANCISCO, Calif. - According to Rent Cafe's Apartment Market Report, the homes of the top ten highest rents in the Nation are; Manhattan (NY), San Francisco (CA), Boston (MA), San Mateo (CA), Cambridge (MA), Jersey City (NJ), Brooklyn (NY), Santa Clara (CA) and San Jose (CA). 
The Bay Area reigns on the list of most expensive rents in the Nation, holding 5 of the top ten spots.
For the fourth month in a row, San Francisco is at the top, but prices are dropping. The reports shows a 3.3% decline in monthly rent over the year. The average cost of rent in San Francisco is now down to $3,369 a month. Have soaring rents in the Bay Area finally come to an end?
Various other spots in the Bay Area; San Mateo, Santa Clara and San Jose remain virtually unchanged. Oakland and Sunnyvale have both seen about 2% drops this year. 
California now contains eight of 15 of the fastest growing cities. Sacramento alone has climbed 6 spots in the past year. 
Apartment construction has grown immensely in the past year, and will continue to rise, adding more housing opportunities in cities that could lead to lower rents. 
According to Doug Ressler, senior analyst at Yardi Matrix, "even if demand for apartment living is still robust, rent growth will continue to taper off in the coming months, mainly prompted by the record number of new apartments entering the country's tightest markets."