South Bay air quality suffers under smoky haze due to wildfires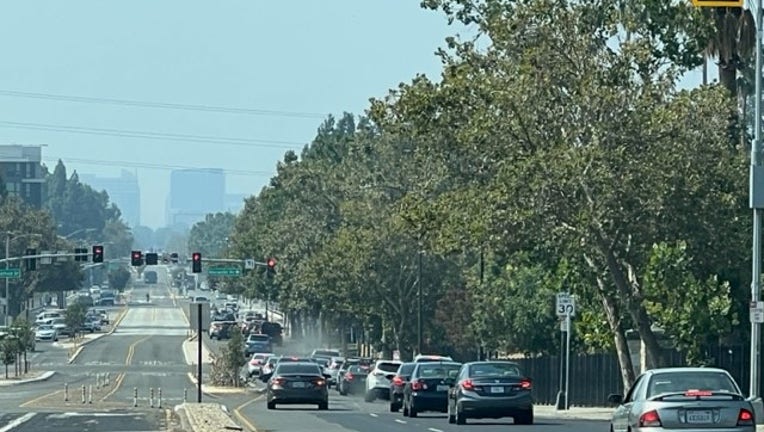 article
SAN JOSE, Calif. - Air quality is a concern across the Bay Area, including in the South Bay, where a large, outdoor event is scheduled to take place Thursday.
"I have a little asthma, so I can feel it," said Dr. Eric Hiasho. 
He's not only a pulmonary and critical care physician at San Jose's Valley Medical Center, but he also suffers from asthma.
He said seeing and smelling, is believing: Unhealthy air that's hanging over the South Bay is a threat to those sensitive to environmental changes.
"I could immediately smell the smoke, so I closed my window," said student Audrey Marfia.
The smoke's source is hundreds of miles north of the Bay Area. But south winds, Wednesday, soured conditions in the South Bay.
"Most of the smoke is in the lowest layer, about a thousand feet deep. And that's why you can't see anything in the Bay Area right now. Because all that smoke is concentrated pretty close to the surface. It's also the reason the AQI (air quality index) is going through the roof," said Dr. Craig Clements, director of the San Jose State University Fire Weather Research Laboratory.
Some South Bay schools stopped short of mandating students stay indoors. Instead, they modified outdoor activities.
"We do different levels of modified P.E. to keep the kids safe. So it could be anything from reducing cardiovascular output to staying indoors," said Devin Blizzard, an employee of the San Jose Unified School District. "So we'll adjust both athletics, after school, and P.E. during the day."
The Xs and Os of avoiding unhealthy air get more complicated after school hours.
People suffering from lung ailments, such as asthma, face an elevated risk of problems linked to the air when exercising outdoors.
"Irritants like this will cause some inflammation of the airways. And that's where the symptoms come from," said Hsiao.
Many school districts and sports leagues are giving school-age children the option to skip practice or competitions.
"Practice is optional. So I did not end up going," said Marfia.
But the San Francisco 49ers football team is slated to play its home opener Thursday, in front of a national audience, and perhaps behind a blanket of haze.
"If you know that you have asthma or other airway disease, try to avoid it," said Hsiao.
Experts said as the week has progressed, conditions have improved. They expect that trend to hold leading into kick-off Thursday night, of the New York Giants-49ers football game at Levi's Stadium.
Jesse Gary is a reporter based in the station's South Bay bureau. Follow him on Twitter, @JesseKTVU and on Instagram, @jessegontv