South Korean police report US ambassador injured in razor attack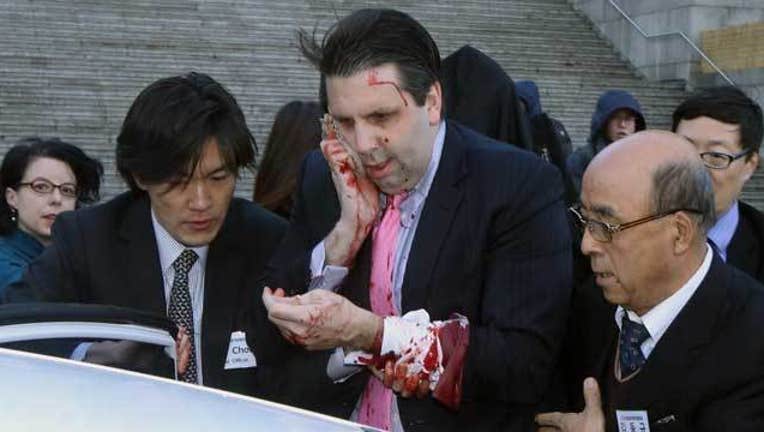 article
SEOUL (KTVU-AP) -- U.S. Ambassador Mark Lippert was attacked by a man wielding a razor and screaming that the rival Koreas should be unified, South Korean police and media said Thursday.
TV images showed Lippert bleeding from his head and wrist, but his injuries, which the White House says are not life threatening, weren't immediately clear. He was taken to a hospital for treatment.
YTN TV reported that the man screamed "South and North Korea should be reunified" during the attack. The rival Koreas have been divided for decades along the world's most heavily armed border. The U.S. stations 28,500 troops in South Korea as a deterrent against North Korea, and some South Koreans see the U.S. presence as a barrier toward a unified Korea.
YTN TV said Lippert's injuries weren't seen as life threatening. Police confirmed that Lippert was attacked and a suspect was detained and being questioned but didn't have other details, including the type of weapon and the extent of Lippert's injuries. YTN said a man only identified by his surname, Kim, was detained after the attack.
Lippert, 42, became ambassador last year and has been mostly popular during his time in Seoul. His wife gave birth here and the couple gave their son a Korean middle name. Lippert was formerly the U.S. Assistant Secretary Defense for Asian affairs.
The attack came before Lippert was to give a speech at a breakfast event in Seoul organized by the Korean Council for Reconciliation and Cooperation, a non-profit organization promoting exchanges between the two Koreas, a spokesman said.
The attacker, identified only as Kim, was shouting slogans opposing military drills as he was taken into custody, Yonhap News reported. The man involved in today's attack received a suspended two-year jail sentence for throwing a piece of concrete at the Japan ambassador to South Korea in 2010, Yonhap said.
South Korea and the U.S. began joint annual military drills earlier this week that are opposed by North Korea and its sympathizers.