Southbound U.S. 101 fully reopen after gas line work
PETALUMA, Calif. - Southbound US 101 was fully reopened Sunday afternoon after the completion of gas line work on a section of the roadway, Caltrans officials said. 
The highway, was originally set to open at 9 a.m. Sunday, but Caltrans extended the closure until 2 p.m.
Southbound US 101 had been closed since Saturday night, from Lakeville Highway in Petaluma to Atherton Road in Novato, so crews could reroute gas transmission lines that passed under the highway. The lines were left exposed after a landslide near Redwood Boulevard and Buck Center Drive in Marin County.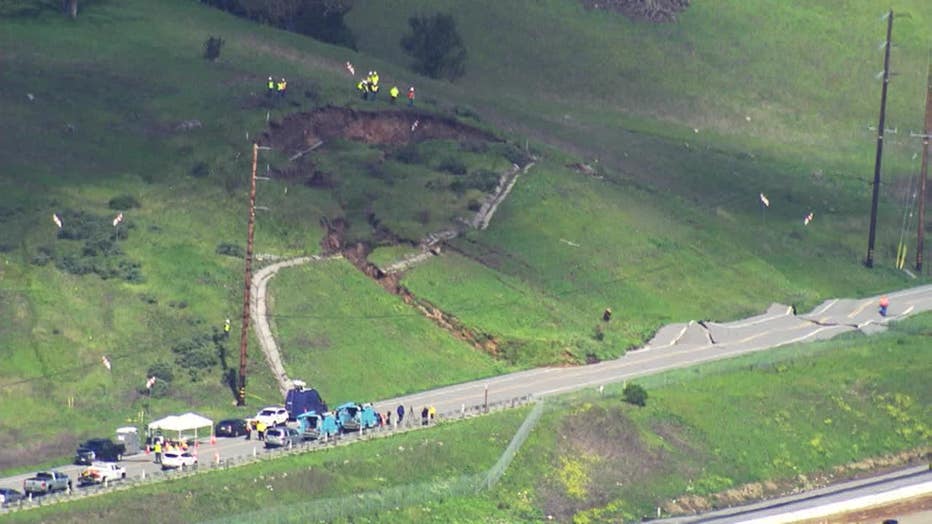 Due to a potential storm expected early next week, PG&E built a temporary bypass on Saturday as a safety measure.
The landslide happened on Wednesday during powerful storms. That's why PG&E raced to make the repairs before the next round of rain moves in. 
"That's why we are working to hard right now trying to beat the rain," said Rich Yamaguchi, the Senior Director of Gas Transmission and Distribution at PG&E. "We're digging and excavating. When those holes fill up with water it makes it that much harder to do our work. So we're racing the clock, we're racing storms coming in, in order to get this resolved."
SEE ALSO: Landslide and mudslide dangers increasing throughout Bay Area
The gas transmission lines deliver gas to 95,000 customers in Marin County. Yamaguchi said they needed to construct and install a new gas line, to reroute it away from the landslide.
The slide also took down two power poles and badly damaged part of Redwood Boulevard, which is the frontage road to highway 101 in Novato.
"The rains are still coming in. We have a hillside there that is still moving even under these sunny and dry conditions," said Gerald McCarthy, the interim Deputy Fire Chief with the Novato Fire District. "We've gone from drought to an excessive amount of rainfall in a brief amount of time."
Yamaguchi called it the most significant slide event they've responded to during the storms. He said there was no disruption to service during the repairs. 
"There is no danger at this time. That's what we are trying to do - make sure everything is safe up here," said Yamaguchi.  
KTVU's Elissa Harrington contributed to this story.