Southern California forest fire grows after forcing campers to flee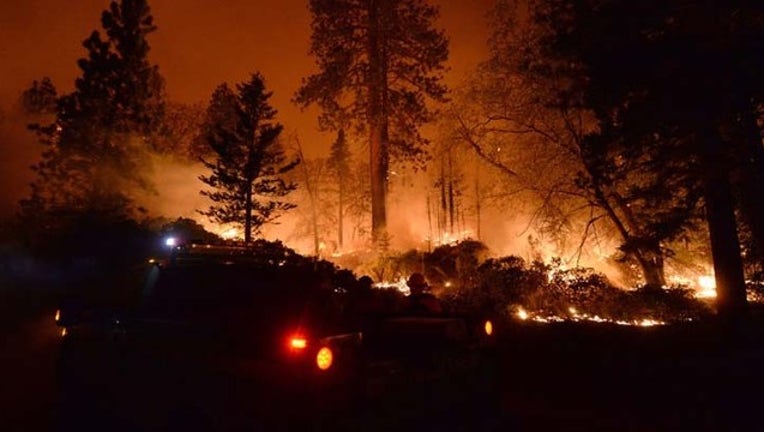 article
LAKESIDE, Calif. (AP) -- A forest fire that forced the evacuation of several rural Southern California campgrounds exploded in size Thursday, with flames churning through tall trees and sending up a massive plume of smoke.
The blaze in a remote area of the San Bernardino Mountains grew significantly, to nearly 12 square miles, despite an attack by crews using water-dropping aircraft, according to the U.S. Forest Service. Just hours earlier, the fire was estimated at about 2 square miles.
"Luckily, there are not a lot of residents up there," agency spokesman Lee Beyer said, adding that a number of Forest Service cabins and organizational camps are in the path of the fire some 90 miles east of Los Angeles.
No structures have been damaged as flames consumed 30-foot pine trees along mountain slopes at an elevation around 6,000 feet.
Nearly 200 campers, most of them children, were evacuated from several wilderness sites after the fire was reported Wednesday afternoon.
Only a small maintenance crew was around as flames came within 100 yards of cabins at Camp Ta Ta Pochon, a YMCA facility in the Angelus Oaks area. Firefighters used water from the camp to fight spot fires, said Bill Walker, president of a local YMCA board who's also a suburban fire chief.
"We've got fire trucks all throughout our campground, which is reassuring," he said. "If the wind behaves and goes in the right direction, we'll be OK."
A lack of heavy winds aided firefighters working in steep terrain, but the blaze in the San Gorgonio Wilderness area was just 5 percent contained.
A section of State Route 38, the main mountain artery, and several other roads were closed.
Further south, crews slowed the spread of a wildfire near a casino in northern San Diego County that had forced the evacuation of about seven homes Wednesday.
The fire on the Barona Indian Reservation burned about 170 acres of dry brush, state fire spokesman Kendal Bortisser said. It was 38 percent contained, and no homes were threatened Thursday.
The cause of both fires was under investigation.