Riverside Co. deputy fatally shot, suspect killed following pursuit on freeway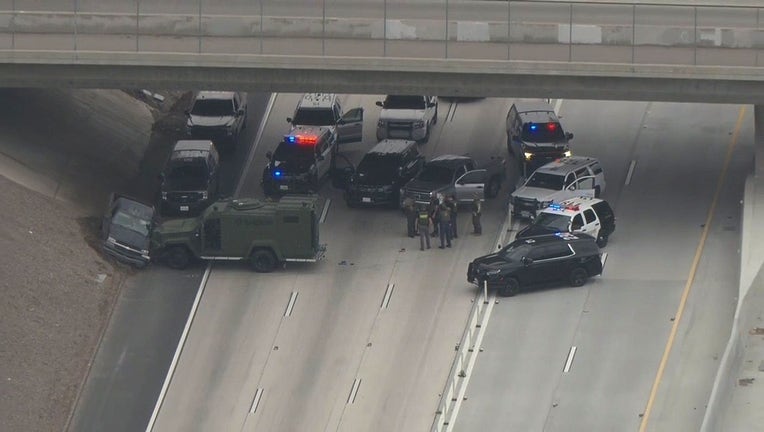 article
RIVERSIDE, Calif. - A suspect who shot and killed a Riverside County deputy during a traffic stop in Jurupa Valley has died following a pursuit that ended with a shooting on the 15 Freeway.
Law enforcement across Southern California began identifying the fallen deputy as Isaiah Cordero. Cordero was a motor enforcement deputy assigned to the city of Jurupa Valley, according to the department's Facebook page.
According to sources within the department, the deputy was shot during a traffic stop around 2 p.m. Thursday. The deputy was attempting to pull over a driver, that's when the suspect shot and killed the deputy, setting off a manhunt and later leading to a pursuit.
The situation came to a violent ending following the large-scale pursuit, where the suspect was shot by deputies on the 15 Freeway near Norco.
SEE ALSO: Grandmother seeks justice in Castro Valley shooting death of 20-year-old
The suspect did not die at the scene but was treated and transported to the hospital where he succumbed to his injuries.
As of 4 p.m. Thursday, the identity of the suspect has not been released.
Both deadly shootings remain under investigation. It is unknown what the suspect was initially wanted for when authorities initiated the traffic stop.
Hundreds of law enforcement personnel gathered outside Riverside Community Hospital Thursday evening to hold a procession for the fallen deputy. Draped with the American flag, the deputy's casket was taken from the hospital and put in a Hearse where dozens of patrol cars followed it from behind. 
Riverside County Sheriff Chad Bianco is expected to provide additional details during a press conference sometime Thursday evening.