SPCA offers reward in abandoned Chihuahua mix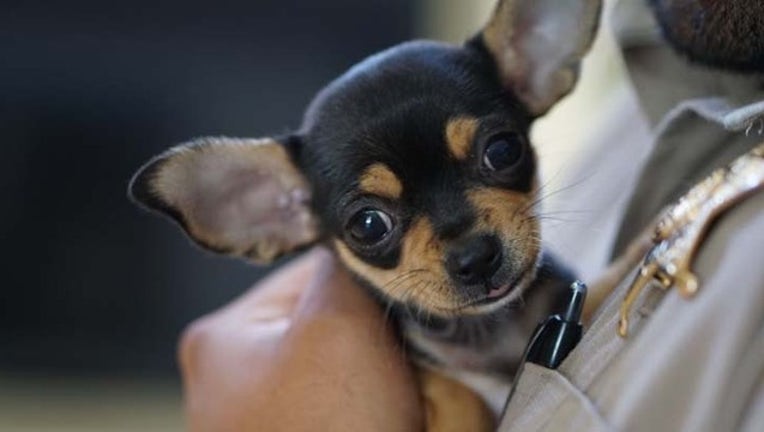 SALINAS, Calif. (KTVU and wires) -- SPCA for Monterey County offered a $1,000 reward Thursday for information leading to the arrest and conviction of the person or people who abandoned a Chihuahua mix puppy in Salinas.
   A woman who was visiting the area heard a puppy crying in an alleyway on Sunday near the Italian restaurant Patria at 228 Main St. in Old Town Salinas.
   According to the SPCA, she discovered the six-week-old puppy shut in a small lavender pet carrier with no access to food or water.
   "She said he was very hungry and thirsty," SPCA spokeswoman Beth Brookhouser said. "He was very dirty, and there was lots of excrement inside 
the carrier. It seems he had been there for quite some time."
   According to SPCA officials, the finder took the puppy to her hotel and fed him, and two days later brought him to the SPCA.
   Since then, the puppy, called "Pierre" by the SPCA staff, has been receiving veterinary services and care.
   "He will eventually be up for adoption once he's old enough," Brookhouser said. "Right now he needs to be held as evidence."
   According to the SPCA, the person or persons who abandoned Pierre could face animal cruelty charges.
   The SPCA is continuing to collect and seek information in the case.
   "We can't reveal anything else, but we are receiving strong leads," Brookhouser said.
   Pierre is described as black with brown markings and large ears. 
At the time he was found, his nails had been painted red, according to Brookhouser. The SPCA encourages anyone who may have more information on the 
case to call the organization at (831) 373-2631.
   "Abandonment is never the answer," Brookhouser said. "The SPCA will take in animals, no questions asked. If you leave a puppy in an alleyway 
without food or water, and where he may not be found for quite some time, we will prosecute."