Spike, a Chihuahua mix from Ohio, named world's oldest living dog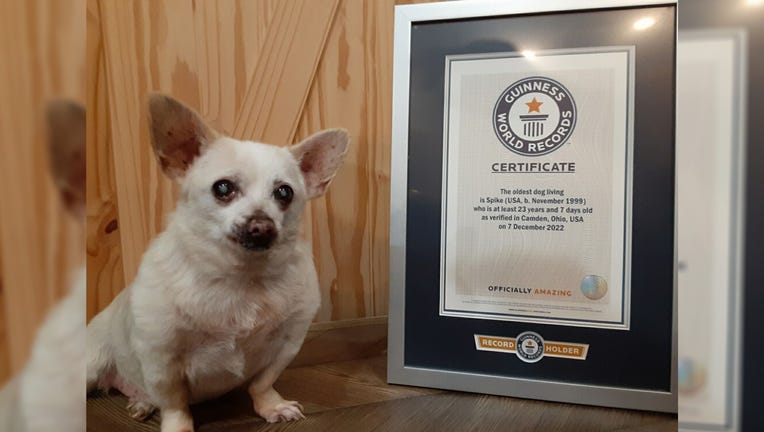 article
CAMDEN, Ohio - Spike, a 23-year-old Chihuahua mix from Ohio, has officially been named the world's oldest dog by Guinness World Records. 
The dog was 23 years and 43 days old as of Dec. 7, 2022, standing at 9 inches tall and weighing just 12.9 pounds, GWR said. 
His owner, Rita Kimball, said she found the dog abandoned in the parking lot of a grocery store in the town of Camden in 2009 and knew she couldn't leave the animal behind. He was already 10 years old at the time, according to GWR. 
Kimball said she recalled him looking severely neglected, with "blood stains around his neck from a chain or rope," but the dog followed the family back to their car and leaped inside as soon as the door was open. 
"The clerk in the grocery told us he had been there for three days, and they were feeding him scraps," Kimball told GWR. "We opened the car door to put our grandson in his car seat, and Spike jumped right in and sat on the seat as if he knew where we was [sic] going. It was meant to be."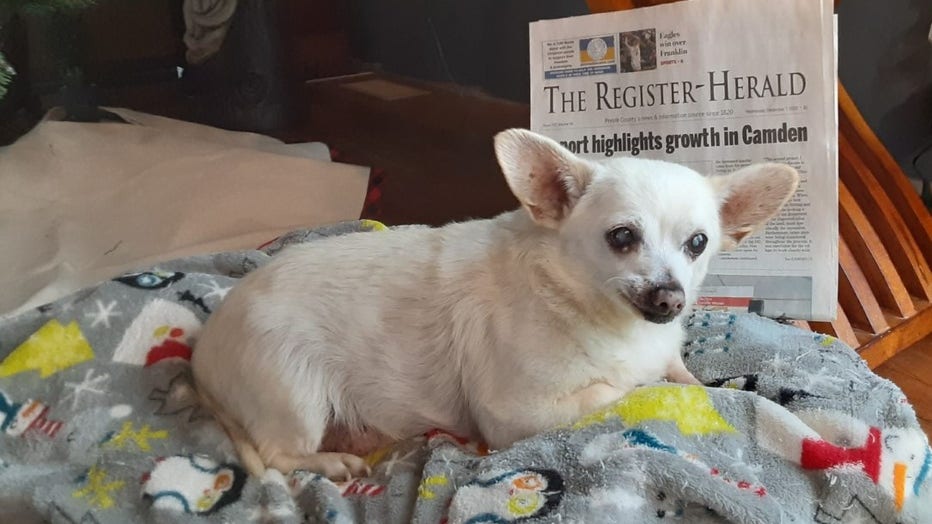 Spike, a 23-year-old Chihuahua mix, is pictured in a provided image. (Credit: Guinness World Records)
Almost 14 years later, Spike has remained a beloved member of the family and has "never met a stranger." He's almost blind and hard of hearing, so lately he prefers to spend time with those most familiar to him — including Kimball's grandchildren, she said. 
Spike's daily routine usually involves waking up around 7 a.m. and likes to spend time visiting animals on Kimball's farm, including cows, horses and barn cats, she said.
He occasionally enjoys eating braunschweiger with cheese for dinner and sometimes indulges in his favorite chips, Kimball said. 
"In his early years, he loved Doritos," Kimball recalled. "He liked them crunched up and would eat the cheese Doritos every time we had them."
Spike, a 23-year-old Chihuahua mix, is pictured with family in a provided image. (Credit: Guinness World Records)
Spike has survived multiple attacks from other animals throughout his life, and despite being given a low chance of survival, has fought to come back stronger each time, according to Kimball. 
Spike's owner said she realized he might be a world record holder when she was watching "The Tonight Show Starring Jimmy Fallon" and saw a photo of Pebbles, a former oldest living dog titleholder who was younger than Spike. 
Spike received his new title on Dec. 7, 2022.
"Most of our family knew that Spike was old, but [they] didn't know he had a shot at being oldest in the world," Kimball said. "Now that he is a [Guinness World Records title] holder, they look at him like a celebrity. They can't believe he lived this long." 
The previous record holder for the oldest living dog was Gino Wolf in Los Angeles, who achieved the record at 22 years and 52 days as of Nov. 15, 2022, according to GWR.
"I believe he is still here because, after having such a terrible life at first, he makes the best of every day and now sees his rewards in his later years," Kimball said.
This story was reported from Cincinnati.