Kia, Hyundai thefts prompt 17 states to urge recall of cars
The nationwide rash of thefts involving Kia and Hyundai cars, have officials across the country calling for a recall.
Attorneys general in 17 states have urged the federal government to recall millions of the vehicles because they are too easy to steal.
The move is to counter a sharp increase in thefts fueled by a viral social media challenge.
Videos circulating on TikTok have shown how people can start Kia and Hyundai models by using only a screwdriver and a USB cable.
CITIES SUE HYUNDAI, KIA AFTER WAVE OF CAR THEFTS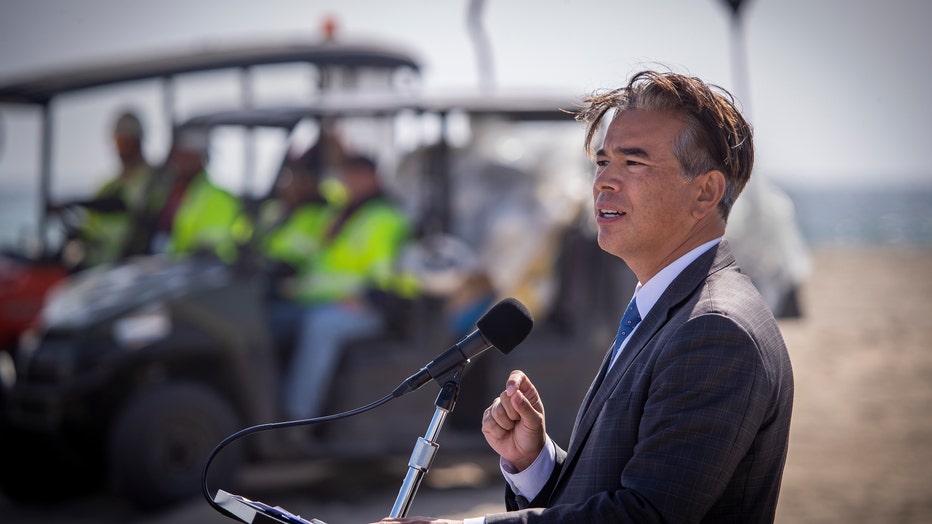 California Attorney General Rob Bonta speaks in Huntington Beach on Monday, Oct. 11, 2021. (Allen J. Schaben / Los Angeles Times via Getty Images)
Some Kia and Hyundai cars sold in the United States over the last decade do not have engine immobilizers, a standard feature on most cars that prevents the engine from starting unless the key is present.
"The bottom line is, Kia's and Hyundai's failure to install standard safety features on many of their vehicles have put vehicle owners and the public at risk," California Attorney General Rob Bonta said in a news release. "Instead of taking responsibility with appropriate corrective action, these carmakers have chosen instead to pass this risk onto consumers and our communities."
HYUNDAI, KIA OWNERS FACE THREAT OF THEFT DUE TO SOCIAL MEDIA CHALLENGE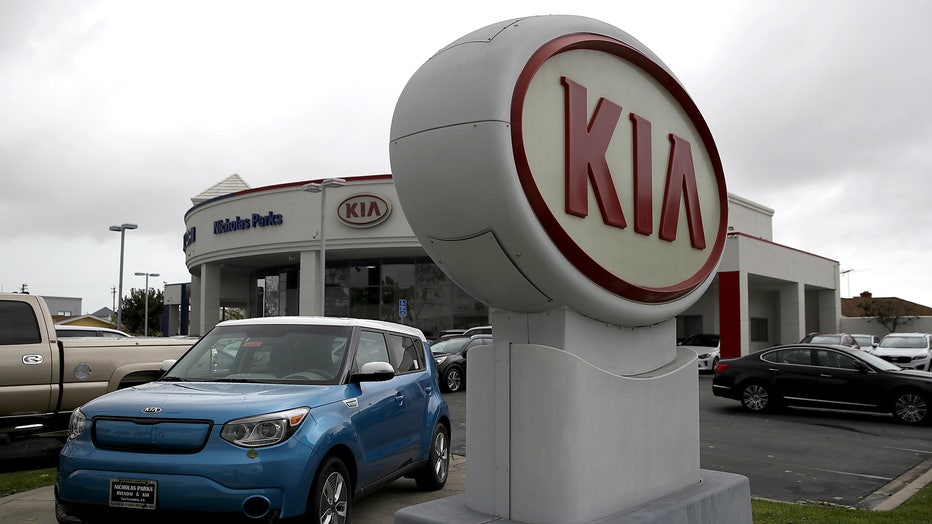 A sign with the Kia logo displayed at a Hyundai dealership on April 7, 2017 in San Leandro, California. (Photo by Justin Sullivan/Getty Images)
The letter was also signed by attorneys general from Arizona, Colorado, Connecticut, Illinois, Massachusetts, Maryland, Michigan, Minnesota, New Jersey, New Mexico, New York, Oregon, Pennsylvania, Rhode Island, Vermont, Washington and the District of Columbia.
In Los Angeles, thefts of Hyundai and Kia cars increased by about 85% in 2022.
KIA, HYUNDAI ROLL OUT NEW ANTI-THEFT SOFTWARE UPGRADE
The National Highway Traffic Safety Administration is reporting the stolen car trend has resulted is 14 crashes and eight deaths.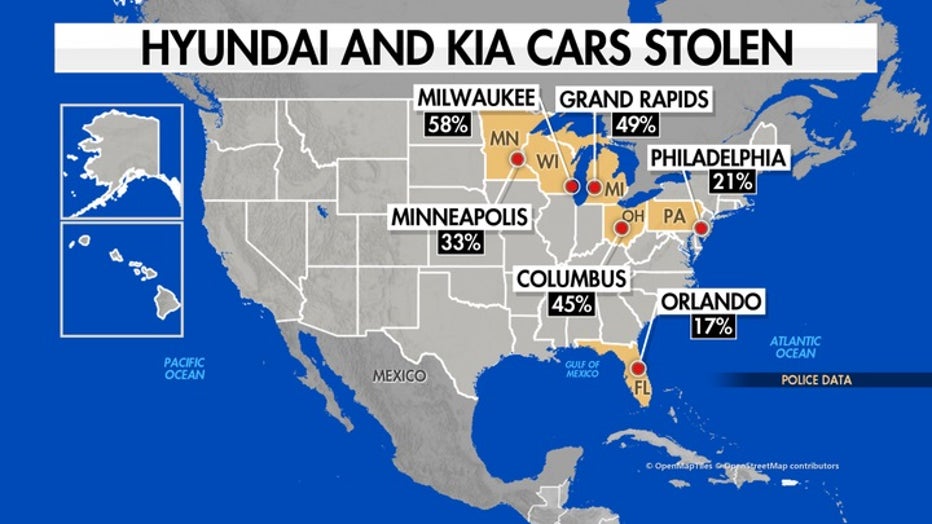 Cities like Milwaukee have reported rises in auto thefts, something police say is targeting Kias and Hyundais. (FOX NEWS / Fox News)
Kia said in a statement that it is focused on the issue, "and we continue to take action to address the concerns these attorneys general have raised." 
The company says the vehicles comply with federal safety standards, so a recall isn't necessary.
Hyundai and Kia announced in February that they would provide software updates for vehicles that require the key to be in the ignition switch to turn the car on.
Hyundai has said all models produced after Nov. 1, 2021, have immobilizers as standard equipment.
The Associated Press contributed to this report.
LINK: Get updates and more on this story at foxbusiness.com.