Stevie Nicks' personalized Barbie doll reminds her of '27-year-old self'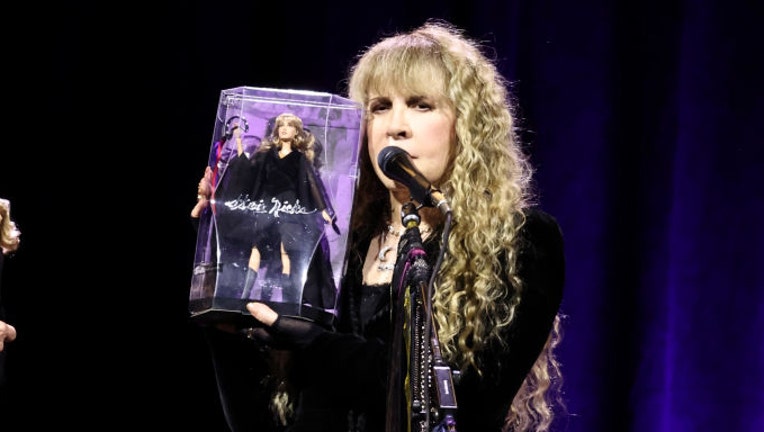 article
After decades in the music industry and countless accolades, Stevie Nicks has another achievement to add to her list: inspiring her very own Barbie.
The Fleetwood Mac singer shared images of the doll, inspired specifically by the 1977 album "Rumours," on X, formerly Twitter, and shared that she'd had it for "several months" and initially felt "very overwhelmed" when Mattel approached her with the offer.
"Of course I questioned 'would she look like me? Would she have my spirit? Would she have my heart…'" she wrote of her concerns.
STEVIE NICKS CELEBRATES 75TH BIRTHDAY: HER RISE TO 'QUEEN OF ROCK AND ROLL'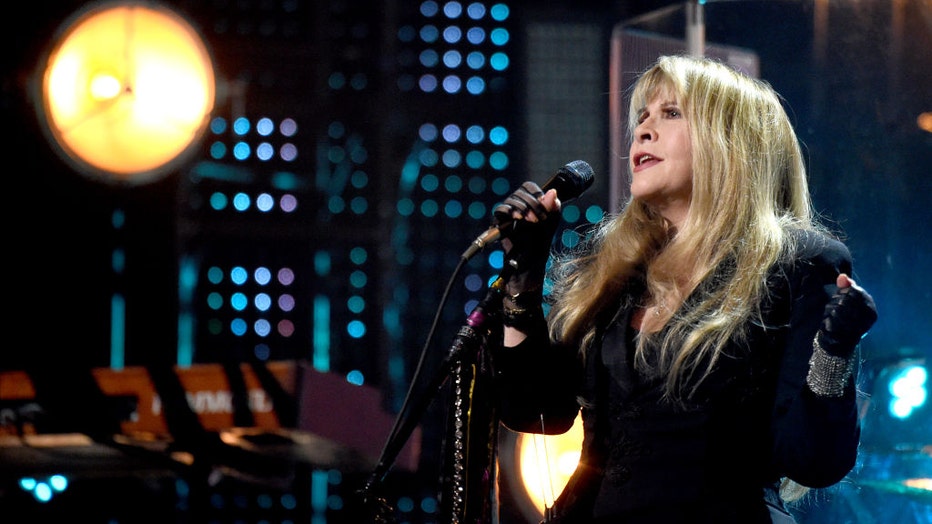 Inductee Stevie Nicks performs at the 2019 Rock & Roll Hall Of Fame Induction Ceremony - Show at Barclays Center on March 29, 2019 in New York City. (Photo by Jamie McCarthy/Getty Images For The Rock and Roll Hall of Fame)
"When I look at her, I see my 27 year old self~ All the memories of walking out on a big stage in that black outfit and those gorgeous boots come rushing back~ and then I see myself now in her face. What we have been through since 1975~ the battles we have fought, the lessons we have learned~ together."
She continued, "I am her and she is me. She absolutely has my heart. Thank you Mattel for working with me to make Stevie Barbie so pretty and so soulful and so real; she means the world to me!"
The Nicks doll wears a black dress with a velvet bodice, long, flowing sleeves and a skirt with a handkerchief hem. For the shoes, there are black-heeled knee-high boots, and for accessories, the doll has a necklace with a crescent moon charm. It's also holding a tambourine.
In addition to sharing her thoughts on social media, Nicks also spoke with USA Today about the honor.
When asked about her reaction to the idea of Mattel creating a doll in her image, she said, "Honestly, I tend to think all the women in the world would love to have a Barbie made of them, but they know that isn't going to happen. When I found out, I was really catapulted back to when the first Barbies came out in 1959 and my mom bought me a Barbie. She collected dolls forever, and I came into Fleetwood Mac a doll collector."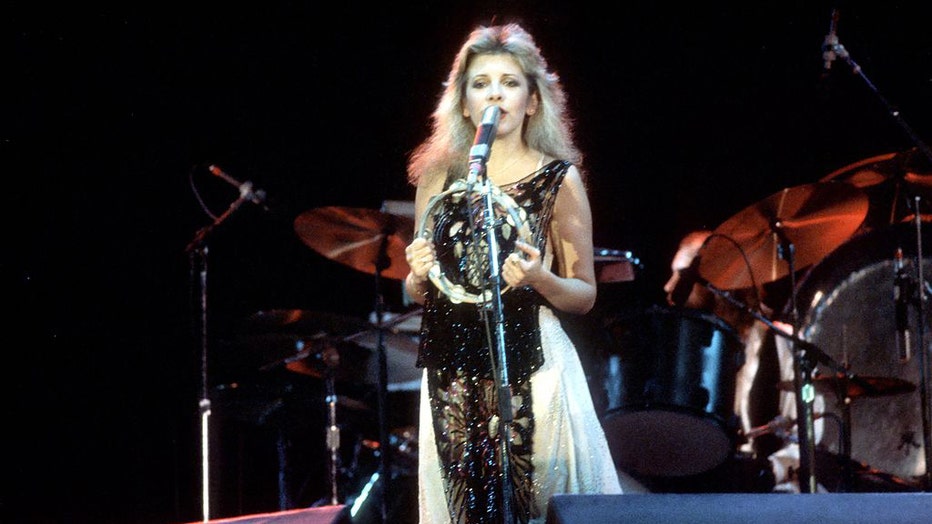 Stevie Nicks performs onstage in 1981. (Photo by Larry Hulst/Michael Ochs Archives/Getty Images)
"When I saw Margot Robbie standing in that bathing suit [in the 'Barbie' movie], I was like, 'That's my doll.' All these years, that's exactly who I wanted to be and look like – Margot Robbie in a bathing suit and high heels with my hair on my head."
FLEETWOOD MAC'S CHRISTINE MCVIE MOURNED BY STEVIE NICKS, MICK FLEETWOOD: 'SEE YOU ON THE OTHER SIDE, MY LOVE'
For the creation of the doll, she said that the toy company allowed her to "be creative" with what she wanted, and so she sent them the actual clothes she wore in the photo that's on the "Rumours" album cover.
About the iconic look, she revealed, "I saw this whole outfit in Santa Monica in 1973. Lindsey (Buckingham) and I were on the road as Buckingham Nicks with Leon Russell at the Civic [Auditorium] and I was standing against the wall and this woman walked by me and she was in my outfit! That was her outfit: A blushy pink color handkerchief skirt, her hair was kind of tucked up in a Gibson (Girl hairstyle) and she walked by me and I said, THAT IS IT! My new outfit."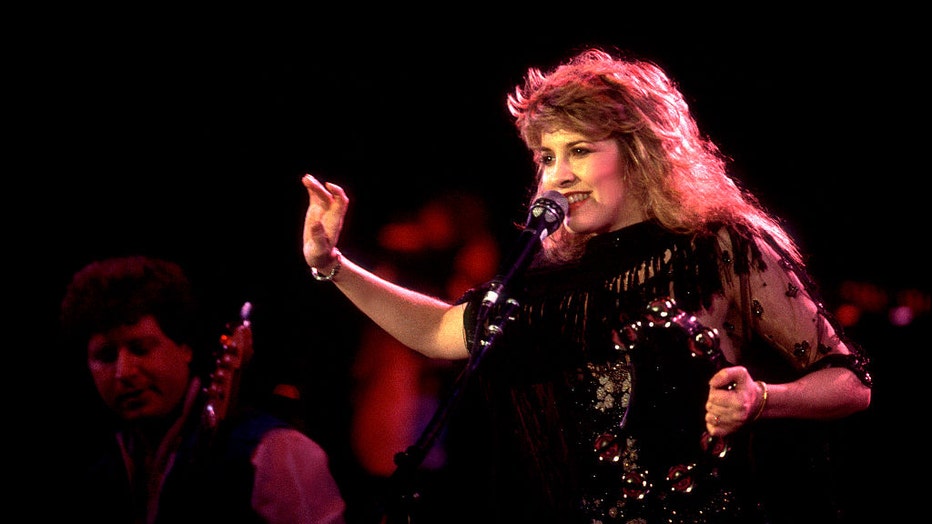 American musician Stevie Nicks performs onstage during the US Festival, Ontario, California, May 30, 1983. (Photo by Paul Natkin/Getty Images)
"When I joined Fleetwood Mac in 1975," she explained, "we went on the road with just my street clothes. I was incredibly poor and was a very thin, 105 pounds. We didn't eat a lot because we were so poor. But on the road, I gained 15 pounds in a month."
"When we got back from the tour I found a designer, Margi Kent, and I drew a stick figure of the girl with the handkerchief skirt and those platform boots. She made it in silk chiffon and I said to her, 'Margi, I want to wear this when I'm 60 because I know I'll be on stage when I'm 60,' even though I'd been in Fleetwood Mac all of eight months, and she said, 'OK' and I went back in a week and by the time we did 'Rumours' I had my beautiful black outfit. Margi still makes all of my street clothes."
She was asked about her idea of "street clothes," and she laughed, admitting, "Oh, even they have to have a certain flair. She makes me really beautiful tops with crystal rhinestones. I never dress casually when I go out. I'm always somewhat in my Stevie world because I like it. People say why do you always wear black? Well, because it's slimming and sexy and sophisticated."
Touching on a heavier subject, Nicks spoke about Christine McVie, her former Fleetwood Mac bandmate. McVie died from a stroke last year.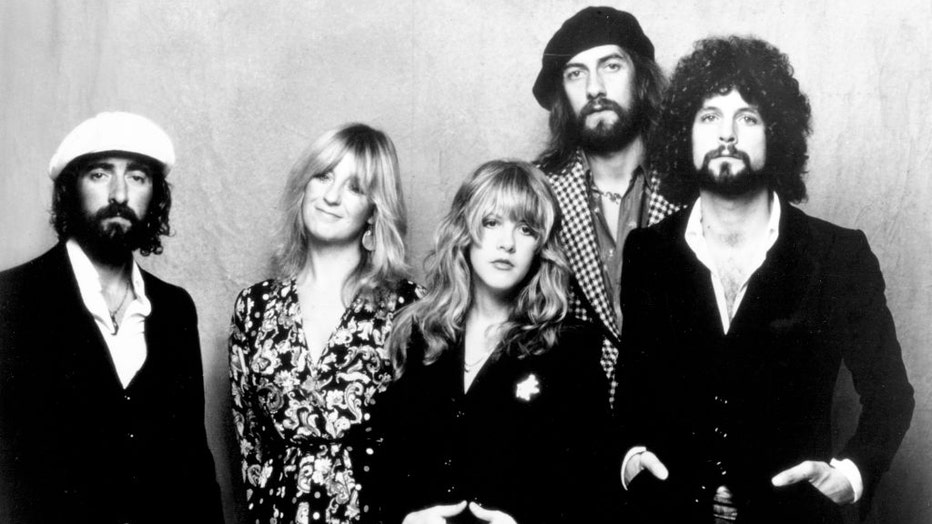 From (L-R) John McVie, Christine McVie, Stevie Nicks, Mick Fleetwood, and Lindsey Buckingham of the rock group "Fleetwood Mac" pose for a portrait in 1975. (Photo by Michael Ochs Archives/Getty Images)
In recent concerts, the singer has been dedicating "Landslide," one of Fleetwood Mac's biggest hits, to McVie, and it was noted that she'd gotten emotional while performing this particular song. She was asked if it was getting easier to sing.
"No, it's not getting easier," she admitted, "but I have to keep singing it until it is easier because it's helping me work through this. Seeing the way the audience reaches out and being able to discuss losing somebody like that, it keeps her alive in my heart. It's like when I hear Taylor's [Swift] 'You're on Your Own, Kid; – that's who me and Chris were in Fleetwood Mac. We always were on our own. And now she's sitting on my shoulder saying, 'You're on your own, kid, but I'm always right here.'"
Emily Trainham is an entertainment editor for Fox News Digital.
Get the latest updates on this story at FOXNews.com