Stolen dog-walking van with 8 pets inside recovered in San Francisco, animals unharmed
SAN FRANCISCO - The dog-walking company's name is 'No Nonsense Dog Walking,' but there was certainly some shady activity going on Tuesday evening when the company van with eight dogs inside was stolen in San Francisco. 
Fortunately this story has a happy ending. 
San Francisco police said they were searching for a white Mercedes Sprinter van that was stolen. The owner had parked the van and left it running at Ashbury and Piedmont streets, near Buena Vista Park at 4 p.m. as she dropped off a client's dog at their door.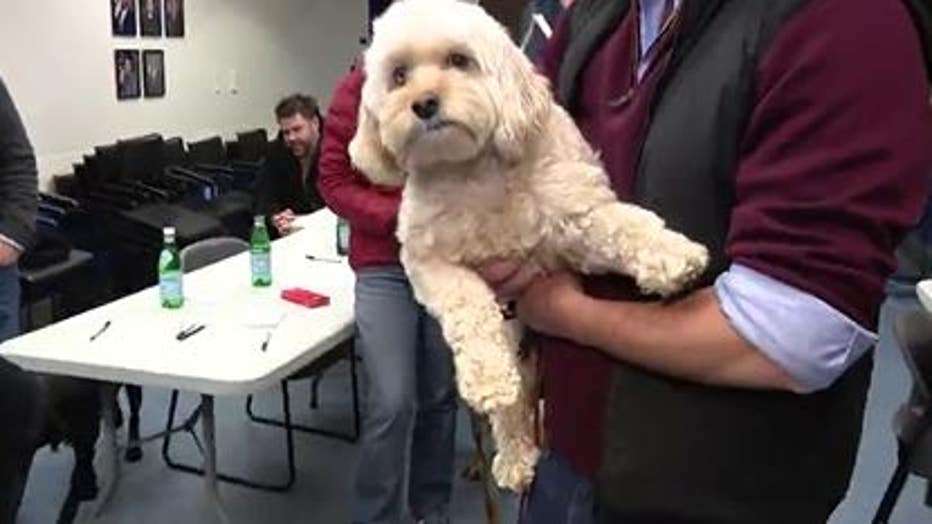 A dog that was inside a stolen van in San Francisco is reunited with its owner. 
Police sent out a citywide alert with the van description and license plate number at around 5:30 p.m. The owners of the dogs in the van, friends, and the van owner scoured the city until one of the owners spotted the stolen vehicle at 18th and Collingwood streets in the Castro at around 6:30 p.m. 
Terry Friedlander, one of the dog owners, said he was notified by text message about the stolen van. "Us and all the other owners here were incredibly distraught." He said the owners organized and got the word out on social media and through apps. Friedlander said the owners were frustrated that none of the dogs had a tracker in order to easily find them.
"It felt like my child had been kidnapped," added dog-owner Jason Gorsky. 
All the dogs were accounted for and unharmed. The van was driven to SFPD's Park Station where the dogs were reunited with their owners. SFPD did not indicate if any arrests were made. No suspect information was made available.