Stolen TV returned to Sonoma County man just in time for Super Bowl, sheriff says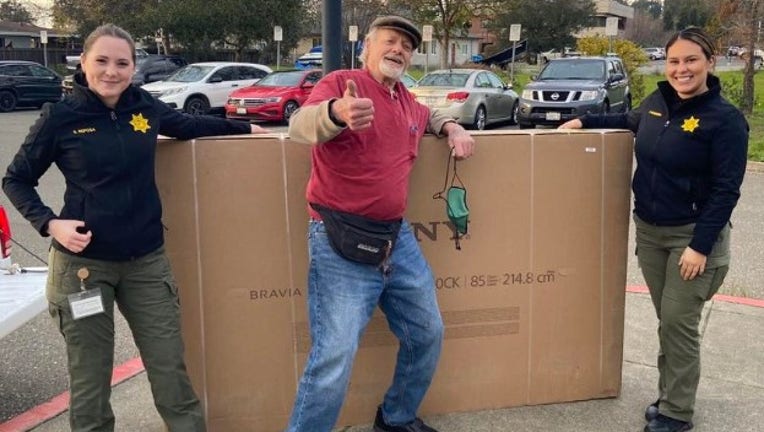 article
SANTA ROSA, Calif. - A man was reunited with his stolen big screen TV Saturday thanks to the power of social media, the Sonoma County Sheriff said.
It all began Wednesday, when a man named Chuck went to Costco bought an 85-inch TV and loaded it into his pickup truck. He stopped by the grocery store on the way home, the sheriff said, and even though he was only inside a few minutes, someone stole the TV.
Later that evening, an alert couple from Sonoma County heard the TV fall out of the bed of a truck in Larkfield while filling up with gas. 
The couple said they rushed to move it out of the middle of the road, with the help of another good Samaritan, so nobody would crash into it in the dark. The couple then turned the TV into the sheriff.
The sheriff wasn't able to track down the owner through their usual research, so they posted it to Facebook.
"We're sure someone is missing something very important in preparation for the Super Bowl...a giant TV," wrote the sheriff's office. 
ALSO: Former reality TV star sues ex-Windsor mayor over sex assault allegations
They added they would love to find the rightful owner if the community could help track them down. And that they did.
"A Costco employee saw our social media post," said the sheriff's office. "They remembered Chuck calling about his missing TV, so they called us and gave us the details to prove Chuck had purchased it."
They said Chuck stopped by Thursday evening and "happily" picked up his TV.
"He said he is grateful to the person who found the TV and turned it in," wrote the sheriff. "In Sonoma County, we take care of each other!"