Stray bullet kills Bay Area punk rock musician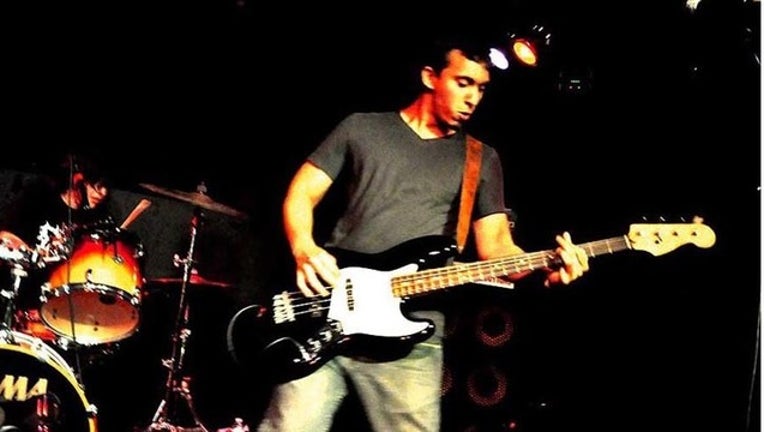 article
OAKLAND, Calif. (KTVU and wires) -- The mother of a 26-year-old musician slain early Sunday morning by a stray bullet fired outside an Oakland nightclub says her son was passionate about his music and his family.
Emilio Nevarez, a bass player and vocalist for the punk rock band The Lucky Eejits, was packing up his equipment when a stray bullet struck him.
Bernadette Valadez, Nevarez's mother, said police told her he wasn't the intended target of the gunfire. Two people were engaged in an argument unrelated to him when someone started shooting, she said.
Officers responded around 1:15 a.m. to the 400 block of 14th Street, police said. Two people were injured from the gunfire, but Valadez said the bullet found Nevarez's neck.
"There was a lot of blood and they couldn't stop it," she said. "It sounded like he didn't suffer for very long."
Nevarez's best friend was by his side and his long-time girlfriend was there as well.
"The most important thing I wanted to make sure of was that when he got shot there was someone there with him," Valadez said. "I felt somewhat a sense of relief that he wasn't alone on the street, that he had his
girlfriend there and that he wasn't by himself."
Valadez said Nevarez was surrounded by music at a young age. His older sister and brother played the flute and clarinet, respectively, and Valadez said she is trained as a classical vocalist and piano player.
Nevarez picked up a trumpet at the age of five and played in a youth symphony before he started learning the guitar and found his true musical calling, Valadez said.
Although Valadez said her side of the family, which includes six brothers and two sisters, is steeped in classical music, Nevarez gravitated to rock and roll and heavy metal.
It wasn't the kind of music she preferred, but she said she didn't mind.
"That was what was exciting to him," Valadez said. "I never stopped him from doing what I felt was his desire."
His passion for music infused his playing, making him a joy to watch on stage, she said.
"I'm biased because I thought he was great," Valadez said. "Like any good guitarist, he would experiment and do a lot of riffs that were unusual. He would do his own thing, so I just felt he was trying to be the
best musician he could be."
The Antioch High School graduate received a Bachelor's Degree in audio engineering from Ex'pression College in Emeryville and went to work as an audio engineer in the Bay Area.
Saturday evening was just a typical weekend night for Nevarez, who would perform nearly every week in and around the Bay Area.
"I had told him many, many times to be careful when you go out to these places, some of which are not in the best areas of town," Valadez said.
She said she had sent him a text message to wish him a Happy Easter and was wondering why he hadn't replied when she got a call from an Oakland police detective.
"It was a real shock," Valadez said. "Usually he's very protective of the people around him and it didn't seem like he felt threatened in any way. He didn't know any harm was coming there."
Valadez said Nevarez's brother was preparing to get married and Nevarez was supposed to be his best man. His sister recently had a baby and Valadez said she was planning on going with Nevarez to visit his new nephew.
"There were a lot of really good things happening in his life," Valadez said. "(His older brother) is devastated that he can't have his brother in his wedding."
Beyond his music, Nevarez was good-hearted, helpful to his parents -- he cared for his father when he was ill -- loyal and outgoing, she said.
"He's not a quiet kid," Valadez said. "He's friendly and personable and he just seemed to have the same friends for a really long time."
Valadez said plans for a memorial service and funeral are on hold until the coroner completes an autopsy and the body is released to the family, likely sometime early this week.
Although nothing can bring her son back, Valadez said she hopes the person responsible for his death is caught.
"Bad things happen to good people and it's the bad people who get away with it," Valadez said. "Emilio was a good kid. There's nothing anyone could say or do to bring him back right now. I just want him to rest in
peace."