Suspect charged with murdering Tupac Shakur has arraignment delayed until November
Duane "Keffe D" Davis, the man charged in the fatal shooting of Tupac Shakur in 1996 in Las Vegas, appeared in court for a second time Thursday where he was scheduled to be arraigned on a murder charge, but a judge delayed it for another two weeks. 
Attorney Ross Goodman told a judge he's close to being hired to represent Davis, and the judge reset the arraignment for Nov. 2. 
Goodman told reporters that Davis will plead not guilty and seek release from jail pending trial. He also added that "there's no gun, there's no car and there's no witnesses from 27 years ago," according to the Associated Press. 
Davis is being held at the Clark County Detention Center in Las Vegas without bail. 
Davis made his first court appearance on Oct. 4 for arraignment, but the hearing ended abruptly after he asked the judge to delay the hearing, so he could retain legal counsel in Las Vegas.
The Southern California street gang leader faces allegations that he arranged the drive-by killing of the rap music legend.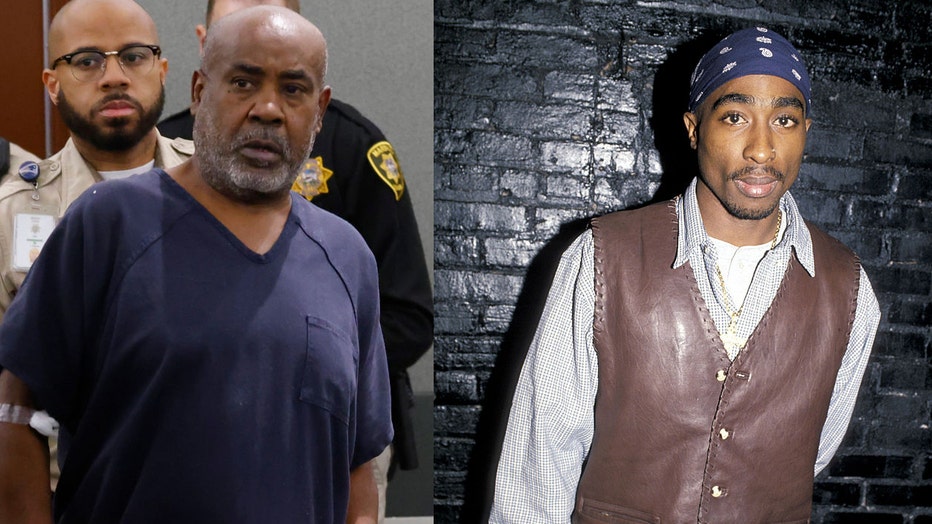 Duane Davis (L) appears in court at the Regional Justice Center, on October 4, 2023 in Las Vegas, Nevada. (Davis photo by Bizuayehu Tesfay - Pool/Getty Images). Tupac Shakur (R) (Tupac photo by Ron Galella/Ron Galella Collection via Getty Images)
RELATED: Tupac Shakur murder suspect makes first court appearance in Las Vegas
Davis, originally from Compton, California, was arrested Sept. 29 outside his home in suburban Henderson. A few hours after his arrest, a grand jury indictment was unsealed in Clark County District Court charging him with murder, according to the Associated Press. 
Grand jurors also voted to add sentencing enhancements for use of a deadly weapon and alleged gang activity. If Davis is convicted, that could add decades to his sentence.
The 60-year-old has denied involvement in the murder but in recent years has publicly described his role in Shakur's death, including in interviews and a 2019 tell-all memoir that described his life as a gang leader. 
RELATED: Tupac Shakur murder: A look back at the rise and untimely death of a hip-hop legend
Davis has said he was in the front passenger seat of the Cadillac and handed a .40-caliber handgun to his nephew in the back seat, from which he said the gunshots were fired at Shakur and rap music mogul Marion "Suge" Knight, the Associated Press noted. 
Davis is the only living person among the four men in the car when the shooting happened. 
In Nevada, a person can be convicted of murder for helping another person commit a crime, the AP noted. 
RELATED: Retired detective 'thrilled' by Tupac Shakur murder arrest
Davis' own comments revived a police investigation that led to the indictment, police and prosecutors said. In mid-July, Las Vegas police raided Davis' home, drawing renewed attention to one of hip-hop music's most enduring mysteries.
Prosecutors claim Shakur's murder stemmed from a rivalry and competition for dominance in a musical genre that, at the time, was dubbed "gangsta rap." It pitted East Coast members of a Bloods gang sect associated with rap music mogul Marion "Suge" Knight against West Coast members of a Crips sect that Davis has said he led in Compton, California.
Tension heightened in Las Vegas the night of Sept. 7, 1996, when a fight occurred between Shakur and Davis' nephew, Orlando "Baby Lane" Anderson, at the MGM Grand hotel-casino following a heavyweight championship boxing match won by Mike Tyson.
Shakur died a week later at age 25. Knight was wounded but survived. Now 58, he is serving a 28-year prison sentence for the death of a Compton businessman in January 2015.
The Associated Press contributed to this report.  This story was reported from Washington, D.C.