Home Depot employee killed while trying to stop theft was Eagle Scout, engaged
PLEASANTON, Calif. - Friends remembered the Home Depot employee who was killed while trying to stop a robbery as a Boy Scout leader engaged to be married, as police announced the arrest of two suspects who allegedly tried to steal an item from the store - possibly a phone charger - and drive away before shooting him to death.  
Police and family friends identified the employee killed on Tuesday afternoon at the Pleasanton store as Blake Mohs, 26. Mohs worked in loss prevention for the store.
Meanwhile, Pleasanton police Lt. Erik Silacci Wednesday identified the alleged shoplifter who got into a 2:15 p.m. deadly run-in with Mohs as 32-year-old Benicia Knapps and the alleged getaway driver as David Guillory, 31, both of Oakland. Their Facebook pages show they are dating each other. 
Silacci said Knapps was trying to steal some electrical item, perhaps a charger, and was "determined to exit without paying," as she headed out to the loading dock area. 
Mohs ended up confronting her, police said, and a "physical confrontation ensued."
Silacci said Knapps pulled out a handgun and fired a shot at Mohs, who later died. 
California records show that Knapps is a licensed security guard and has a criminal history involving theft, records show. Guillory has a pending criminal case in Berkeley, where he's been charged with stealing $1,300 in uniforms and jerseys from a soccer store, according to court records.
Witnesses described the getaway car to police, and an Alameda County sheriff's air unit quickly spotted the suspects, police said.
Sheriff's deputies were able to arrest Knapps and Guillory about 2:30 p.m. along Interstate Highway 580 on Golf Links Road in Oakland. A handgun was found in a nearby intersection, police said. 
Knapps was arrested on suspicion of murder, robbery, child endangerment and conspiracy, police said. Booking records show Guillory was arrested on a child endangerment charge and evading police and driving the wrong way.
Guillory was booked at Santa Rita Jail. Knapps was taken to the hospital and will eventually be taken to jail as well, police said. 
Knapps' child, who was in the car at the time, was released to relatives, police said.
Silacci said the fatal shooting was a tragic shame, noting that the young man who killed was a "valuable, valuable" member of the community. Several officers knew Mohs personally, Silacci said, because he often reported thefts to the police department. 
The mayor of Pleasanton concurred. 
"I am devastated by the loss of Blake Mohs in yesterday's senseless shooting," Mayor Karla Brown said in a statement. "Through his service to Tri-Valley organizations, Blake was a model for others. To have a life cut short is heartbreaking and infuriating."
A family member told KTVU that they were not yet ready to talk, but friends and co-workers credited Mohs for his good work and volunteerism.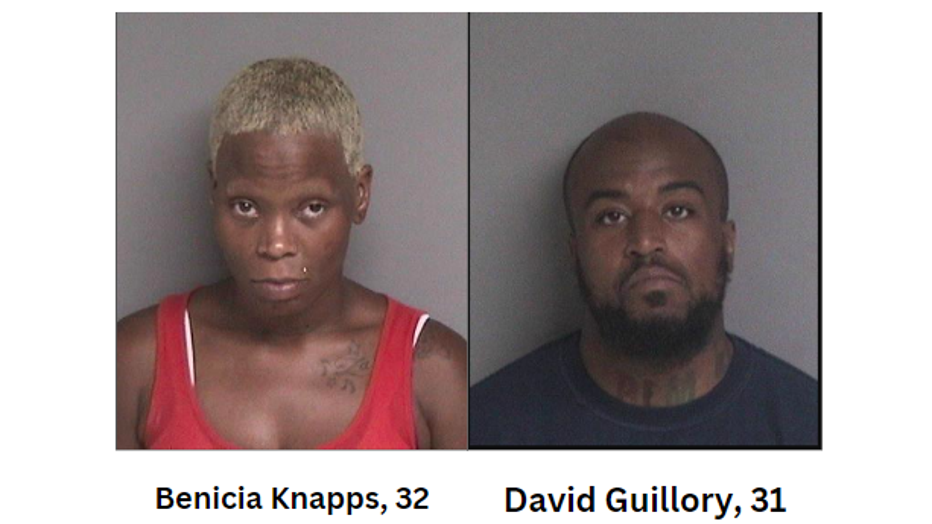 Scott Rodgers, who has known Mohs for more than a decade, told KTVU that the young man was a member of the Boy Scouts of America and was awarded the rank of Eagle Scout in 2014, the highest rank a Scout can earn before his 18th birthday. 
"He's an incredible person," Rodgers said. "Everybody loved Blake." 
Rodgers said that Mohs was a "huge volunteer to our younger scouts" at Camp Royaneh in Cazadero along the Russian River.
Family friend Michael Pagendarm, who is an assistant Scout leader in Newark, also said Mohs was great with the kids. 
Mohs' wedding website shows he was supposed to be married on Aug. 12 at that exact camp site where he met his fiance while they were both volunteering with the Scouts. 
"The reception was going to be at the camp where they met," Rodgers said. "We were so excited for the two of them. They truly loved each other."
Rodgers also told KTVU that the Home Depot in Pleasanton coincidentally is just blocks from the Scout Office on 6601 Owens Street. 
Home Depot said the company is "heartbroken over this senseless tragedy."
"Blake was our associate and friend, and our hearts go out to his family and everyone who knew and loved him," the company statement read.
A co-worker called Mohs a "great guy. He was a very, very nice young man. He would do anything for anybody and he was just trying to do his job for the store."
Customers were saddened and surprised. 
Steve Venema of Pleasanton, who owns a construction company, said the entire ordeal is just "shocking."
"There's nothing in that store that's worth your life," he said.