Pleasanton Home Depot employee shot to death while trying to stop in-store theft
PLEASANTON, Calif. - A Home Depot employee who was shot inside the Pleasanton store on Tuesday afternoon died hours after he was trying to prevent a theft in the middle of the afternoon. Two suspects have been detained. 
The Alameda County Coroner has not yet identified him, but friends told KTVU the victim is 25-year-old Blake Mohs.
Home Depot is "heartbroken over this senseless tragedy," a company statement said.
"Blake was our associate and friend, and our hearts go out to his family and everyone who knew and loved him," the company statement read. 
A co-worker said that Mohs was a "great guy who was just trying to do his job for the store."
Family friend Michael Pagendarm told KTVU on Wednesday that Mohs was engaged to be married this summer and was a Boy Scout or Eagle Scout volunteer.  
The shooting happened at around 2:15 p.m. at the Pleasanton Square Shopping Center at Johnson and Owens Drive. 
Police said dispatch received a call about a man bleeding inside the store; witnesses said the employee was trying to stop a theft in progress. 
At least two suspects were seen driving away from the scene immediately following the shooting, police claimed. 
Alameda County sheriff's deputies found the pair and detained them at around 2:30 p.m. near Interstate 580 and Golf Links Road.  
SEE ALSO: Pleasanton police trying to reunite wayward pig with its family
Customer Dave Gilbert said it was a scary situation and not something that normally happens. 
"It's unusual," he said, adding that some part of him wants more police around. 
Another customer, Larry Peacock, said it seems easy to steal from the store. 
"What is it, like 950 bucks worth of stuff that you can steal without getting in trouble?" he asked. "So why wouldn't you walk in there and grab a new barbecue or something, you know?" 
Steve Venema of Pleasanton, who owns a construction company, said the entire ordeal is just "shocking." 
"There's nothing in that store that's worth your life," he said. 
KTVU's LaMonica Peters and Allie Rasmus contributed to this story.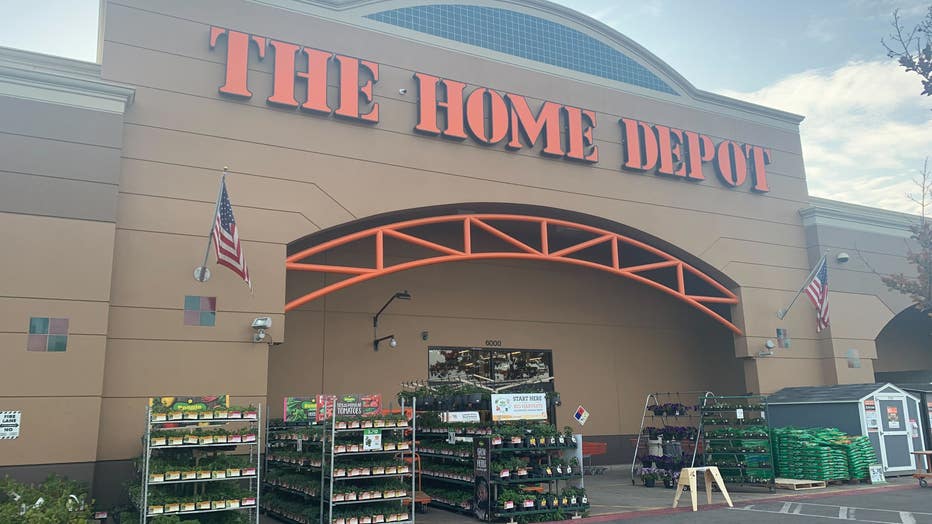 Pleasanton Home Depot store closed after one person was injured in a shooting on Tuesday, April 18, 2023.