Tabloid held porn star's 2011 interview after Trump threat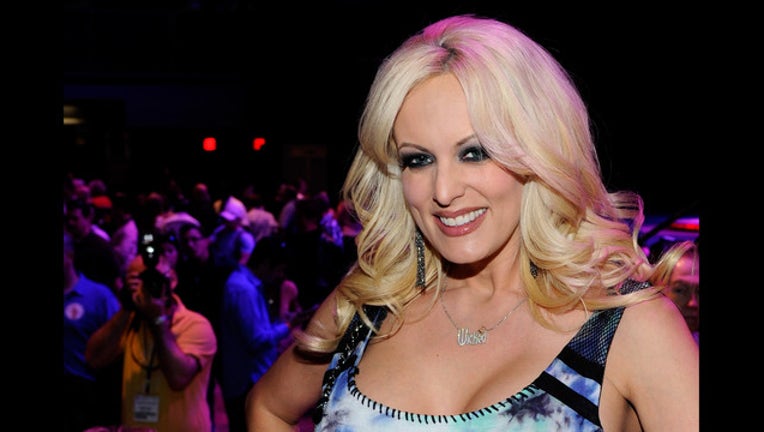 article
By JAKE PEARSON
Associated Press
NEW YORK (AP) -- A tabloid magazine held back from publishing an adult film star's 2011 account of an alleged affair with Donald Trump after the future president's personal lawyer threatened to sue, four former employees of the tabloid's publisher told The Associated Press.
In Touch magazine published its 5,000-word interview with the pornographic actor Stormy Daniels on Friday -- more than six years after Trump's long-time attorney, Michael Cohen, sent an email to In Touch's general counsel saying Trump would aggressively pursue legal action if the story was printed, according to emails described to the AP by the former employees.
At the time, Trump was a reality TV star on the NBC show "The Apprentice."  
The ex-employees spoke to the AP on condition of anonymity because they were not permitted to discuss their former employer's editorial policies. 
Daniels, whose real name is Stephanie Clifford, signed a source contract with the magazine, which said a friend and Clifford's ex-husband corroborated her account of a 2006 tryst. She also passed a lie detector test, the magazine said.
In the interview, Daniels claims she and Trump had a sexual encounter after meeting at a golf tournament in Lake Tahoe, Nevada, a year after Trump's marriage to his third wife, Melania.  
Cohen has denied Trump had any relationship with Clifford. He didn't immediately return a message seeking comment Friday.
Last week, The Wall Street Journal reported that Cohen brokered a $130,000 payment to Daniels in October 2016 to prohibit her from publicly discussing the alleged affair before the presidential election. Other news organizations have since reported Clifford was in discussions with them about telling her story. 
Cohen hasn't addressed his role negotiating the supposed payment, but provided the Journal a statement from "Stormy Daniels" in which she denied receiving any "hush money" from Trump.
A lawyer for Clifford, Keith Davidson, didn't return an email message seeking comment. In the statement provided by Cohen, Clifford called allegations of a sexual relationship with Trump "completely false."  
It wasn't immediately clear why the magazine didn't publish its interview during the 2016 presidential campaign despite reminders from former employees that the transcript was still available in the company's networks, two former employees said. 
A spokeswoman for In Touch, which is published by Bauer Media Group, claimed it only learned of its earlier interview after the Journal's report last week. She wouldn't comment on the magazine's decision not to publish in 2011.
Despite Clifford's first-person details on Trump, former employees said the decision not to run the story in 2011 was a justifiable business decision because at the time because Trump didn't have the same star appeal as more famous celebrities. 
Cohen emailed In Touch's general counsel, Greg Welch, threatening to sue over the story in October 2011 -- the same day Clifford's attorney sent a similar letter to Los Angeles-based blogger Nik Richie, who first posted Clifford's allegations to his website, The Dirty, according to emails provided by Richie.