Tahoe air quality plummets far beyond 'hazardous,' Bay Area feels effects
LAKE TAHOE, Calif. - Plumes of wildfire smoke from the massive wildfires burning in California created air quality in Lake Tahoe that is far worse than what officials consider hazardous . The Bay Area was also shrouded in smoke on Friday as officials announced a Spare the Air Alert through Saturday.
Smoke blowing from the Dixie and Caldor fires has blanketed parts of northern California and areas beyond for weeks.
Air quality technology company, IQAir, recorded some of the region's hazardous conditions on Friday. Just before noon, the air quality index for Pollock Pines, which is located in El Dorado County,  reached 1038. Neighboring Camino peaked at 1117.
A score of up to 50 is considered good air quality by the U.S. Air Quality Index. Hazardous conditions start an an index of 301, which leads to a "health warning of emergency conditions." The levels recorded in Tahoe were three times greater than that.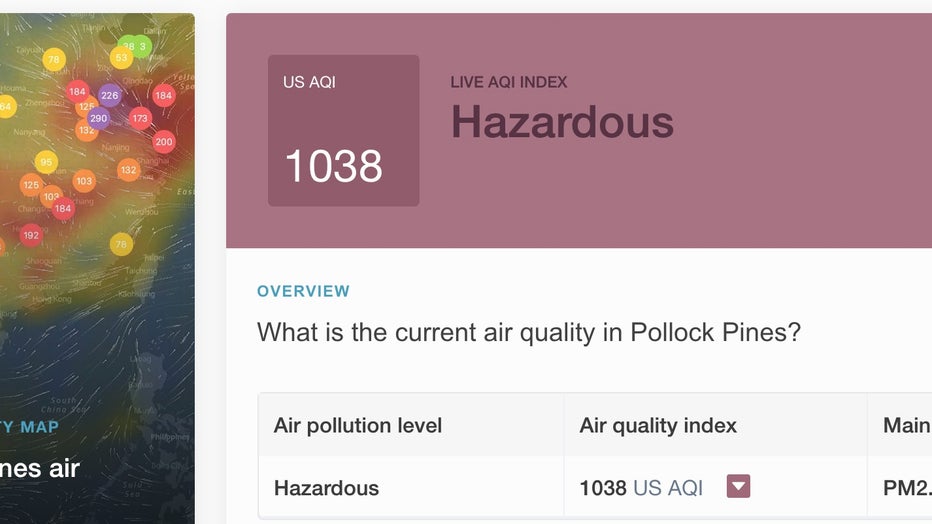 The dense smoke made its way into the Bay Area, creating hazy conditions for some parts. For the East Bay cities of Richmond, Oakland, and Berkeley, air quality was in the moderate range. But further east in Concord and Walnut Creek, air quality was considered unhealthy.
"The fine particles in the smoke, travel long distances," said Dr. John Balmes, a pulmonary and crucial care medicine specialist at the University of California - San Francisco.
He said fine particulate matter, 30-times smaller than a strand of hair, can make its way into the lungs. As a result, allergies and asthma are worsened. And the impact of a COVID infection can be more severe..
"Those particles can increase risk for lower respiratory trac infections like covid," said Balmes. "(It) led to increased risk of both infection and more severe outcomes from COVID."
SEE ALSO: California air quality map
In Napa and Santa Rosa, air quality toggled between moderate and unhealthy for sensitive groups. And further south the air quality varied between moderate and unhealthy.
"You can definitely see it up in the air a little bit and smell it a little bit. Seems like it's coming down to the surface area here," said Dusty Machado, as he looked skyward from his home in Santa Rosa.
In the East Bay, administrators at the Orinda Union School District canceled outdoor lunch and recess due to unhealthy air readings.
The Bay Area Air Quality Management District said it issued the Spare the Air alert due to "heat and wildfire smoke."
"As wildfires continue to burn in California, conditions are changing very quickly," said Jack Broadbent, the district's executive officer. "Wildfire smoke is unpredictable. When wildfires are active, it's important to stay alert and check air quality conditions to protect your health from smoke."
Thousands of firefighters a working to contain at least a dozen large wildfires across California that have destroyed hundreds of homes and forced thousands of people to flee to safety. New concerns developed this week over the explosive Caldor Fire, burning southwest of Lake Tahoe as it advanced closer to resort communities.
The National Weather Service said significant smoke and air quality impacts will persist in the Sierra and certain parts of the Bay Area.
The Bay Area Air Quality Management District is expanding its Clean Air Filtration Program to all Bay Area counties. Officials saiD the expansion focuses on providing air filtration units to foster healthier breathing environments. Additional program information can be found by emailing AirFilters@baaqmd.gov.