Tampa woman gives birth to 14-pound baby boy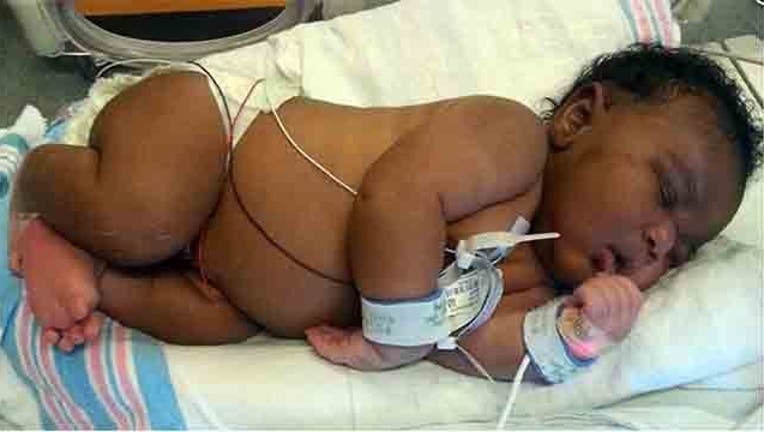 article
TAMPA, Florida (WTVT) - A Tampa woman says it was a big surprise to learn she was pregnant. A few weeks later, she found out just how big.
Maxxzandra Ford gave birth to a healthy 14.1-pound baby boy last Thursday. Officials at St. Joseph's Women's Hospital say Avery Ford set the record for the heaviest baby born there, and is one of the largest babies ever born in the state.
Maxxzandra, who's a nurse at a neighboring hospital facility, said she was surprised when she realized she was pregnant last fall. Because she is a twin and felt so big so fast, she thought she might be having twins herself. But her first doctor visit brought an even bigger surprise: She was already 35 weeks along.
"No nausea. No vomiting," she insisted. "I didn't gain any weight. I was working."
"I was shocked," offered Allen Denson, Avery's father. "I couldn't believe it at all. I thought she was playing."

VIDEO: CLICK HERE to watch and share the video from YouTube
Maxxzandra delivered the baby naturally. When the moment came, she explained, she didn't think she had time for a C-section.
"Before I knew it, he was already coming out. It was too late to come back. We just pressed on," she recalled. "When I felt his head come out, I knew he was bigger than 10 pounds."
"I was cussing up a storm," she continued. "Yeah, it was bad."
At just over a week old, Avery was expected to head home from the hospital Friday afternoon. Allen and Maxxzandra already have a 5-year-old and 1-year-old, but now they'll have a really big bundle of joy to add to that mix.
"I have a linebacker now instead of a fullback," Allen beamed.