Teen surprises bullying victim with a touching Valentine's Day gift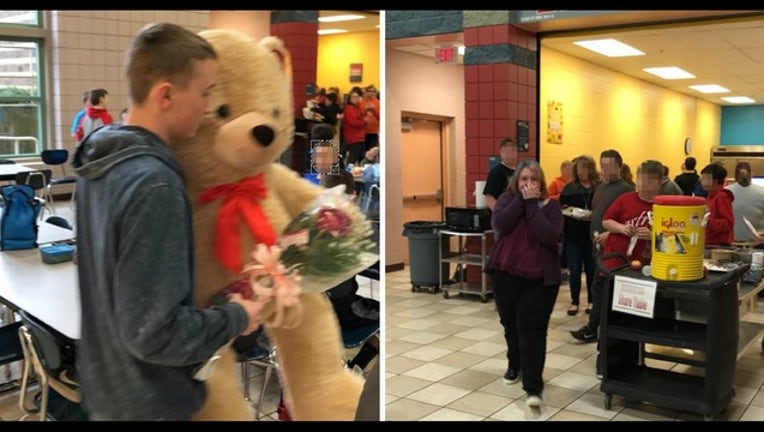 article
LEESCREEK, Ohio - An Ohio sophomore heard the news that a family friend was bullied so bad on Valentine's Day she came home in tears. Without hesitation, he set out to make her smile.
Aislinn Bowermaster, 12, baked holiday treats to handout to her peers at East Clinton Middle School in Leescreek. It's a facet of Aislinn's "old soul" character. Those close to describe a young girl who is kind, thoughtful and gentle.
But by the end of the day, when she hadn't received anything in return, she was devastated. And on the bus ride home, a girl confronted the visibly distraught Aislinn and issued her cruel reasoning for why no one was her Valentine. 
Aislinn's mom, now crying herself, phoned best friend Abby Howell. "My child has asked me to never send her to school on Valentine's Day again," she said. 
After the call, Howell discussed the situation with her stepson, Isaiah Greiner. He and Aislinn have been friends for three years. Isaiah said he was willing to do anything to make her smile and the 15-year-old decided he'd visit her at school. 
"I want to go there and show her she deserves it," Isaiah said, who tracked down Aislinn at lunch and delivered her roses, a giant teddy bear, a card and chocolate in front of the whole school. 
The note inside the card said: "Happy Valentine's Day. Always remember how pretty you are."
Aislinn said the Isaiah's action changed the tone of her classmates. They asked if he was her boyfriend or brother. And when she said neither, they thought it was cool. 
Isaiah's gesture brought Aislinn to tears. It was at least the second time in two days she cried. Only these tears – less than 48 hours removed from the pressure of February 14 – instead demonstrated the reach of human kindness, the inverse of malice. 
You only hope the bully was present to witness.