Terra Linda High students go silent to battle bullying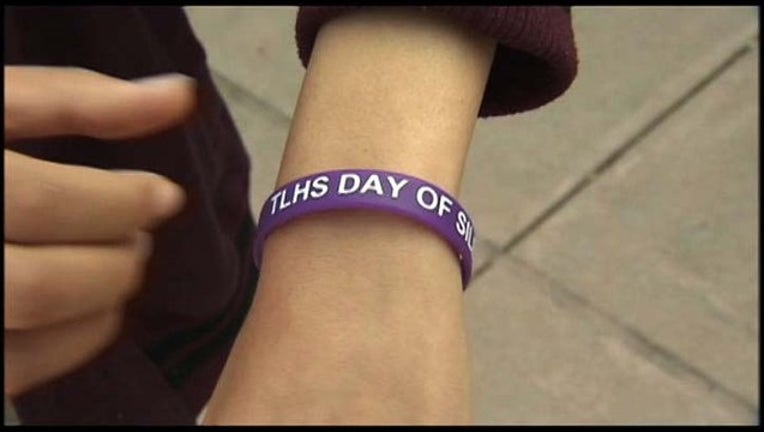 article
SAN RAFAEL, Calif. (KTVU) -- There will be silence at San Rafael's Terra Linda High School on Friday.
About 300 students plan to go silent for the day to deliver what they hope is a loud message about bullying.
"One of my close classmates has been bullied, and it's been hard, " senior Kiera Yee told KTVU as she hung a banner in a hallway. "He was gay, and there was a group of students who didn't support that."
Yee's banner reads: "Think of the voices you're not hearing today."
It refers to the voices of LGBT teens and others who feel too afraid, ashamed or harassed to show who they really are.
"I hear people say 'that's so gay' every day at this school," senior Samantha McLaughlin said as she and other members of the Gay Straight Alliance assembled lanyards after school on Thursday.
The lanyards, a simple placard worn like a necklace, will explain to anyone who wonders, that the wearer is participating in a "Day of Silence" to raise awareness of bullying.
"People usually like to speak up about big issues" McLaughlin told KTVU. "But being silent makes them wonder 'why are you being silent?"
"It's definitely powerful to see everyone wearing these at school," said Gay Straight Alliance President Nivie Oron, who noted almost 200 students took part last year, Terra Linda's first observance. This time, more than 300 plan to go mum.
"Last year a few students came out to me personally, and said the Day of Silence made them feel comfortable to do that, so that right there, was rewarding enough," Oron said.
Day of Silence started with one college in the 1990s and has since spread to thousands of schools, including middle schools and high schools. The national event is actually Friday April 17, but since Marin public schools, including Terra Linda, are on spring break next week, they moved it rather than miss it.
"I love to talk a lot, so it's going to be really challenging," freshman Mina Anderson told KTVU in the quad after school.
"I'm really excited to see how it goes, " admitted freshman Rachel Metzger, already wearing the distinctive purple wristband. "It's going to be difficult, but it's also going to be a lot of fun!"
Students say silence isn't so arduous in class, but socializing outside of class is a challenge.
"It was really hard especially during lunch because everyone's talking, and you want to also," acknowledged sophomore Hayley Grimshaw.
A handful of teachers plan to show solidarity by being silent too.
"I've planned how I can teach my classes without speaking," explained Barbara Segal, faculty sponsor of the Gay Straight Alliance. "I''m going to put a lot of stuff on the board and have hand-outs."
Students and teachers hope, by using no words at all, they'll send a strong statement of support, and spur students to stand up against bullying behavior in the future.
"It's okay, now we've had our silence," elaborated Segal, "and next we need to have the conversation, this is something we need to talk about now."