The Latest: Macron, Le Pen advance to France runoff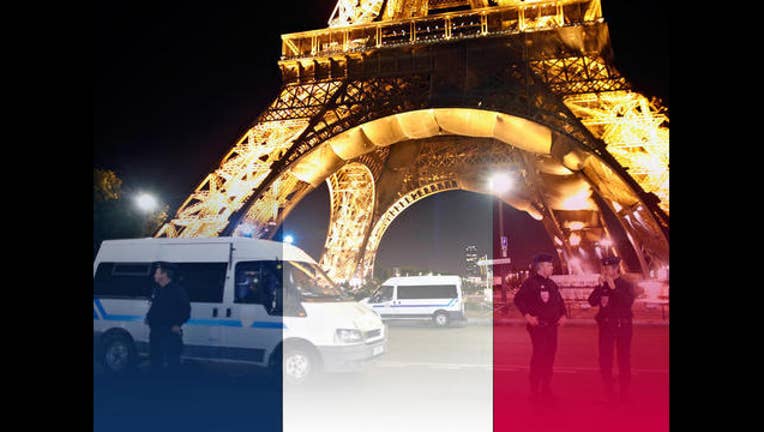 article
PARIS (AP) - The Latest on the first round of France's presidential election (all times local):
8:50 p.m.
French centrist candidate Emmanuel Macron and far-right leader Marine Le Pen are advancing to the presidential runoff, after major opponents conceded defeat.
For the first time in modern French history, no mainstream party candidate is advancing, upending the country's political system. 
Voters will choose May 7 between Macron, a former investment banker and ex-economy minister, and Le Pen, who has tried to scrub her National Front party of its history of racism and anti-Semitism.
8:45 p.m.
France's prime minister has called on voters to support centrist candidate Emmanuel Macron against far-right rival Marine Le Pen in the country's presidential election.
Prime Minister Bernard Cazeneuve has called for the defeat of Le Pen's National Front party, in comments just after polling agencies projected the two advancing to the May 7 presidential runoff.
The announcement came moments after the Socialist candidate Benoit Hamon conceded defeat. If the results hold, it would be the first time in modern French history that no major-party candidate has advanced to the presidential runoff.
___
8:20 p.m.
Supporters of French far-right presidential candidate Marine Le Pen and centrist Emmanuel Macron went wild with cheers as polling agency projections suggested they could advance to the presidential runoff.
"We will win!" Le Pen supporters chanted in her election day headquarters in Henin-Beaumont. They burst into a rendition of the French national anthem, and waved French flags and blue flags with "Marine President" inscribed on them.
Macron supporter Mathilde Julien said that "he represents France's future, a future within Europe."
Silence and disappointed sighs rose up instead at the headquarters of conservative Francois Fillon in Paris as projections appeared on TV screens suggesting he is in third place and wouldn't make it into the runoff.
___
8:15 p.m.
French Socialist candidate Benoit Hamon has conceded defeat in the first-round presidential vote.
Polling agency projections showed Hamon a distant fifth place after five years of a deeply unpopular Socialist government.
Hamon said as he acknowledged losing the race that "the left is not dead."
Projections show that far-right leader Marine Le Pen and centrist Emmanuel Macron leading in the first round. If their leads hold, it would be the first time in modern French history that no major-party candidate has advanced. Hamon called on voters to back Macron in the May 7 runoff.
___
8 p.m.
Polling agency projections show far-right leader Marine Le Pen and centrist Emmanuel Macron leading in the first-round French presidential election.
The results could set up a duel between a young candidate with no electoral experience and the woman who remade the image of a party tainted by racism and anti-Semitism.
The race is seen as a litmus test for the spread of populism and could help determine Europe's future. With most polls just closed, it remained too early to say who advances to the May 7 runoff. Close behind were far-left contender Jean-Luc Melenchon and conservative Francois Fillon.
The projections are based on vote counts in select constituencies, then extrapolated nationwide. If Le Pen and Macron's leads hold, it would be the first time in modern French history that no major-party candidate has advanced.
___
6:50 p.m.
Presidential voting in France's Caribbean territories seems to have lagged behind that on the mainland.
Official figures show that only about 35 percent of the 311,000 eligible voters on the French island of Martinique had voted by 5 p.m. local time Saturday, two hours before polls closed. Final figures were being released with Sunday's results.
The percentage was even lower elsewhere: Just 34 percent in Guadeloupe and 20 percent in Saint-Martin.
In Martinique, Fort-de-France Mayor Didier Laguerre tells the Martinique 1ere radio station that most voters are probably waiting for a runoff.
___
5:25 p.m.
Voter turnout in France's close presidential election is above 69 percent in late afternoon, almost as high as the last presidential vote.
The Interior Ministry announced Sunday that the turnout had reached 69.4 percent, compared to 70.6 percent in the first round of presidential voting in 2012.
After years of economic stagnation and high unemployment, voter disillusionment is exceptionally high this year, prompting expectations of lower-than-usual turnout
Polls have suggested that far-right candidate Marine Le Pen's voters were especially motivated to cast ballots while supporters of other candidates were less convinced.
Sunny weather in much of France may have played a role. Some pollsters also said an attack on police Thursday may have prodded voters into taking part in the election.
___
4:50 p.m.
Thousands of people are rallying in Berlin to show their support for the idea of a united Europe and for a pro-European outcome for France's presidential election.
The weekly demonstrations organized by a grassroots group in Germany and other European countries calling itself Pulse of Europe began at the end of 2016 to counter growing nationalist sentiment and opposition to the European Union.
On Sunday, thousands showed up at the German capital's Gendarmenmarkt square. They waved the star-spangled blue flags of Europe, held up signs like "Berlin loves France" and sang Europe's "Ode to Joy" anthem.
___
4:25 p.m.
Even though the northern French town of Henin-Beaumont is presidential candidate Marine Le Pen's bastion, that's no guarantee of votes for the far-right contender.
Voters trickled in Sunday in a steady stream to polling station No. 12, an elementary school where Le-Pen had voted earlier in the day in the first round of France's presidential election.
Valerie Hosaert, a 48-year-old insurance company worker, says "there are 11 candidates and not one that pleases me ... so I'm voting for the least bad."
Charlotte Villette, 25, added "we don't have much choice. They're all losers."
Yvette Tifou, 67, a retired math teacher, said her choice was "relatively simple" since she is a long-time leftist. She also said Sunday's presidential vote is more important than past presidential votes in France.
___
2:50 p.m.
In Montreal, thousands of French citizens have waited in lines that snaked at one point to eight blocks long to cast their votes in France's presidential election.
Polls opened Saturday morning in Canada's main French speaking city, home to Quebec's highest population of French nationals. French citizens lined up to vote at Montreal's only polling station at Stanislas College in Outremont.
The vote in mainland France is happening Sunday, but polling stations in France's far-flung overseas territories and in embassies around the world opened on Saturday to allow enough time to collate the vote results altogether.
___
2 p.m.
Outgoing French President Francois Hollande has said the best message of this election would be "to show democracy is stronger than anything" by going out to vote.
Hollande, who is not standing for re-election, oversaw tight security measures for Sunday's first round poll to help prevent disruption after Thursday's deadly attack on the Champs-Elysees.
His government mobilized over 50,000 police and gendarmes to protect polling stations.
Voting in his political fiefdom of Tulle in Correze, southwestern France, Hollande said that "we are in such a time, and sadly it's nothing new and not about to end now, when we must mobilize a lot of means."
He called the measures a "guarantee to the French people this fundamental right of choosing their future."
___
1 p.m.
France's Interior Ministry says the voter turnout so far in the first round of the presidential election is about the same as it was in 2012, when turnout was high.
At midday Sunday, the ministry said that 28.54 percent of eligible voters had cast their ballot, compared with 28.29 percent in 2012.
Commentators have said a low voter turnout would benefit far-right candidate Marine Le Pen, whose voters are seen to have more enthusiasm and are more certain to vote in a low turnout election than supporters of some other candidates.
___
12:20 p.m.
A voting station in eastern France has reopened after being evacuated because of a suspicious vehicle parked nearby.
Interior Ministry spokesman Pierre-Henry Brandet told The Associated Press that the voting station in Besancon was evacuated while explosives experts examined the car, but they deemed there to be no risk.
He said no other incidents have been reported in Sunday's first-round presidential election.
Tens of thousands of security forces are guarding voting stations across France after an attack in Paris on Thursday revived security concerns. France remains under a state of emergency after deadly Islamic extremist attacks in recent years.
The top two winners on Sunday will advance to a May 7 runoff.
___
11:30 a.m.
Topless demonstrators from the Femen activist group have caused a commotion as they staged a stunt against Marine Le Pen outside a polling station where the far-right presidential candidate was heading to vote.
Around six topless Femen activists were detained Sunday morning after jumping out of an SUV limo wearing masks of Le Pen and United States President Donald Trump.
Police and security forces quickly forced them into police vans, confiscating their signs.
Le Pen voted at the station shortly after without further disruption.
The election is taking place amid heightened security. The government has mobilized more than 50,000 police and gendarmes to protect polling stations.
___
11 a.m.
Centrist presidential candidate Emmanuel Macron, one of the front-runners in France's unpredictable election, has voted in the coastal town of Le Touquet in northern France alongside his wife Brigitte Macron.
The former Socialist economy minister and former banker was relaxed and posed for selfies with voters.
Macron, 39, traveled to Le Touquet this weekend where he has a holiday home for time off the campaign trail.
Other candidates also cast their ballot Sunday morning, including Socialist Benoit Hamon and far-leftist Philippe Poutou.
A total of 11 contenders are vying to advance to the presidential runoff on May 7.
___
1030 a.m.
President Francois Hollande has cast his vote in the first round of the French election in his political fiefdom of Tulle in Correze, southwestern France.
The incumbent Socialist president made the unusual move last year of pledging to not stand for re-election.
The Socialist candidate is 49-year-old Benoit Hamon, who is not among the presidential front runners.
Hollande was the most unpopular French leader in the country's modern history.
___
10 a.m.
The wife of conservative presidential candidate and former French Prime Minister Francois Fillon has cast her ballot near their country home - conspicuously not alongside her husband, due to vote miles away in Paris.
Presidential candidates usually vote together with their spouses.
Welsh-born Penelope Fillon, 61, was handed preliminary charges for her role in a fake jobs scandal - dubbed "Penelopegate" - that had threatened to derail her husband's campaign.
She voted in the department of Sarthe, some 250 kilometers (155 miles) away from the French capital, where she lives with her husband in a 14th-century manor.
___
9:30 a.m.
Candidates in France's presidential election have started to cast their votes.
Hardline right-winger Nicolas Dupont-Aignan, who rails against Europe, was the first of the 11 presidential candidates to vote Sunday morning in his constituency in the leafy Paris suburbs.
Far-left candidate Nathalie Arthaud cast her ballot soon after in the Paris suburb of Pantin.
In Paris, voters were lining up early at polling stations.
The vote "is really important, mainly because we really need a change in this country with all the difficulties we are facing and terrorism," said Paris resident Alain Richaud.
"It's definitely risky, but I have faith in the result even if an extreme candidate qualifies for the second round," said Beatrice Schopflin.
___
8 a.m.
French voters have begun casting ballots for the presidential election in a tense first-round poll that's seen as a test for the spread of populism around the world.
Over 60,000 polling stations opened Sunday at 0600 GMT for some 47 million eligible voters, who will choose between 11 candidates. It's the most unpredictable election in generations.
Polls suggest far-right nationalist Marine Le Pen and Emmanuel Macron, an independent centrist and former economy minister, were in the lead. But conservative Francois Fillon, a former prime minister, appeared to be closing the gap, as was far-left candidate Jean-Luc Melenchon.
France's 10 percent unemployment, its lackluster economy and security issues topped voters' concerns.
Early voting began Saturday in France's overseas territories.