Thousands march in San Francisco solidarity protest, demand police reform
SAN FRANCISCO - A mass gathering protest against police brutality, sparked by the killing of George Floyd in Minneapolis last week, descended upon San Francisco on Wednesday. It is the fifth day of demonstrations in the city.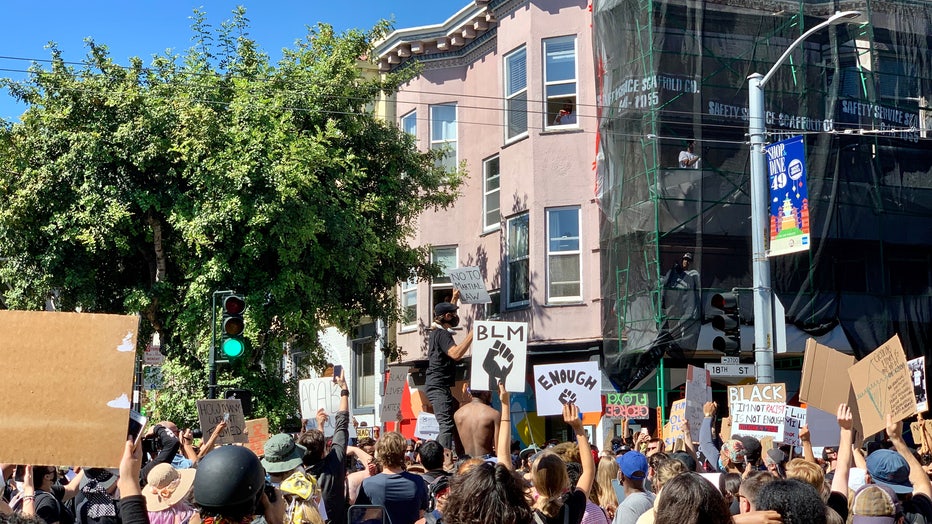 Mission H.S. protest. June 3, 2020. Photo: Bay City News.
It appeared to be the largest Bay Area gathering since the protests have made their presence locally. It began at Mission High School near Dolores Park at 4 p.m. where around 5,000 people had initally gathered. The crowd quickly swelled to an estimated 12,000 to 16,000 within a couple of hours, taking over the park and vicinity of Mission High. Unofficial police estimates said the crowd was 10,000 strong. 
By 7 p.m. a faction had made its way to the Hall of Justice at 850 Bryant Street, which was barricaded and surrounded by law enforcement. 20 people were arrested Tuesday night for violating curfew at this location. 
The gathering organized by nopeacenojusstice San Francisco convened in 81-degree temperatures at the high school located at 3750 18th Street. At around 5:20 p.m. they began to march to Mission Police Department at 630 Valencia Street at 17th Street. 
San Francisco Police Department officers surrounded Mission Police Department's station, but at least three officers took a knee in solidarity with protesters.  
SkyFox helicopter above could see the massive demonstration taking up as many as 20 city blocks.  
Protesters said the march was about building momentum and that much still has to be done to ensure justice for Floyd and other members of the black community. 
The protest comes the same day charges against the fired cop in Floyd's killing would be upgraded and the three other fired police officers involved would be charged in his death.
A car passing by full of demonstrators said justice was being served when asked if they had heard about these developments. Others said the decision took too long. 
"I think that's a step in the right direction and if they are convicted and sentenced then that will be a lot better of a step," said Lahel, a protester. 
The crowd was diverse with plenty of youth and some people who even brought their babies. 
Participants were encouraged to adhere to physical distancing rules, due to the ongoing coronavirus pandemic, by keeping six feet apart and to wear a mask or face covering. However, that did not appear to be the case with a crush of people all in one space. 
Young medical doctors from UC San Francisco felt compelled to come out and speak up despite the pandemic. 
"What I want to see is what happens after this moment," Arthurine Cakama of Minneapolis said. "It's the continued engagement of allies to dismantle the system that is disproportionately killing us." 
Maura Jones of New Orleans said people who support this cause need to go to the polls in November and vote.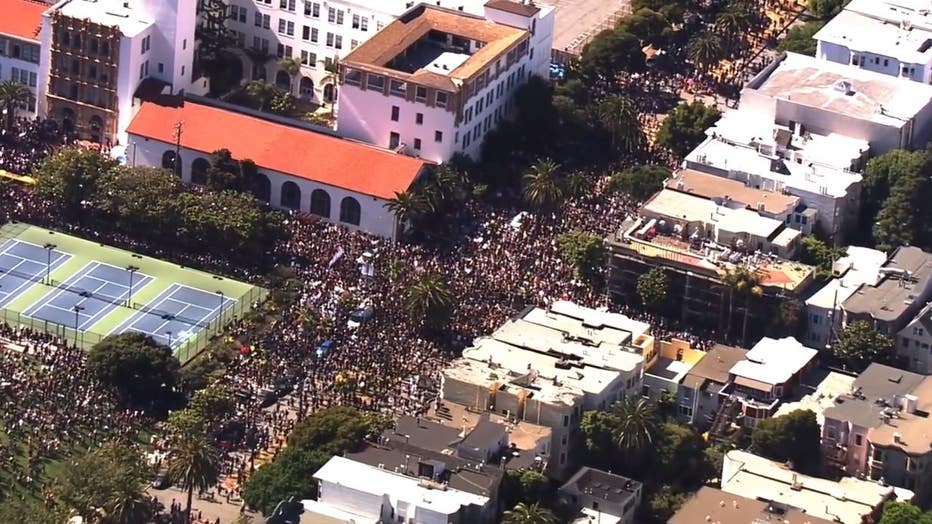 A mass protest for George Floyd at Mission H.S. June 3, 2020.
The gathering has been observed as peaceful and started off well within the limits of the city-issued curfew, which went into effect for its final night at 8 p.m. By the time the crowd made its way to the Hall of Justice the countdown to curfew was an hour away. 
Shortly after 9 p.m. the crowd began to disperse and yet another smaller faction became mobile. Candidate for California's D-11 state Senate seat Jackie Fielder, who was on the ground and marching, tweeted video with a caption saying they were headed to City Hall some 10 blocks away. 
Others splintered off down Market Street towards the Castro District and some took off into the night down Valencia Street.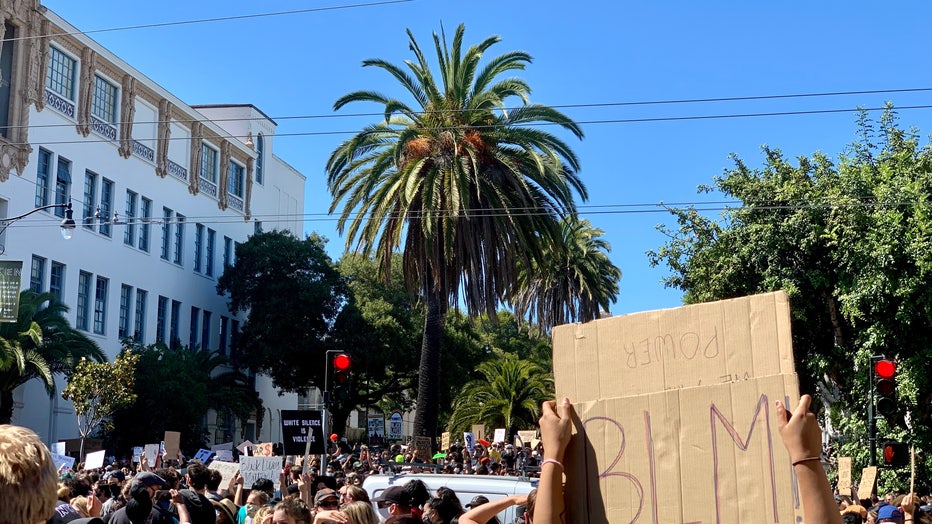 Mission protest, June 3, 2020. Photo: Bay City News.
Mayor London Breed announced earlier in the day the indefinite curfew would expire Thursday morning at 5 a.m. after being in effect since Sunday night. 
San Francisco Police Chief Bill Scott told KTVU the department's strategy was to facilitate a peaceful protest. 
"As long as it stayed peaceful, we were going to facilitate and help the protesters express their first amendment right for as long as they wanted to do that," Scott said. 
At around 11:30 p.m. video accounts on social media showed arrests being made of a group on Mission Street, apparently for being in violation of curfew. It was unclear how many arrests were made.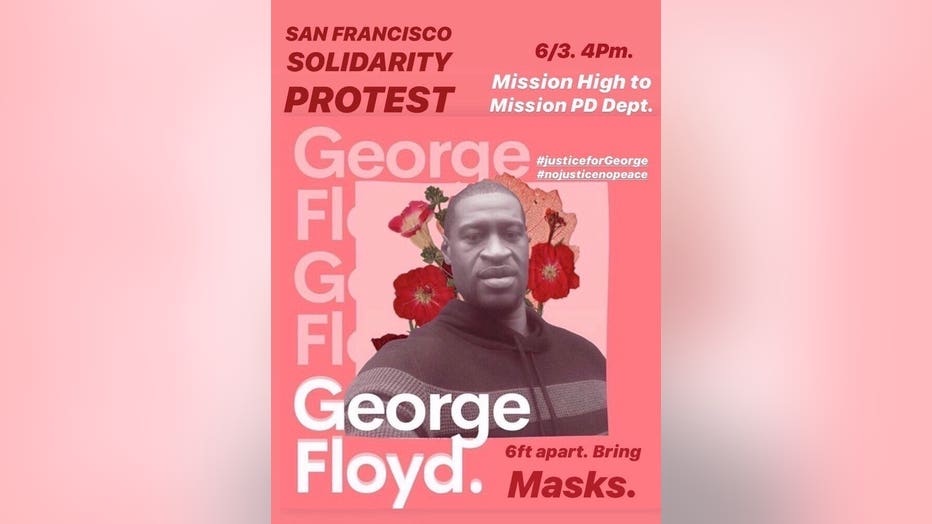 Poster for June 3, 2020 George Floyd protest at Mission H.S.
KTVU's Christien Kafton, Amber Lee and Bay City News contributed to this report.