Tickets for Sharks-Kings NHL outdoor game sell out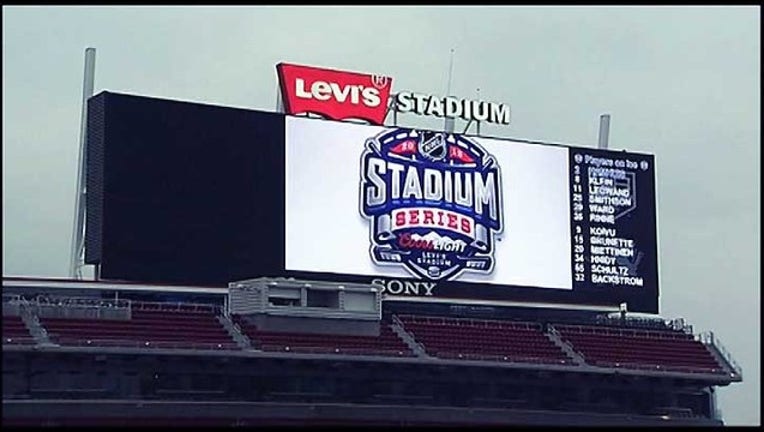 article
SANTA CLARA (BCN) -- A National League Hockey game pitting the San Jose Sharks against Los Angeles Kings on an outdoor frozen ice rink will be played before a sellout crowd at Levi's Stadium on Saturday, a league spokesman said.
Fans have paid $80 to $300 to attend the regular season game, part of the NHL's outdoor 2015 Coors Light Stadium Series, and a three-hour hockey-themed festival prior to the opening face off, New York-based NHL
spokesman Jamey Horan said.
"We're expecting 70,000," Horan said. "It's sold out. We're very pleased with the appetite for tickets."
The process of making ice for the out-of-doors hockey rink, and to keep it frozen during sunny days in South Bay, has taken several days this week with employees working at night to avoid the sun, Horan said.
The workers use "wands" shooting mists of water onto the rink floor that is equipped with icing pads running with coolant and a refrigeration truck keeps the temperature at a below-freezing 22 degrees
Fahrenheit, according to Horan.
In daytime this week leading to Saturday's game, a reflective tarp is being placed to cover the rink's ice to both insulate it and repel the sunlight.
The game itself starts at 7 p.m. Saturday, when the sun will be down.
The pre-game fan festival, open only to game ticket holders, is to feature live music, family-friendly games, food, drinks, prize giveaways and retail tents selling NHL-licensed gear and collectables.
The festival begins at 4 p.m. between Gates A and C of the stadium and runs up until game time.
The NHL started holding its Jan. 1 Winter Classic outdoor games in 2008 in wintry-clime cities like Buffalo, Pittsburgh and Detroit. Last New Year Day's in Washington, D.C. the Washington Capitals beat the Chicago
Blackhawks 3-2.
Last year, the outdoor Stadium Series was played on Jan. 25 at Dodger Stadium in warmer Los Angeles followed by two other open-air games in New York and one in Chicago.
The Sharks-Kings game will be televised live on the NBC Sports Network in the United States and CBC and TVA2 in Canada.