Mom calls 911 after toddler gets head stuck in angel food cake pan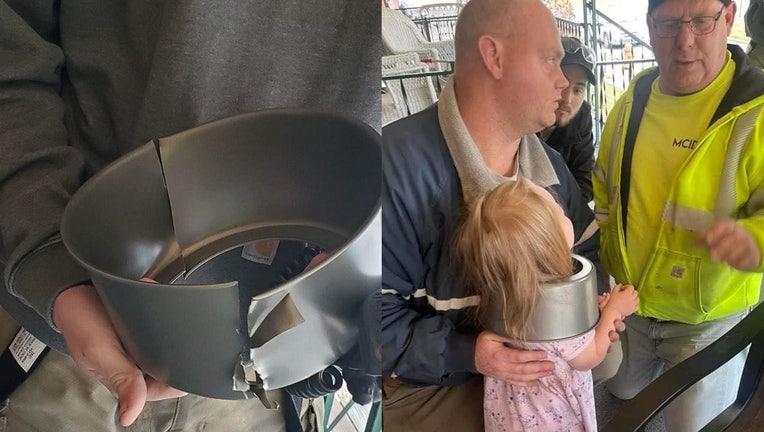 article
LEWISTOWN, Pa. - A Pennsylvania mom and her 2-year-old daughter have some local firemen to thank after the toddler somehow got her head stuck in an angel food cake pan.
Erin Meixel told FOX TV Stations she was working from home and in the same room with her daughter Quinnley on Feb. 6 when she heard her say, "Mommy, stuck! Mommy, stuck!"
That's when she saw Quinnley had pulled an angel food pan over her head.
"She thought she could wear it as a hat," Meixel recalled.
Meixel tried to pull the pan off, but it wasn't budging. Quinnley's dad was at work, so Meixel tried to call some local firemen she knows in the community. They didn't answer. From there, she called the nearest fire house, but again, no answer.
READ MORE: 'I need time to just play': 6-year-old Georgia boy makes case for 3 days off school
Reluctantly, she called 911 and told the operator it was not an emergency.
"She was sitting there eating M&Ms and drinking her sippy cup, watching cartoons," Meixel said. "She had the pan down enough that it looked like she was wearing a shawl."
Much to Quinnley's disappointment, the operator called a couple of firemen from Junction Fire Company to help cut the "pan hat" off the toddler.
READ MORE: Texas toddler accidentally orders 31 cheeseburgers on DoorDash
"After it was off she was mad she no longer had that 'pan hat,'" Meixel said with a laugh. 
"We can most certainly laugh about it now," she said. "I can't thank them enough for coming out and helping. She went back to playing like nothing ever happened."