Tour of California comes to the South Bay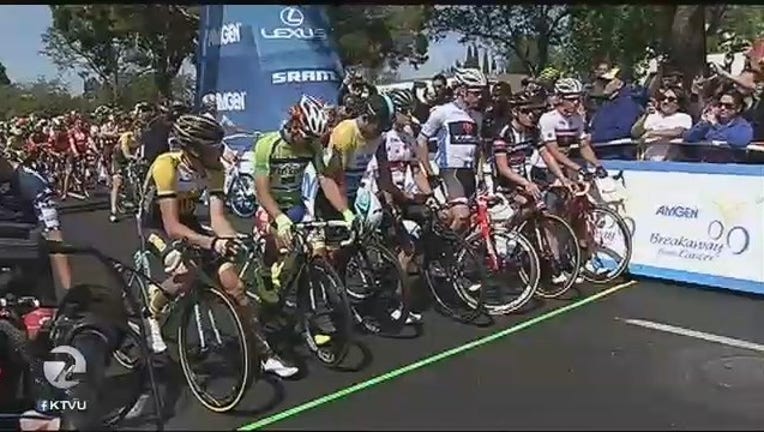 article
Stage Three is a 105-mile scenic ride and has six climbs including 4,200 ft. up Mount Hamilton. It's an easy feat for sprinter Mark Cavendish of Great Britain.
"It's a nice place," said Cavendish. "It's nice when the weather is good. The thing that makes this stages harder is in San Jose, we always start up straight on a hill, so we don't have time to get our legs warm when we hit the mountain."
The frontrunners are expected to come out in this stage. At the start of Stage Three, first-time Amgen rider Robin Carpenter from San Diego was also in the top three.
"If I'm climbing well," said Carpenter. "I can make a small selection overt the top of Mount Hamilton and make it to the finish. For all I know I might be the next guy in the lead."
Some say, the real winners are the diehard fans. For the Melnarik family from Fremont, it's an annual tradition to watch the Amgen Tour in San Jose.
"It's really inspirational," said 14-year-old Catie Melnarik. "It's cool to see them out here."
"I like seeing the finish because they are going really fast and it's cool to see how hard they are pushing," said 11-year-old Becky Melnarik.
"It's really cool to see the best cyclists riding the hills we ride every week," said Christina Melnarik.
All of them are rooting on these professional athletes, proud to see them riding in our own backyard.
"San Jose has a wonderful climate and a lot of really good roads" said Alyane Yellum of San Jose. "I hope that it gets more people to get out, on their bikes and get out of their cars."
Little-known 23-year-old Latvian cyclist Toms Skujins sprinted from 95th place to finish 32 seconds ahead of the next rider, taking the stage.