Transcript: Sit down interview with Gavin Newsom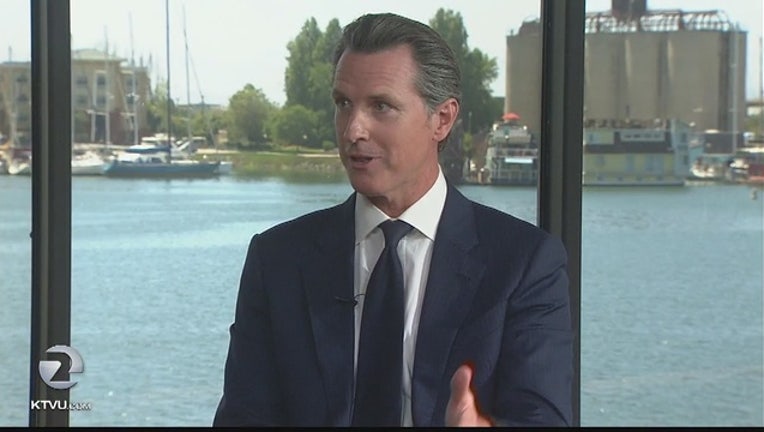 SAN FRANCISCO (KTVU) - Partial transcript of KTVU's interview with California gubernatorial candidate Gavin Newsom.
WHAT'S YOUR PLAN TO MAKE SURE PEOPLE CAN LIVE WITHIN A REASONABLE DISTANCE OF THEIR JOB?
"Look, we're 49th out of 50th in per capita housing units. We have an affordability crisis in the state of California and I don't use that word often because I think we tend to dilute its meaning. It is a crisis. We are losing our middle class. It is the bubble word. I've been out on this campaign trail for two years, town halls all across this state. It's not just a coastal issue in dense urban environments and high cost parts of the state. It's a big issue in rural parts of the state and so it unites everyone in terms of the anxiety and stress. Kids who are still living with parents at 30, 35 years old and the parents fearing that if the kids move, they may move out of the state. And so we have to get serious about building more housing. It's a production issue, fundamentally. We've got to preserve existing housing stock, which goes deep into the issue of rapid rehousing, particularly as it relates to homelessness. The difference between myself and my opponent, respectfully is we've laid out a detailed, comprehensive strategy to address the homeless crisis and to address the housing crisis. And we've laid out prescriptive, measurable opportunities to actually make a real impact in real time if we are successful."
SO GIVE US ONE THING FROM YOUR SPECIFIC PLAN ON MAKING MORE AFFORDABLE HOUSING.
"On the affordable housing side, it's not very complicated, we need increase our affordable housing tax credit from $85 million to $500 million. We want to bring back successor agencies for redevelopment and more enhanced infrastructure. Forgive me for being wonky on this, but it is a legitimate issue, you have to be wonkish about it, to know how to pull the levers. It's not just about getting rid of regulations. It's more complicated than that. We certainly want to streamline the regulatory process but moreover than anything else, we want stated goals: three and a half million housing units. We want to make sure that local government is incentivized, which means we want to match grant funding and we also want to disincentivize local government that is not meeting its housing goals by taking transit dollars and sending those transit dollars to those municipalities and those communities that are meeting their goals. So, incentives, disincentives, specific plans, matching grants, new goals and much more intentionality around this issue of bringing people together regionally and locally with the state officials to set forth a much more aggressive course."
YOUR OPPONENT TALKED ABOUT THE COST OF BUILDING IS TOO HIGH IN CALIFORNIA. DO YOU AGREE?
"The cost of building is very high in California. That's a nice thing to identify as an issue. The question is: what is he specifically proposing to address it? We're proposing focusing on materials, modular housing, pre-fab housing, a novel strategy, all part of our plan and proposal. I have not heard those details, any details whatsoever, except for reducing regulation. He wants to eliminate, he said, CEQA. Just eliminate them. I hope people understand what that may ultimately mean and pause and express some caution and concern about that extreme position that he's advancing."
WHAT DOES THAT MEAN TO US?
"Well, it basically means that anyone can run roughshod over any development without any consideration of its consequences, intended or otherwise. That's why CEQA was conceived by the Reagan administration many, many moons ago. There are abuses with CEQA, we have to address those abuses, more categorical exemptions, as I'm calling for for socially desirable projects, more programmatic environmental reviews, what we call EIRs. We've laid those out in specific detail, but as he suggests eliminating CEQA, I think would be devastating to the state's economy, not just its environment."
WHAT ABOUT REQUIRING IN THE PERMITTING PROCESS THAT A CERTAIN AMOUNT OF ANY CONSTRUCTION IS FOR AFFORDABLE HOUSING.
"Well, no one does that more than in San Francisco. We have some of the highest, what we call inclusionary set asides, for affordable housing in the state. The problem is not every municipality can afford to do that. The market values of the units here in San Francisco afford the city of San Francisco to do that, where other parts of the state enjoy those kind of market rates. That said, I do believe in affordable housing set asides, I do believe in incentivizing middle income housing, which is a major issued that is not discussed enough. That's where jobs go to sleep, workforce housing. Middle class housing. And one of the proposals that we are offering, and one of the things I will pursue if we are successful in this race is engaging the private sector, particularly some of the largest tech companies in this region and in this state to address our twin challenge and that is affordability for their workforce and look to take some of this repatriated money that came from that Trump tax bill, hundreds of billions of dollars that have come back to this country, 10s of billions in this state and in this region, and to look to build a collaborative to help finance what we call that missing middle. Those are units at 60 to 120 percent of area median income, again forgive the wonkishness, but to focus on that missing middle as also a big part of our agenda to address the affordability crisis."
THAT INCLUDES TEACHERS AND POLICE OFFICERS WHO CAN'T LIVE IN THEIR CITY WHERE THEY ARE WORKING.
"That goes deep to that issue. That's a huge issue. As a former mayor of San Francisco, that we are literally landlocked if you lose that one point of access, which is actual land access versus these bridge points of access.. from an emergency preparedness perspective, getting your first responders back into the city is a profound and pronounced problem. So, connecting these issues: jobs, housing linkages and that jobs and housing linkage is a transportation question as well. All of these things are related so our housing thrust is focusing on the interdependence between transit funding and housing production goals and making sure the two are twinned and making sure we support smart growth, density bonuses around transit corridors, where most of the housing production can be addressed in a way that also provides quality of life, livability, and a stronger environmental framework."
ALSO VERY MUCH RELATED IS HOUR HOMELESSNESS. A LOT OF PEOPLE LIVING IN THESE TENT CITIES.
"It's out of control. It's never been worse. 134,000 at our last count. 24 percent of the nation's homeless in this state. It's a disgrace, it's unacceptable, it's gotten much much worse than it ever has been in my lifetime and we need a governor who gives a damn about this, that is going to be aggressive, and hold folks accountable at a local level to do more and do better. Rapid rehousing, what I want to do is something called SSI advocacy to get folks on the federal appropriation, which will allow for more money being drawn from the federal government that will allow us additional resources to get people back in their housing. We've got to deal with the mental health crisis. Again, another crisis in the state that has not been addressed and the substance abuse challenges, people self-medicating out on the streets and sidewalks in record numbers. We want an agency director on homelessness, which has not been the case in the past. We are going to convene local government in a way that no previous governor has in the past, and I have a lot of experience on this. We were able to reduce the street population by 40 percent when I was mayor. We were able to get 10,000 people off the street when I was mayor. We made real progress. There were challenges, nonetheless, and I clearly didn't do enough but I have a sense of what works and what doesn't work and we have real strategies, real plans. We are not just demagoging, we're not just identifying it. We are going to hit the ground running if we are successful, starting a transition, not waiting til January of next year."
YOUR OPPONENT IS TALKING ABOUT A PLACE TO GET CLEAN NEEDLES IS NOT THE ANSWER.
"No, just stepping over people on the sidewalks is not working either. My belief is getting people access to treatment is a hopeful strategy to get people off the streets. What is not a hopeful strategy is denying the reality and offering nothing constructive in terms of how one addresses it. The fact is: people who are addicted to opioids, people are addicted to heroin, people are addicted methamphetamine, they don't just wake up one morning and say: 'you know what, I'm going to stop on my own.' It's one of the most insidious addictions that exists, they need help. And the ability to connect folks with those addictions to professionals that are there to stabilize and help turn their lives around, why would we miss that opportunity and try to do something differently on this issue as opposed to again demagogue it and offer, quite literally, nothing in terms of an alternative to the status quo."
HOW DO YOU GET PEOPLE TO GET THE HELP? YOU CAN FORCE THEM. YOU CAN DRAG THEM IN AND KEEP THEM THERE.
"I've seen studies on coerced treatment not being as effective, but I'm not ideological on this. I've seen coerced treatments, drug courts actually work for some, not everybody. You gotta meet people where they are. But the bottom line, at the end of the day is there's never been a drug free society in human history so we have to address it from a harm reduction perspective. The Bay Area has led the nation, not just the state, in terms of those strategies. It was wildly controversial when we did needle exchange decades ago. But the rates or Hep C and HIV and AIDS significantly declined, lives were saved and taxpayers were saved billions and billions of dollars that would have otherwise been spent in emergency rooms and chronic care had we not had the courage to led on that with emergency declarations every two weeks. And it's the same approach I want to take, lean into the reality that exists and persists all
across this state and that's called leadership. A lot of folks just demagogue these issues and offer nothing in solutions. I've had the practical application of being a former mayor and seeing what works and what doesn't. I've had now 7 ½ years as lieutenant governor, getting a sense of how Sacramento works. And I've studies these issues, I've delved deep into the policy, I've got real ideas and plans and the best and the brightest folks who want to come work for us. We have a chance to do something big and bold. I just hold we have that opportunity by winning this damn election in November."
I HAVE SEEN IN REPORTS THAT WE HAVE DONE. IT SEEMS THERE ARE PEOPLE WHO ARE CHOOSING TO LIVE IN THESE TENT CITIES. THEY ARE FORMING THESE COMMUNITIES. I DRIVE BY IT, THEY ARE UNDER OVERPASSES. IT'S DANGEROUS. IT'S A HEALTH ISSUE, IT'S A FIRE DANGER. HOW DO WE GET THOSE PEOPLE, WHO AREN'T NECESSARILY DEALING WITH MENTAL HEALTH ISSUES OR DRUG ADDICTIONS, THEY'RE LIVING ON THE STREETS. HOW DO WE GET THEM OUT IN A SAFE PLACE AND NOT COME RIGHT BACK?
"So there rarely was a Friday when I was mayor, quite literally, this is not a gross exaggeration, it's a modest exaggeration for full disclosure, that I wasn't walking the streets, reaching out to the homeless in the Tenderloin in San Francisco and South of Market. And the consequence of doing that over years and years as a county supervisor and a former mayor is I somehow reject the notion that people are service resistant. I don't accept this notion that people "fancifully choose" to live out on the streets and sidewalks and submit themselves to the elements and to crime and violence, to all kinds of assaults. I just don't believe that. I think it's in the absence of alternatives that people do that. I often find that is the case with someone who has a partner and we are only offering units for single adults, not for partners. I find often that someone has a dog, understandably, they are living out in the streets, and sidewalks and the shelter we are providing doesn't provide for their pet. Or some people are not necessarily ready to be drug free and they shelter require, or the housing units require them, to be sober and clean, but they are just not there yet. All of those things have informed me that there is a lot of mythology that people just fancifully prefer sleeping out in the elements, under overpasses. I'm not there. It may take five or ten, maybe 30 interventions to finally meet someone where they are, but my experience is we can get folks off the street. Homelessness can be solved. I don't think it can be solved, I know it can be solved, I've seen it. Thousands and thousands of human beings are, quite literally off the streets, that had chronic mental illness, that were self medicating with drug or alcohol addictions, that people never thought had any interest in getting off the streets and they are testament that we can turn this around. It's a question of commitment, it's a question of resolve, it's a question of choosing to do more and be better as a society and I choose to believe we can do more and do better and not demogoge the issue and point blame, point fingers, and offer, quite literally, nothing as a way of a solution."
I'VE SEEN YOUR ADS AND YOU SAY EVERY BABY SHOULD HAVE PRE-NATAL CARE, TODDLERS SHOULD GO TO PRE-SCHOOL, WE SHOULD HAVE AFFORDABLE COLLEGE, HOW DO WE PAY FOR ALL OF THIS?
"Well, that's the ideal. That's the goal. When I was mayor we had the chance to fully implement universal preschool. No one thought that could be done. We did it in the middle of a recession. 2008-09, people said you are cutting all these programs, but at the same time we were investing in preschool. We did universal health care in the middle of a recession. 2007, 08, 09, San Francisco became the first city and county in America with universal health care. People said, how can you pay for it? We found ways to get it done. You set goals, you set commitments and you try to advance those goals and commitments regardless of the external conditions. It's decisions, not conditions that determine our capacity to answer those questions. I'm committed to early childhood education, not interested in it. And I'm committed for one fundamental reason: we are as dumb as we want to be as a society. The number one predictor or at least a top predictor of whether you will end up in the criminal justice system is the number of words you speak in kindergarten. You want to get serious about corrections costs, police overtime? You want to get serious about the achieve gap for African Americans and Latinos? Address the wealth gap and the disparities on income? Then begin at the beginning. 85 percent of the brain is formed by the time you are 3. The brain actually starts pruning neurons at 4 that weren't connected. It's not a government program to educate a mother to talk to her kid, to read to their kid, to sing to their kid, to count to their kid. It's around intention. So, it's not about money as much as it is about resourcefulness and so I'm trying to offer a novel approach to deal with these vexing issues and that's why we are leading with that ad and not leading with an ad attacking my opponent, rather attacking problems."
YOUR OPPONENT IS SAYING WE ARE 46TH IN TERMS OF SCHOOLS IN THE STATE, BUT ACTUALLY I LOOKED UP THE RECENT POLLS AND WE ARE MORE LIKE 30TH WHEN IT COMES TO ACHIEVEMENT. STILL NOT GREAT.
"A new report came out last week saying what we've been saying the last couple years on this campaign trail. The achievement gap doesn't manifest after you get out of high school and go into college. It manifests before you enter kindergarten. I'll repeat that. The achievement gap exists before you start kindergarten. You want to get serious about education reform? You can triage, you can spend an enormous amount of money on remediation or you can address the root cause of those stats and that is we are not preparing our kids to enter kindergarten. California is near the bottom. Oklahoma provides universal preschool, California does not. An overwhelming amount of Floridians have universal preschool. California doesn't offer it. We don't do enough on prenatal care, early head start, focusing on infant toddler care and preschool. That is the top priority for me to address those issues of those disparities and address the issues that we struggle with as it relates to our educational outcomes in this state."
CHARTER SCHOOLS?
"I opened a charter school in Bayview Hunters Point when I was mayor. I support high-quality, nonprofit charters that have transparency and accountability. I love best practices, I love competition, but not to create a competitive environment where we are at each other's throats, but to create competitive ideas that can be spread. My biggest frustrations with the charters right now is they are not spreading best practices of those outstanding charters or even those outstanding public schools, like Lowell and Lincoln and Washington in my old hometown of San Francisco. That's a big job of the next superintendent of public education and the next governor to begin to express a narrative of collaboration, not this zero sum game that is currently part of the debate around educational reformers versus establishment."
YOUR OPPONENT HAS SOME VERY STRONG OPINIONS ABOUT WATER IN CALIFORNIA. HE CRITICIZED THE FACT THAT WE LET THE OROVILLE DAM GET TO THE STATE THAT IT WAS IN, WE'VE ENACTED A WATER RATIONING BILL, WHICH HE DOESN'T NECESSARILY AGREE WITH.
"Once again, I don't know what he's offering beside rhetoric in terms of addressing those issues, but I'm proud of our governor and the legislature, what they did offer. That was a $7.5 billion bond that they put on the ballot and the public overwhelmingly approved it. $2.7 billion is set aside for above ground storage and larger storage capacity which likely will occur near Colusa County. There are hundreds of millions of dollars for safe drinking water, water recycling, ground water replenishment, innovative programs on technology. We are pursuing new de-sal plants in this state. My opponent has offered nothing in the way of advice, counsel, or support for those efforts ans so we are moving in a different direction. There are some extraordinary toilet to tap strategies in Orange County. There's a lot of regional programs that are models, not just for this state, but for the nation. And I feel like we made a lot of progress over the last few years. I wish that progress had been made before Gov. Brown took the oath of office, but we are in a much place than we were prior and moving forward we have even more ideas and plans, particularly as it relates to those 400 water agencies that represent 90 percent of users. It's not a top down solution, it's a bottom up solution. It's reasons rising together to address water issues. More recycling, more ground water replenishment, storm water capture, all part of a larger narrative that has been developed over the course of the last few years.
HIGH SPEED RAIL. IS IT ON TRACK OR IS IT A TRAIN TO NOWHERE?
"It's not a train to nowhere. Anyone who suggests that is being really dismissive to the people in the central valley. In fact, not only dismissive, it's a ludicrous thing to say it's a train to nowhere. It demeans one of the fastest growing and most dynamic parts of the state, the central valley. There is extraordinary things happening in the central valley. For those of us living out on the coast, it's not just an agricultural issue. You go to Fresno, a lot of young tech leaders out there, and the start ups. There's a lot of wonderful things happening. The idea to connect the central valley to one of the most dynamic and innovative parts of the planet, Silicon Valley is really the opportunity that presents itself with the high speed rail now that we've reconstituted it. I was very critical of the original business plan, it had gone way off the rails. They're now bringing it back and they are re-prioritizing the phasing, valley to valley. And if we can achieve that first phase than I think we can invite the private sector money to finish the job and that's to get it over the Tehachapi Mountains, San Gabriel Mountains down into Southern California.
THE CRITICISM HAS BEEN WHY DIDN'T IT GO ALONG 5. THE INFRASTRUCTURE IS THERE, THE OVERPASSES ARE THERE. YOU WOULDN'T HAVE THE ENVIRONMENTAL CONCERNS.
"That's one of a dozen critiques. There's other critiques that we stipulated that it has to be 220 miles per hour. The reality is, billions of dollars have been committed, $3.5 billion dollars would have to be given back to the Trump Administration if we decided to kill this project we'd be involved in lawsuits and litigation for decades, we'd be out of pocket the billions we've already spent. There's thousands of construction jobs currently underway on this project. It is underway. We do have a rational new plan for phasing, which we can finance. I'd hate to see someone come in, like my opponent, and literally throw billions of dollars away and offer again, nothing except rhetoric in the way of offering any alternative solutions to the legitimate crisis that exists in transportation in the state, which is not surprising given that he is opposing the investment of over $5 billion in our roads and bridges for public safety purposes as his top priority as a candidate for governor.
24:40:05 HE DID TELL ME THERE IS A LOT OF WASTE IN CALIFORNIA. WE SPEND TWO TIMES AS MUCH AS TEXAS ON ROADS, THREE TIMES AS MUCH AS NEVADA ON PRISONERS. SIX BILLION DOLLARS IN OVERTIME FOR STATE EMPLOYEES.
"Good. And what is his specific plans to address that. I'm honest about that, I just don't know what it is. Five billion dollars… he would literally have to reduce the size of the prison population by 67,000 inmates. He might have to eliminate one half of our elementary school teachers to find five billion dollars. Would have to eliminate every single person who works for Caltrans, almost twice to find efficiencies.
WHAT'S YOUR PLAN FOR THE DMV? "I don't think there is a greater sense of urgency in terms of reform than the Department of Motor Vehicles. We don't need an audit to tell us what's wrong. Audit's fine, I support an audit, always have, for months, but it's hardly the solution. The solution is leadership. Getting a tech savvy director of the DMV, making sure we hire the best and the brightest as it relates to the future of retail to get people out of line and online, to digitize a lot of the efforts that are underway and move those things forward.