Triple Crown winner burned up last quarter-mile in Belmont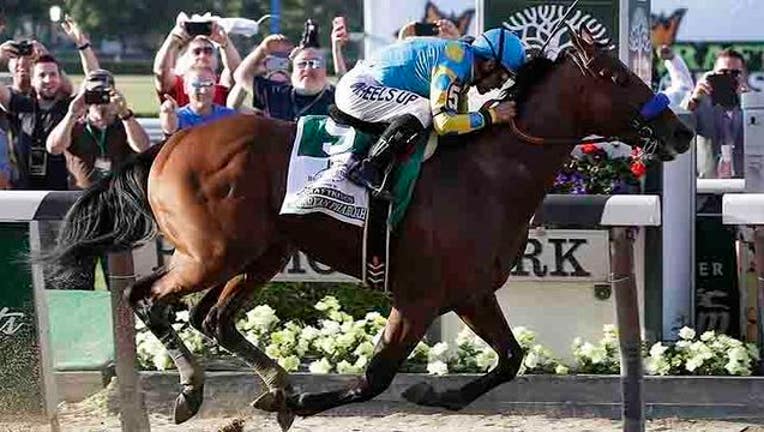 article
NEW YORK (AP) — 24.32 seconds.
With a final quarter-mile dash to the finish even faster than Secretariat, American Pharoah ran into Triple Crown history with a dazzling display of speed and endurance in the Belmont Stakes.
Triple Crown winner Secretariat may have taken the 1973 Belmont by a record 31 lengths and in a record time of 2:24, but American Pharoah was faster to the finish over the final 440 yards. Big Red took 25 seconds; American Pharoah was .68 seconds quicker.
"He flew home the last quarter," American Pharoah's trainer Bob Baffert said Sunday. "I've never had a horse like that. I've never seen a horse run like that. I wasn't around for the Seattle Slews and Secretariats. But what we witnessed ... I was pretty in awe."
So was a roaring crowd of 90,000 at Belmont Park.
American Pharoah owner Ahmed Zayat believes his horse is a worthy addition to the Triple Crown club. His winning time proves it. The colt's 2:26.65 clocking for the 1 1/2-mile Belmont is second to Secretariat's among the 12 Triple Crown winners — and sixth fastest in Belmont history.
"Sometimes I can't believe I have him in my barn," Baffert said of the colt who has won seven in a row after a career-opening defeat. "To see this horse finally do something like this ... You have to have a superior horse, and he also has to be tough and be able to handle the grind."
His acceleration at the end of a race longer than most horses will ever run was extraordinary. Several Triple Crown hopefuls tired in the stretch over the years, including Baffert's Silver Charm (three-quarters of a length) and Real Quiet (nose). This time, not an issue.
"He made the lead in the first turn and just threw those ears forward," Baffert said. "That's a happy horse right there. He was lovin' it. When he came to the quarter pole, Victor (Espinoza) still had a hold of him after going that far."
With Frosted, and even Keen Ice, moving up, Baffert thought about what had happened before.
"Turning for home, I was prepared for somebody coming because I've gone through this so many times and I was just hoping for once ..." he said.
American Pharoah simply took off with his fluid stride, pulled away and won by 5 1/2 lengths.
"It was a beautiful moment," Baffert said. "I'll never forget the sound of the crowd when they were turning for home. I've never been involved in anything like that.
"It's ridiculously insane what he did."
Two times before, Espinoza had come up short in Triple tries, including last year with California Chrome. But closing in on the finish line, he knew he had a winner.
"It's just an amazing feeling that you have when you're 20 yards from the wire," he said. "And then at the wire I was like, 'I cannot believe I did it.'"
And a day later, after three races in five weeks at tracks in Kentucky, Maryland and New York, American Pharaoh looked like he was ready to go again.
"Silver Charm, Real Quiet, they went through it and it was really tough on them," Baffert said. "I looked at this horse today and for a horse that ran 1 1/2 miles he looked pretty darn good. He's just a tough horse and he's handled it."