Trump blasts California governor's immigrant pardons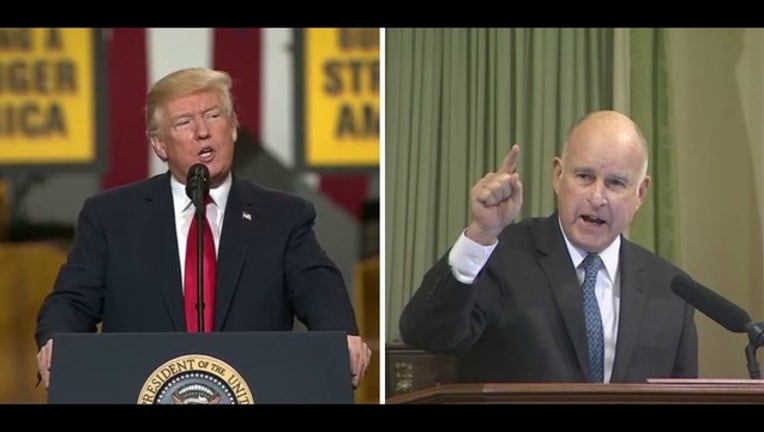 article
LOS ANGELES (AP) - President Donald Trump blasted California Gov. Jerry Brown on Saturday for his pardon of five ex-convicts facing deportation, including two who fled the Khmer Rouge regime in Cambodia with their families four decades ago.
In a tweet , Trump referred to Brown as "Moonbeam," referencing a nickname a newspaper columnist coined for him in the 1970s. Trump then listed the ex-convicts' crimes before they were pardoned Friday. They include misdemeanor domestic violence, drug possession, and kidnapping and robbery.
Trump wrote: "Is this really what the great people of California want?"
A spokesman for Brown responded to a request for comment with more information about the five men but did not directly address Trump's criticism.
In a news release about the pardons on Friday, the governor's office said that "those granted pardons all completed their sentences years ago and the majority were convicted of drug-related or other non-violent crimes."
"Pardons are not granted unless they are earned," the governor's office said.
Brown's pardons marked the third time the Democrat has intervened on behalf of immigrants who were deported or faced deportation over convictions. Brown has accused the Trump administration of "basically going to war" with California over immigration policy.
Brown's pardons don't automatically stop deportation proceedings, but eliminate the convictions on which authorities based their deportation. 
Trump has been criticized for his own pardon, that of former Arizona Sheriff Joe Arpaio, who was convicted last year of a misdemeanor contempt charge for flouting the courts in carrying out his signature immigration patrols.
Trump's pardon spared Arpaio from a possible jail sentence. The 85-year-old longtime lawman announced a run for Senate in January.
Those pardoned Friday by Brown included Sokha Chhan and Phann Pheach, who face deportation to Cambodia, a country ruled in the 1970s by the genocidal Khmer Rouge. Chhan was convicted of two counts of misdemeanor domestic violence in 2002 and served about a year in jail.
Pheach was convicted of possessing drugs and obstructing a police officer in 2005 and served six months in jail. His wife said he is in federal custody
Also pardoned was Daniel Maher, who served five years in prison stemming from the 1994 armed robbery of a San Jose auto parts store. He was convicted of kidnapping, robbery and being a felon in possession of a firearm in the case.
Maher is facing deportation to China, where he has never lived. Maher is from Macau, which became part of China after his family immigrated to California when he was 3.
Also pardoned while facing deportation were Daniel Mena and Francisco Acevedo Alaniz. Mena served three years of probation after being convicted of possessing illegal drugs in 2003. Alaniz served five months in prison for a 1997 car theft conviction.
The governor is a former Jesuit seminarian and traditionally issues pardons close to major Christian holidays. Easter falls on Sunday.
California's longest-serving governor has now issued 1,519 pardons, including 404 during his first two terms as governor from 1975 to 1983.
------
Associated Press writer Janie Har contributed to this report from San Francisco. Elias reported from San Francisco.