Trump budget cuts domestic programs to boost defense spending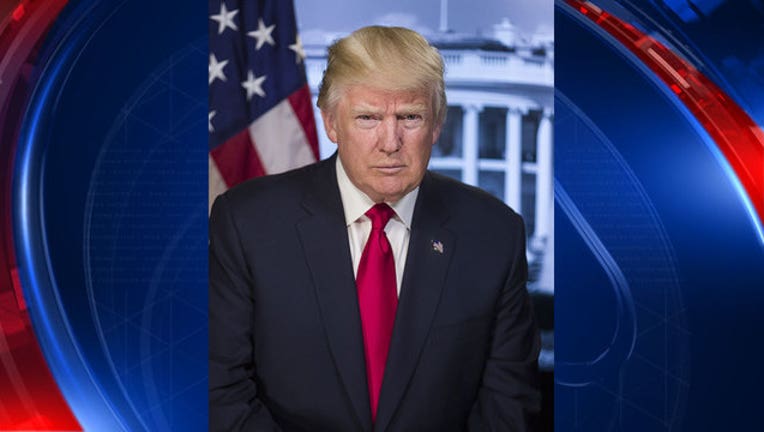 article
WASHINGTON (KTVU) - President Donald Trump's budget proposal sets up a big battle over where America should spends its dollars and signals President Trump's desire for a significant shift in priorities. Shortly after its release on Thursday, Democrats and even some Republicans voiced opposition to parts of President Trump's plan that would increase military funding and cut spending on agriculture, the environment, and the arts.
"To keep Americans safe, we have made the tough choices that have been put off for too long," President Trump declared in a statement titled "America First" that accompanied the $1.15 trillion budget.
'The President said hundreds of times, I am going to spend less money on people overseas and more money on people back home and that's exactly what we're doing with this budget," said Mick Mulvaney, Director of the Office of Management and Budget.
The President's plan increases spending in three areas. The Department of Veterans Affairs would receive a 6% increase. Homeland Security would receive a 7% increase, with funds set aside to build a wall on the Mexican border. That was one of Mr. Trump's key campaign promises, although he had promised the Mexicans would pay for the wall. Thursday's proposal calls for an immediate $1.4 billion infusion with an additional $2.6 billion planned for the 2018 budget year starting Oct. 1.
The Department of Defense would get a $54 billion or 10% increase, the largest in nearly 30 years.
To offset the spending, twelve other departments would face the following budget cuts:
Treasury 4%
Justice 4%
Energy 6%
Interior 12%
Transportation 13%
Education 14%
Commerce 16%
Health and Human Services 18%
Agriculture 21%
State Department - 28%
Democrats found plenty they didn't like.
"President Trump has shown that he does not value the future of our children and working families," said House Minority Leader Nancy Pelosi of California.
The President's plan would privatize the Federal Aviation Administration's air traffic control functions. Subsidies for airlines serving rural airports in Trump strongholds would be eliminated.  It would also shut down some money-losing long-distance Amtrak routes and kill off a popular $500 million per-year "TIGER Grant" program for highway projects created by Obama.
   Some of the most politically sensitive domestic programs would be spared in the new proposal, including food aid for pregnant women and their children, housing vouchers for the poor, aid for special education and school districts for the poor, and federal aid to historically black colleges and universities.
   Critics seized on difficult-to-defend cuts to programs such as Meals on Wheels, which delivers food to elderly shut-ins.
   The National Institutes of Health would absorb a $5.8 billion cut despite Trump's talk in a recent address to Congress of finding "cures to the illnesses that have always plagued us."
The EPA would face a 31% percent budget cut, eliminating 50 programs and laying off thousands of employees.
The budget proposal completely eliminates funding for the global climate change initiative, the Corporation for Public Broadcasting and the National Endowment for the Arts.
Cities such as San Francisco say those cuts would have an immediate impact on community groups.
"In the past 3 years we've received $6.5 million so an elimination of the agency would be a pretty drastic cut to many of our artists and arts organizations here in San Francisco," said Tom DeCaigny, the San Francisco Director of Cultural Affairs.
The plan also eliminates the AmeriCorps program, and heating assistance and legal help for low income households.
   While it targets Democratic priorities like housing, community development and the environment, it also would slash GOP sacred cows like aid to rural schools and subsidized airline service to Trump strongholds, and it would raise fees on participants in the federal flood insurance program.
 
  Midwestern Republicans including Sen. Rob Portman of Ohio were upset by cuts to the Great Lakes Restoration Initiative. Southern Republicans like Rep. Hal Rogers of Kentucky lashed out at cuts he called "draconian, careless and counterproductive."
   One target of the budget is the Appalachian Regional Commission, which helps communities in the region.
   Trump's proposal covers only roughly one-fourth of the approximately $4 trillion total federal budget. This is the discretionary portion that Congress passes each year, not addressing taxes, Social Security, Medicare and Medicaid.
   Nor does it make predictions about deficits and the economy. Those big-picture details are due in May, and are sure to show large -- probably permanent -- budget deficits. Trump has vowed not to cut Social Security and Medicare and is dead set against raising taxes.
   As for Thursday's proposal, Republicans praised the president for beefing up the Pentagon, but they were far less enthusiastic about accepting Trump's recipe for doing so without adding to the nation's $20 trillion debt.
   "While we support more funding for our military and defense, we must maintain support for our farmers and ranchers," said North Dakota Republican John Hoeven, blasting a 21 percent cut to the Agriculture Department's budget.
   The proposed budget would close numerous county offices that help farmers and rural residents navigate farm subsidy and rural development programs. Rural development and water projects would also bear cuts.
   "I just want to make sure that rural America, who was very supportive to Trump, doesn't have to take a disproportionately high cut," said Rep. Robert Aderholt, R-Ala.
   Budget Director Mulvaney acknowledged that passing the cuts could be an uphill struggle and said the administration would negotiate.
   "This is not a take-it-or-leave-it budget," he acknowledged.
KTVU political analyst Brian Sobel said the plan is just a starting point and there will be plenty of lobbying by Democrats and even some Republicans.
"They come from all kinds of districts all over the country with all kinds of viewpoints and there are going to be arguments," said Sobel, "The budget that we're hearing about today is not the budget that we'll see when it's passed by Congress."
   Many of Trump's GOP allies on Capitol Hill gave it only grudging praise, if any.
   "Congress has the power of the purse," reminded House Appropriations Committee Chairman Rodney Frelinghuysen of New Jersey. "I look forward to reviewing this," said House Speaker Paul Ryan of Wisconsin.

   "Many of the reductions and eliminations proposed in the President's `skinny budget' are draconian, careless and counterproductive," said Rep. Harold Rogers, R-Ky.
   Law enforcement agencies like the FBI would be spared. In addition to the billions for the border wall, there is a request for $1.2 billion for the current budget year for additional border patrol and immigration control agents.
   More than 3,000 EPA workers would lose their jobs and programs such as Barack Obama's Clean Power Plan, which would tighten regulations on emissions from power plants seen as contributing to global warming, would be eliminated. Popular EPA grants for state and local drinking and wastewater projects would be preserved, however, even as research into climate change would be eliminated.
   Before the two sides go to war over Trump's 2018 plan, they need to deal with more than $1.1 trillion in unfinished agency budgets for the current year. A temporary catchall spending bill expires April 28; negotiations have barely started and could get hung up over Trump's request for the wall and additional border patrol and immigration enforcement agents, just for starters.
President Trump is expected to release the rest of his budget plan in May, addressing taxes and the deficit. Then Congress will have the summer to negotiate and try to pass the budget by the October 1st deadline.
 
You can see a copy of the budget here.