Trump denies climate change role in Camp Fire, suggests raking leaves is bigger problem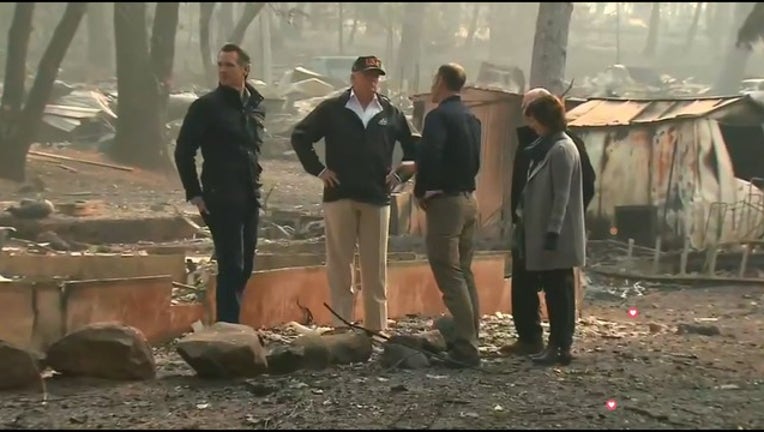 article
President Trump denied climate change as a factor for deadly wildfires after visiting the charred remains of Paradise in Butte County on Saturday, where the Camp Fire stormed through and killed at least 71 people. He did, however, say that Finland does not have the same problem because "they spend a lot of time on raking" leaves in their forests. 
"I was with the president of Finland and he said, 'We have a much different —we're a forest nation.' He called it a forest nation, and they spent a lot of time on raking and cleaning and doing things," Trump said, standing amid crumbled homes and melted cars. "And they don't have any problem."
"You've got to take care of the floors. You know the floors of the forest – very important," the president said. "You look at other countries where they do it differently and it's a whole different story."
The president toured the devastation with Governor Jerry Brown and Governor-elect Gavin Newsom. He acknowledged both Brown and Newsom's commitment to addressing the state's wildfire problem, adding they will be working together moving forward with the full support from the federal government. 
"We'll do a real job," Trump said. "This is very sad to see. I think everybody's seen the light and I don't think we'll have this again to this extent." 
In an interview with Fox News' Chris Wallace set to air Sunday, the president discussed the same leaf raking point he shared with the world later. 
"I was watching the firemen the other day and they were raking areas, they were raking areas where the fire was right over there," the president complained in a clip. "And they're raking trees, little trees like this that are not trees, little bushes that you could see are totally dry. Weeds. And they're raking them, they're on fire. That should have been all raked out. You wouldn't have the fires."
More: Fire deaths rise to 71 ahead of Trump's California visit
Towards the end of Saturday's press conference, Trump was pressed again about the role of climate change, in particular whether or not his view shifted after witnessing miles and miles of Camp Fire carnage first-hand. The president didn't budge.
"No. I have a strong opinion. I want great climate. We're going to have that, and we're going to have forests that are very safe. That's happening as we speak," Trump said, but offered no details. 
The president has long voiced skepticism about man's impact on the climate and has been reluctant to assign blame to a warming earth for the increase in the frequency and intensity of natural disasters. 
Last week, Trump threatened to withhold federal funds to California after erroneously claiming the only reason for wildfires is because of bad forest management. His comments were widely criticized by fire officials. 
The 148,000-acre Camp Fire ignited Nov. 8 and has killed at least 71 people. It's already the deadliest fire in state history and there's more than 1,000 people unaccounted for as of Saturday morning.
 
The Associated Press contributed to this report.