Trump launches his attack on banks' financial restraints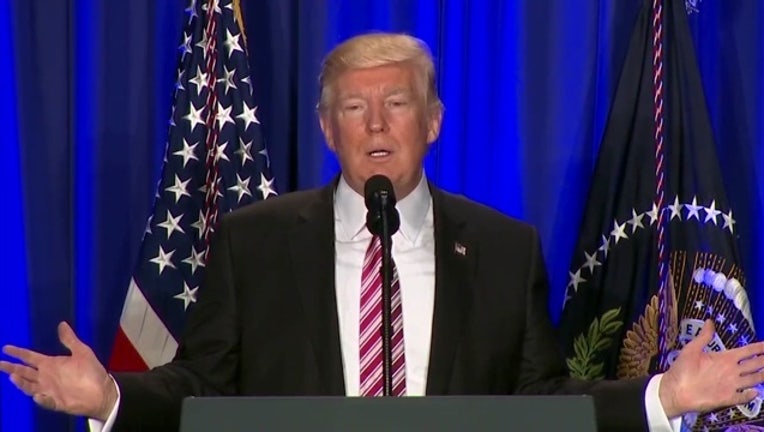 article
WASHINGTON (AP) -- President Donald Trump launched his long-promised attack Friday on banking rules that were rushed into law after the nation's economic crisis, signing new orders while surrounded by business and investment chiefs and pledging further action to free big banks from restrictions. Wall Street cheered him on, but Trump risks disillusioning his working-class voters.

He directed his Treasury secretary to review the devilishly complex 2010 Dodd-Frank financial oversight law, which was signed by President Barack Obama to overhaul regulations after the financial and housing crisis of the past decade. It aimed to restrain banks' from misdeeds that many blamed for the crisis.

The new president also signed a memorandum instructing the Labor Department to delay an Obama-era rule that requires financial professionals who charge commissions to put their clients' best interests first when giving advice on retirement investments.

While the order on Dodd-Frank, named after its Democratic sponsors, won't have an immediate impact, Trump's intent is clear. The law has been a disaster in restricting banks' activities, he said earlier this week. "We're going to be doing a big number on Dodd-Frank."

Gesturing toward JPMorgan Chase CEO Jamie Dimon on Friday, he said, "Frankly I have so many people, friends of mine that have nice businesses that can't borrow money. They just can't get any money because the banks just won't let `em borrow because of the rules and regulations of Dodd-Frank."

Those regulations unnecessarily cramp the U.S. economy and job creation, he declared. But many Democrats see it differently, including Sen. Elizabeth Warren, who was behind the formation of the Consumer Financial Protection Bureau, formed as part of the Dodd-Frank law.

"Donald Trump talked a big game about Wall Street during his campaign -- but as president, we're finding out whose side he's really on," Warren said in a statement. "The Wall Street bankers and lobbyists whose greed and recklessness nearly destroyed this country may be toasting each other with champagne, but the American people have not forgotten the 2008 financial crisis -- and they will not forget what happened today."

The crisis touched off the worst recession since the 1930s Great Depression, wiping out $11 trillion in U.S. household wealth and leaving about 8 million Americans jobless. U.S. taxpayers funded multibillion-dollar bailouts of Wall Street mega-banks, smaller banks across the country and other financial firms.

Eight years on, the economy's recovery has been halting, a situation that contributed to Trump's election. Beyond being fed up with bailouts, consumers have an interest in the Financial Protection Bureau, which expanded regulators' ability to police a wide array of financial products and services.

During his campaign, Trump pledged to repeal and replace the law, but he also railed against Wall Street excess and vowed to hold the industry accountable for the crisis. His rhetoric left questions about how closely he would align with the financial services industries' years-long fight to undo regulations they view as burdensome.

Since winning the White House, Trump has cleared up some of those questions. He has filled his administration with millionaires and financiers and signed the orders after meeting with top CEOs and banking executives.

In his other action Friday, Trump's presidential memorandum on financial advisers delayed implementation of the past administration's "fiduciary rule," aimed at blocking consultants from steering clients toward investments with higher commissions and fees that can eat away at retirement savings. The rule was to take effect in April.

The financial services industry argues that the rule would limit retirees' investment choices by forcing asset managers to steer them to low-risk options.

Meanwhile, unwinding most of Dodd-Frank will require legislation, and on Capitol Hill the Republicans' yearning to cut it down is as strong as ever. But tax reform, reworking "Obamacare" and other issues are more immediate priorities, some Republicans suggest. Further, the big Wall Street banks already have baked in many of the Dodd-Frank rules and aren't clamoring to unwind all of them.
Aiming lower, in the pre-dawn hours of Friday, Congress passed and sent to Trump for his signature legislation striking down a rule that requires oil and gas companies to disclose payments to the U.S. or foreign governments for commercial development.

Critics warn that rolling back the Dodd-Frank regulations would put the economy at risk.

"You can blow up the financial system and really crush the American economy. I think that's where they're headed," said Michael S. Barr, a former assistant treasury secretary for financial institutions and a key architect of the law.

The Consumer Financial Protection Bureau is a prime target within the law for Republican lawmakers, who have long accused it of overreach. But there are political risks in Trump taking a hatchet to a watchdog agency focused on protecting ordinary consumers against abusive practices by banks, mortgage companies, credit card issuers, payday lenders, debt collectors and others.

Over five years, the agency says, it has recovered $11.7 billion that it returned to more than 27 million harmed consumers.

"You could expect pushback, that this is about favoring Wall Street over Main Street," said Phillip Swagel, an assistant Treasury secretary for economic policy in the George W. Bush administration.

Going after the bureau, Barr said, would likely hurt consumers, "including some of President Trump's strongest supporters."

   ----