Hope fading as deaths in Turkey, Syria earthquake pass 11,000
GAZIANTEP, Turkey - The president of Turkey on Wednesday acknowledged "shortcomings" in his country's response to the world's deadliest earthquake in more than a decade as hope dwindled that more survivors would emerge from the rubble of thousands of toppled buildings.
With the confirmed death toll approaching 12,000, President Recep Tayyip Erdogan visited the especially hard-hit Hatay province, where more than 3,300 people died and entire neighborhoods were destroyed. Residents there have criticized the government's efforts, saying rescuers were slow to arrive.
Erdogan, who faces a tough battle for reelection in May, reacted to the mounting frustration by acknowledging problems with the emergency response to Monday's 7.8-magnitude quake but said the winter weather had been a factor. The earthquake also destroyed the runway at Hatay's airport, further disrupting the response.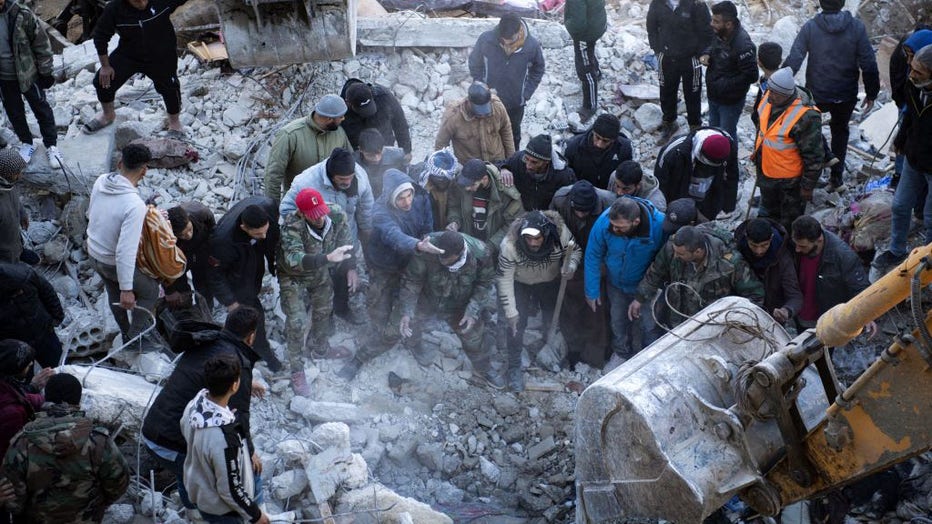 Residents search for victims and survivors amidst the rubble of a collapsed building in the regime-controlled town of Jableh in the province of Latakia, northwest of the capital Damscus, on Feb. 8, 2023, two days after a deadly earthquake in Turkey a
RELATED: How to help earthquake victims in Turkey and Syria
"It is not possible to be prepared for such a disaster," Erdogan said. "We will not leave any of our citizens uncared for." He also hit back at critics, saying "dishonorable people" were spreading "lies and slander" about the government's actions.
Turkish authorities said they were targeting disinformation, and an internet monitoring group said access to Twitter was restricted despite it being used by survivors to alert rescuers.
Meanwhile, rescue teams in Turkey and Syria searched for signs of life in the rubble. Teams from more than two dozen countries have joined tens of thousands of local emergency personnel in the effort. But the scale of destruction from the quake and its powerful aftershocks was so immense and spread over such a wide area that many people were still awaiting help.
Experts said the survival window for those trapped under the rubble or otherwise unable to obtain basic necessities was closing rapidly. At the same time, they said it was too soon to abandon hope.
"The first 72 hours are considered to be critical," said Steven Godby, a natural hazards expert at Nottingham Trent University in England. "The survival ratio on average within 24 hours is 74%, after 72 hours it is 22% and by the fifth day it is 6%."
Rescuers at times used excavators or picked gingerly through debris. It was not clear how many people might still be trapped.
RELATED: Wreckage, rescue and hope in Turkey's earthquake epicenter
In the Turkish city of Malatya, bodies were placed side by side on the ground and covered in blankets while rescuers waited for vehicles to pick them up, according to former journalist Ozel Pikal, who said he saw eight bodies pulled from the ruins of a building.
Pikal, who took part in the rescue efforts, said he thinks at least some of the victims froze to death as temperatures dipped to minus 6 degrees Celsius (21 Fahrenheit).
"As of today, there is no hope left in Malatya," Pikal said by telephone. "No one is coming out alive from the rubble."
Road closures and damage in the region made it hard to access all the areas that need help, he said, and there was a shortage of rescuers where he was.
"Our hands cannot pick up anything because of the cold," Pikal said. "Work machines are needed."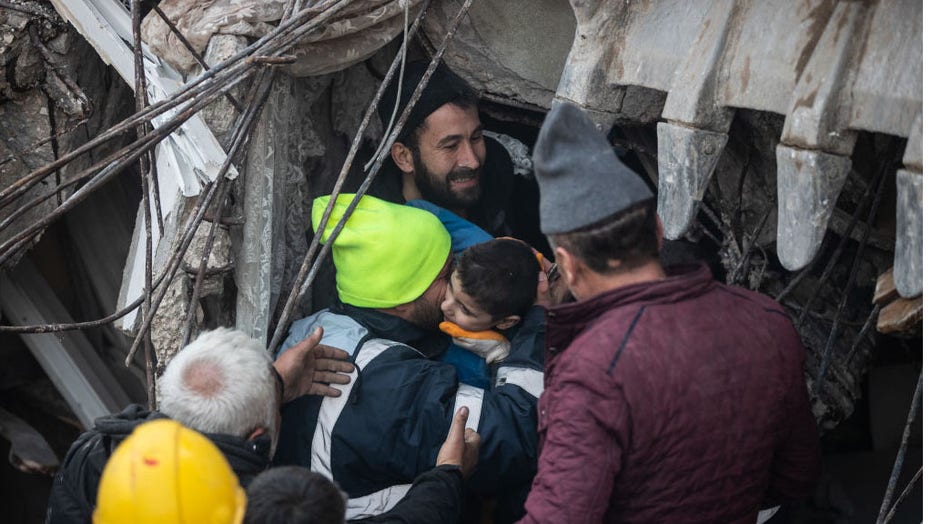 Rescue workers carry Yigit Cakmak, an 8-year-old survivor at the site of a collapsed building 52 hours after the earthquake struck, on Feb. 8, 2023, in Hatay, Turkey. (Photo by Burak Kara/Getty Images)
The region was already beset by more than a decade of civil war in Syria. Millions have been displaced within Syria itself, and millions more have sought refuge in Turkey.
Erdogan said Turkey's death toll passed 9,000. The Syrian Health Ministry reported that the death toll in government-held areas climbed past 1,200. And at least 1,600 people have died in Syria's rebel-held northwest, according to the volunteer first responders known as the White Helmets.
That brought the overall total to nearly 12,000. Tens of thousands more are injured.
Stories of rescues continued to provide hope that some people still trapped might be found alive. A crying newborn still connected by the umbilical cord to her deceased mother was rescued Monday in Syria. In Turkey's Kahramanmaras, rescuers pulled a 3-year-old boy from the rubble, and rescuers sent by the Israeli military saved a 2-year-old boy.
But David Alexander, a professor of emergency planning and management at University College London, said data from past earthquakes suggested the likelihood of survival was now slim, particularly for seriously injured individuals.
RELATED: Here's a look at the world's deadliest earthquakes since 2000
"Statistically, today is the day when we're going to stop finding people," he said. "That doesn't mean we should stop searching."
Alexander cautioned that the final death toll may not be known for weeks because of the sheer amount of rubble.
The earthquake's toll has already outstripped that of a 7.8-magnitude quake in Nepal in 2015, when 8,800 died. A 2011 earthquake in Japan triggered a tsunami, killing nearly 20,000 people.
Many of those who survived this week's quake lost their homes and were forced to sleep in cars, government shelters or outdoors amid rain and snowfall in some areas.
"We don't have a tent, we don't have a heating stove, we don't have anything. Our children are in bad shape," Aysan Kurt, 27, said. "We did not die from hunger or the earthquake, but we will die freezing from the cold."
Some families began mourning their dead. In the Turkish city of Gaziantep, relatives who rushed to Kahramanmaras to rescue 21-year-old Mustafa Sonmez instead buried him Wednesday.
"May God have mercy on those who died. I wish patience for those who remain alive," said relative Mustafa Caymaz.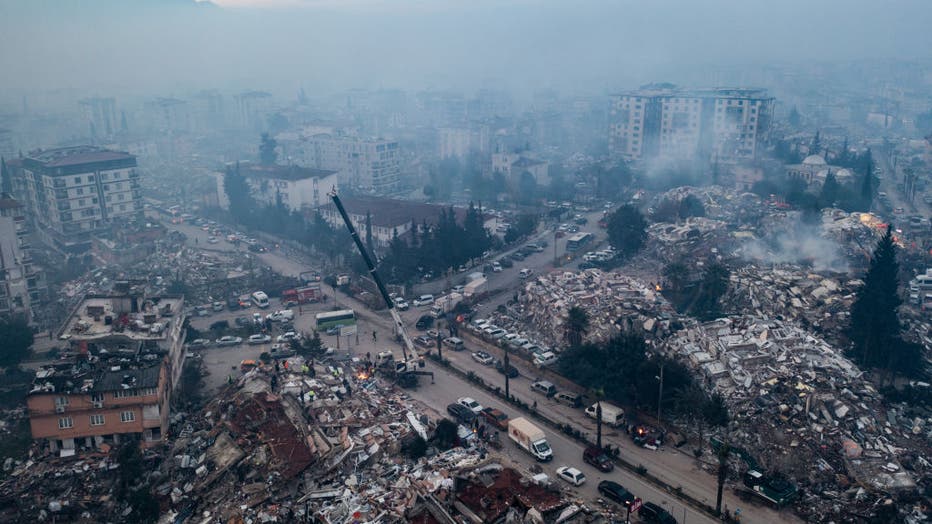 An aerial view shows smoke billowing from the scene of collapsed buildings on Feb. 8, 2023, in Hatay, Turkey. (Photo by Burak Kara/Getty Images)
The disaster comes at a sensitive time for Erdogan, who faces an economic downturn and high inflation. Perceptions that his government mismanaged the crisis could hurt his standing. He said the government would distribute 10,000 Turkish lira ($532) to affected families.
Opposition leader Kemal Kilicdaroglu blamed the devastation on Erdogan's two-decade rule, saying he had not prepared the country for a disaster and accusing him of misspending funds.
In their effort to crack down on disinformation related to the earthquake response, police said they had detained 18 people and identified more than 200 social media accounts suspected of "spreading fear and panic."
Global internet monitor NetBlocks said multiple internet providers restricted access to Twitter in Turkey. Some trapped survivors have used Twitter to alert rescuers and loved ones, while others have used it to criticize the government's response.
Turkey's official Anadolu news agency said a government official held a video conference with a Twitter official to remind him of the company's responsibilities on disinformation and obligations under a strict new social media law.
Twitter CEO Elon Musk tweeted that the company was "reaching out to understand more," and later that it had ben informed by Turkey's government that access would be restored soon.
Musk did not offer an explanation for why Turkey had restricted access in the first place.
The government has periodically restricted access to social media during national emergencies and terror attacks, citing national security.
In Syria, aid efforts have been hampered by the ongoing war and the isolation of the rebel-held region along the border, which is surrounded by Russia-backed government forces. Syria itself is an international pariah under Western sanctions linked to the war.
Ahmad Idris, a Syrian now living in Saraqib after being displaced by the war, cried in agony as he looked at the bodies of 25 family members.
"We came here on the basis of finding a safe shelter for us and our children," he said. "But in the end, look how fate has caught up to us here."
___
Alsayed reported from Bab al-Hawa, Syria. Fraser reported from Ankara, Turkey. Bilginsoy reported from Istanbul. Associated Press journalists David Rising in Bangkok, Danica Kirka in London, Frank Jordans in Berlin, Robert Badendieck in Istanbul, and Kareem Chehayeb and Bassem Mroue in Beirut contributed.