Twitter bot tweets gender wage gap info on companies during Women's History Month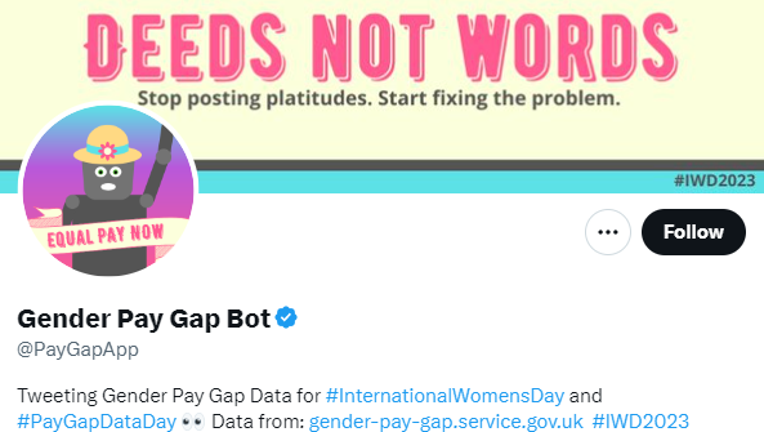 article
Time to put your money where your mouth is. As Women's History Month begins, a Twitter account is calling out British businesses for pay discrepancies between male and female workers.
The automated account, "The Gender Pay Gap Bot" immediately tweets when a company listed on the United Kingdom's government gender pay gap service tweets "International Women's Day key phrases." 
Some of the trigger words include "empowerment, inspiration, and celebration." Tweets and hashtags using "International Women's Day" are also included.
While the account is extremely active throughout the month of March, the account sends tweets on pay gaps throughout the year.
Officials who manage the account say the data they use is all publicly available. 
Francesca Lawson, a freelance copywriter and social media manager, is the "creative strategist" behind the account, according to the pay gap's website.
The account operates by searching Twitter to match company names using the government website to their Twitter accounts before searching for certain keywords to find relevant posts, and then publishes a quote tweet with the information.
The app was created to highlight "employers' supportive social media posts are rarely backed up by action." They said making this information available and "in the spotlight, the public can see through these empty gestures and hold companies accountable for the inequalities they perpetuate."
The Twitter account was first created during Women's History Month in March 2021.
Alongside posting the pay gap, the account also posts if there's been an increase or decrease in the gap, compared to the previous year. 
After being quoted, some companies have even deleted their tweets on Women's History and/or appreciation.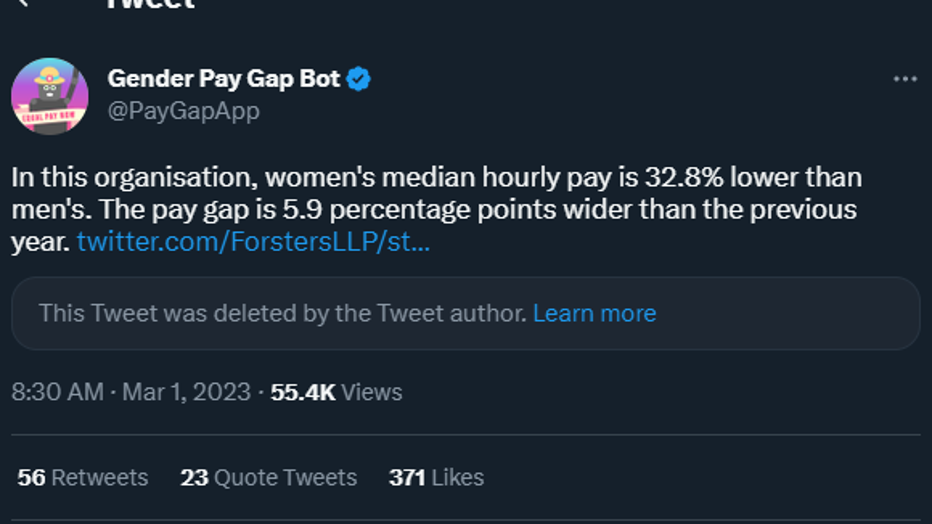 Other accounts have reacted by disabling their comments after receiving considerable attention on larger pay gaps. 
Some pay gaps are extremely small, while gaps are reversed where women earn more than their male counterparts.
READ ALSO: Donors contribute over $55 million for new Smithsonian American Women's History Museum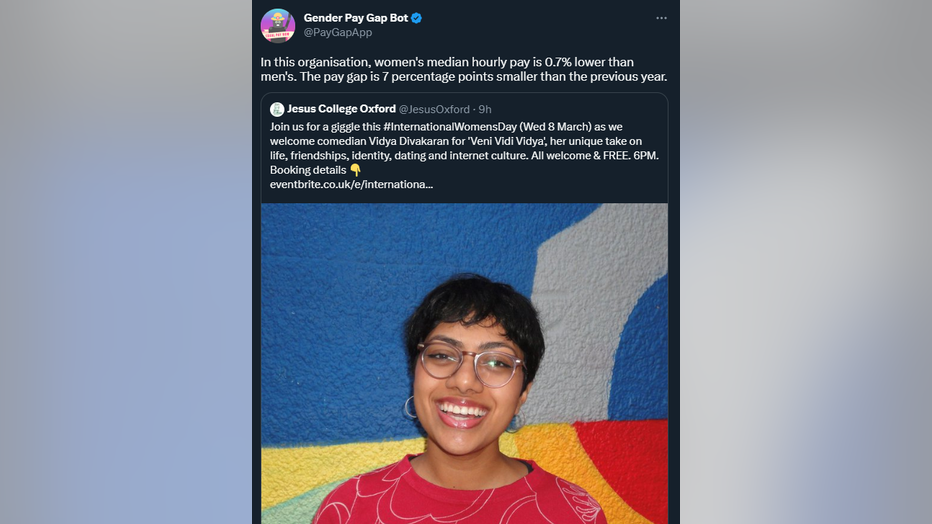 It's unknown if the bot plans to expand to U.S. businesses or more throughout Europe, but it doesn't seem like the bot or the people behind it are slowing down anytime soon.
O. Gloria Okorie is a digital reporter for KTVU. Email O. Gloria at o.gloria.okorie@fox.com or call her at 510-874-0175. Follow her on Twitter @ogloriaokorie.