Two arrested in East Oakland fireworks bust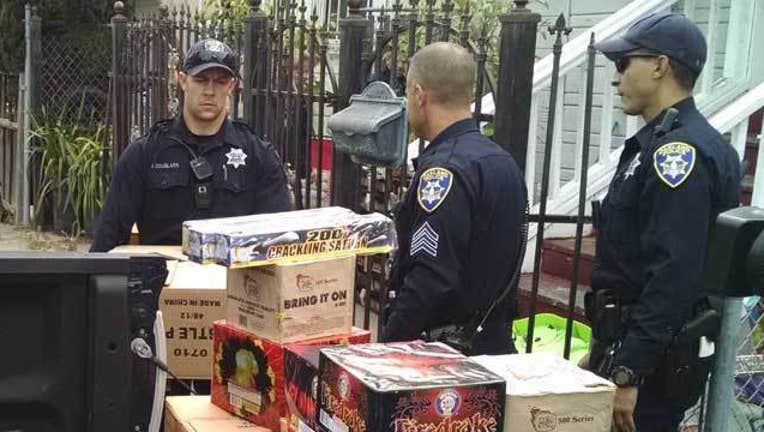 article
OAKLAND, Calif. (KTVU) -- For the second day in a row, Bay Area police have made a major fireworks bust.
On Wednesday, there was a bust in a San Francisco Chinatown business.
Then on Thursday, Oakland Police swept into a home on the 1100 block of 82nd Avenue, in one of the biggest fireworks busts OPD has ever seen.
With a conservative street value of $50,000, it was a parade of danger. One after another, Oakland Police officers carried out boxes of illegal and highly explosive fireworks from the home.
"I've never seen this many fireworks confiscated at one time," said Cynthia Perkins, Oakland Fire Department spokeswoman.
The police raided the home at about 7:45 a.m., after an investigation into illegal fireworks.
Officers say children were in the home and in harm's way, as the fireworks sat stacked neatly in the basement.
"We're dealing with fireworks that could potentially harm or kill someone. That's always a concern for us," said Johnna Watson, Oakland Police spokeswoman.
In Oakland, the term "illegal fireworks" is actually redundant because all fireworks - including the so-called safe and sane variety - are illegal.
But unlike the safe and sane kind, which are legal in parts of Alameda County, these fireworks are professional grade, and both shoot into the air and explode. "I do know that we have a significant amount of fireworks that will not be shot this July 4th weekend," added Perkins.
For years, Oakland has had a serious problem on and around July 4th with fireworks lighting up the sky all over the city.
Just about every night this time of year, people set off fireworks with no regard for personal safety or fire danger.
"We have to remember that we are in a drought situation right now. And the majority of these fireworks are those that are aerial. They shoot up into the air. And just imagine the magnitude of the fireworks that we received today going up into the air and landing in the hills area somewhere," said Perkins.
 After the bust, nearby residents were breathing a sigh of relief. "I'm glad they caught them. Because there's children in this area. Children live in this area," exclaimed Monica Thompson.
Officers arrested two men and escorted them to a waiting police car. KTVU asked one man where he got the fireworks, and he responded sarcastically, "from you."
Both men - one in his 20s, the other in his 50s - could face hundreds of felony charges.