Two men held without bail are charged in rape of intoxicated woman in taxicab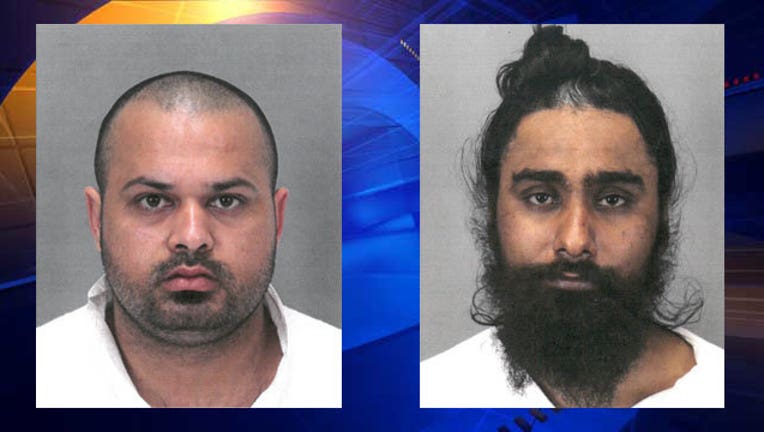 article
SANTA CLARA COUNTY, Calif. (KTVU) -- Two men have been formally charged with multiple felony counts in the sexual assault of an intoxicated woman in a taxicab on Sunday in Sunnyvale, according to the Santa Clara County District Attorney's Office.
Navjot Singh, 29, and his roommate 30-year-old Gurminder Sekhon, both of Santa Clara, are charged with rape in concert, kidnapping for the furtherance of rape, rape of an intoxicated person, sodomy by force and assault by use of force likely to create great bodily injury, Supervising Deputy District Attorney Luis Ramos said.
Singh was arraigned on the charges in Superior Court in San Jose on Wednesday and Sekhon will be arraigned on Friday once an interpreter for Punjabi, the language spoken in the Punjab state of India, can translate for him during the hearing, Ramos said.
A judge on Wednesday ordered Singh held without bail, Ramos said. Singh's next court appearance is set for April 21 and Sekhon is also being held with no bail allowed, according to online jail records.
On Sunday, witnesses called the Sunnyvale Department of Public Safety at 6:08 p.m. saying that a woman had been forcibly removed from a taxi in the area of Wolfe and Kifer roads, public safety officials said.
An off-duty Sunnyvale officer in the area observed the cab driving away and followed it until officers in marked patrol vehicles stopped it in Santa Clara and met with the two men inside, later identified as Singh and Sekhon, officials said.
From an investigation, officers determined that at some point while the woman lay unconscious in the cab, Singh and Sekhon both participated in raping the victim, according to the department.
Earlier in the evening, the victim had called for a cab after she had been drinking and Singh picked her up in the vicinity of El Monte Road and Interstate Highway 280 in Los Altos Hills. The two decided to purchase alcohol and consensually drank it together, officials said.
The woman at some point lost consciousness and investigators determined later that Singh then drove to pick up Sekhon and they raped her, public safety officials said.
When the woman regained consciousness, she saw Sekhon was sexually assaulting her inside the taxi, officials said.
A struggle ensued and witnesses called 911 after observing the suspects forcing the woman out of the vehicle, they said.
On Thursday, Yellow Checker Cab Company president Lawrence Silva, whose company owned Singh's vehicle, said he had fired Singh. He expressed condolences for the victim and said the company is cooperating with the investigation.