Uber acknowledges getting complaints about shooting suspect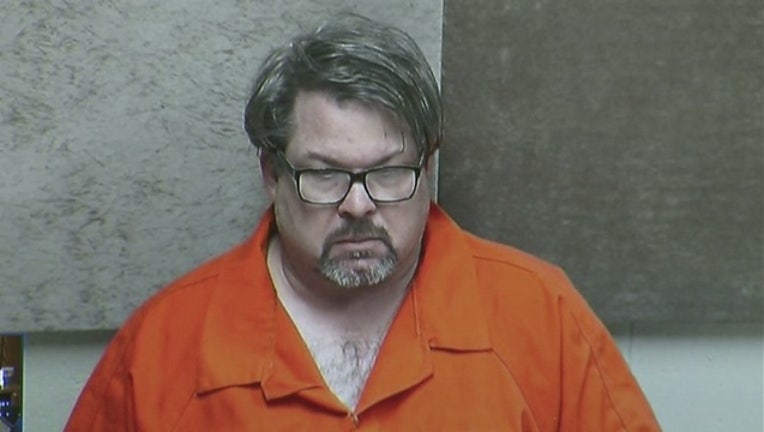 article
KALAMAZOO, Mich. (AP) -- The Uber ride-hailing service acknowledged Monday that it received complaints about erratic driving by the suspect in the random shootings that killed six people in Kalamazoo, and a prosecutor said the man admitted his role in the attacks.
Jason Dalton, the 45-year-old former insurance adjuster, appeared briefly in court by video link and was charged with six counts of murder. A judge denied him bail.

During a talk with investigators, Dalton waived his right against self-incrimination and confessed his role in the shootings, Kalamazoo County Prosecutor Jeff Getting said.
Dalton admitted "that he took people's lives," Kalamazoo police Det. Cory Ghiringhelli told the judge. The murder charges carry a mandatory life sentence. Michigan does not have the death penalty.

Dalton picked up Uber fares after the first shooting and probably got more riders after the subsequent shootings, Getting said.
An Uber passenger said he called police to report that Dalton was driving erratically more than an hour before the shootings began.

Matt Mellen told Kalamazoo television station WWMT that he hailed a ride around 4:30 p.m. Saturday. He said driver Jason Dalton introduced himself as "Me-Me" and had a dog in the backseat.

Mellen sat in front. About a mile into the trip, Dalton got a phone call, and when he hung up, he began driving blowing through stop signs and sideswiping cars, Mellen said.

"We were driving through medians, driving through the lawn, speeding along, and when we came to a stop, I jumped out of the car and ran away," Mellen said. He said he called police and that when he got to his friend's house, his fiancTe posted a warning to friends on Facebook.

Uber said riders complained Saturday about Dalton's driving. When alerted to unsafe driving, company policy is to contact the driver. But Uber officials would not say whether anyone at the company spoke to Dalton, deferring to law enforcement.

Dalton passed a background check and became a driver on Jan. 25. He had given about 100 rides, the company said.

Since Dalton's arrest, several people have come forward to say that he picked them up for Uber in the hours after the first attack. The Associated Press could not confirm those accounts.

Kalamazoo County Sheriff Richard Fuller said Uber is cooperating with law enforcement officials, and he believes the company will "help us fill in some timeline gaps."

Investigators are particularly interested in communication between Dalton and Uber, as well as customers he might have driven, the sheriff said.

Police have not provided a motive. The victims had no apparent connection to the gunman or to each other.

Questions about motive and Dalton's frame of mind are "going to be the hardest to answer for anybody," Fuller said. He expects some answers to emerge in court, but he doubts they will be satisfying.

"In the end, I ask people, because I keep hearing this question of why, `What would be the answer that would be an acceptable answer for you?' They have to think about it for a moment, and they say, `Probably nothing.'

"I have to say, `You are probably correct.' I can't imagine what the answer would be that would let us go, `OK, we understand now.' Because we are not going to understand," the sheriff said.

The attacks began Saturday evening outside the Meadows apartment complex on the eastern edge of Kalamazoo County, where a woman was shot multiple times.

A little more than four hours later and 15 miles away, a father and his 17-year-old son were fatally shot while looking at cars at a car dealership.

Fifteen minutes after that, five people were gunned down in the parking lot of a Cracker Barrel restaurant. Four of them died.

Uber prohibits both passengers and drivers from possessing guns of any kind in a vehicle. Anyone found to be in violation of the policy may be prohibited from using or driving for the service.

Many handguns and long guns were seized from Dalton's home. But there was no indication that he was prohibited from owning the weapons, said Donald Dawkins, a Detroit-based spokesman for the U.S. Bureau of Alcohol, Tobacco, Firearms and Explosives, which was assisting police.

In a statement issued Monday, Dalton's family offered condolences to the families of the victims and thanked law-enforcement officials, saying their "quick and decisive action prevented any further acts of violence."

The family said it planned to help authorities determine why and how the attacks happened.