UCSF medical professionals describe 'horrors' happening in Gaza, call for ceasefire, aid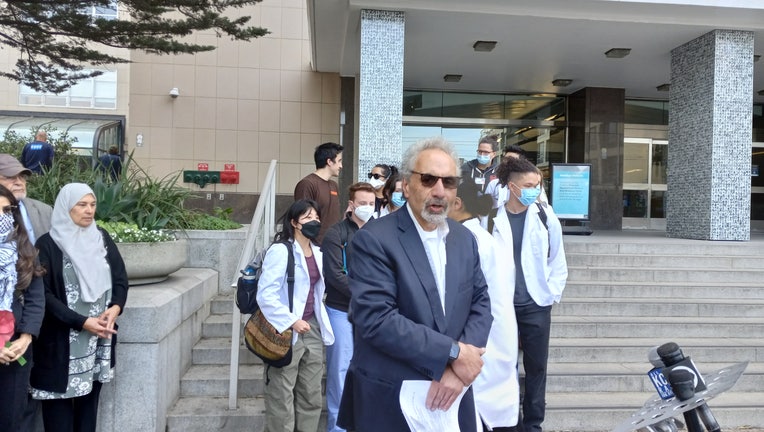 article
SAN FRANCISCO - On Wednesday, medical professionals at the University of California San Francisco Medical Center held a press conference calling for an immediate ceasefire in Gaza between Israel and Hamas.  
The conflict, which began on Oct. 7 following Hamas' attacks on Israel, have led to thousands of civilian casualties as Israeli Defense Forces continue retaliatory measures, including a blockade of Gaza. 
Most every speaker at the event called for an immediate cease-fire, explaining that the ongoing war is causing extreme difficulties in providing care to patients in Gaza as well as causing additional loss of life. 
"It is a moral imperative for the global medical community to call for an immediate cease-fire and the protection of an already devastated health care infrastructure in Gaza," said Dr. Jess Ghannam, a clinical professor of Psychiatry and Global Health Sciences in the School of Medicine at UCSF. "Physicians and health care providers are unable to give care. Basic medical supplies are not getting in. The devastation of the health care infrastructure is occurring at all levels and throughout all sectors in Gaza right now."  
The mental health aspects of the war were also on the minds of physicians at the press conference, noting the toll it can take, particularly on children. 
"At the local level, anyone who experiences the risk of loss of life of loved ones is going to experience flashbacks of these bombs they are experiencing," said Dr. Amin Azzam, a professor of psychiatry at UCSF Weill Institute for Neurosciences, regarding the emotional issues children in proximity to war face. "That has long-lasting trauma from childhood well into adulthood, so you have difficulties forming healthy adult relationships as a result of the trauma you experience as a child, if you even survive." 
Dr. Leigh Kimberg of UCSF mentioned that the lack of supplies as well as contaminated water will likely lead to outbreaks of cholera. 
"The situation is so desperate that people are reaching out to us when they have a moment of internet connection with questions that do not have solutions like, 'How do you treat severe dehydration without water?'" she said.  
MORE: Oakland teachers union creates massive rift over statement regarding Israel and Palestine
"There are no words powerful enough to describe the magnitude of the courage and compassion of our Palestinian medical colleagues as they refuse to abandon their patients," said Kimberg. "As a physician, a mother, a person whose Jewish ancestors fled antisemitic violence and pogroms and as a human being I call on all physicians, health care workers and health care institutions worldwide to respond to this genocide with a loud and unwavering commitment to our sacred oath." 
Kimberg also called for an immediate cease-fire and for safe passages for medical and humanitarian aid. 
Physicians at the press conference also pointed out the wellbeing of mothers and those that are pregnant. 
"Women are forced to give birth without anesthesia," said Dr. Nadia Elkarra, director of Clinical Research Operations at Stanford University. "If we don't intervene immediately, maternal and newborn mortality rates are poised to surge even higher amid this humanitarian crisis. Today I stand here as a voice for the lives we have the power to save." 
Rupa Mayra, co-founder of the Do No Harm coalition, which was one of the conference's organizers, said colleagues hear from medical professionals in Gaza who describe "clinical horrors."  
"Silence now is an unacceptable complicity. Our physician, nursing, and healthcare colleagues in Gaza are under direct attack, and they are calling for our help." said Mayra.