UK roller coaster crash leaves 4 seriously injured, 12 stuck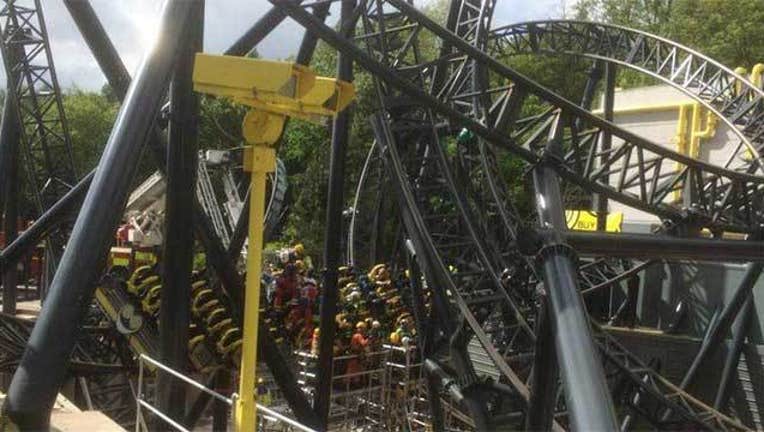 article
LONDON (KTVU-AP) -- One roller coaster car slammed into another Tuesday on one of Britain's biggest amusement park rides, leaving four teenagers seriously injured and stranding passengers 25 feet in the air, officials said.
Work to evacuate the passengers was still underway three hours after the crash.
A car on the Smiler ride carrying 16 people crashed into an empty, stationary car at the Alton Towers amusement park a little after 2 p.m., the West Midlands Ambulance Service said. It said two teenage boys and two teenage girls suffered serious leg injuries.
The ambulance service said the four were being treated at the scene and would be transported to trauma centers by helicopter. It said the other 12 people onboard were not believed to be seriously hurt.
Musician and radio broadcaster Danny Simm tweeted that he saw "people unconscious, knocked out. Blood everywhere. It really was shocking."
Alton Towers, 150 miles (240 kilometers) north of London, is one of Britain's most popular tourist attractions. The park said there would be "a full investigation once all the guests have been evacuated, which is our priority."
A platform was built to help paramedics and firefighters reach the riders, who were stuck in their seats at roughly a 45-degree angle.
Visitors to Alton Towers said the Smiler closed down earlier in the day because of technical problems, but had reopened before the crash.
The Smiler is billed as the world's first roller coaster with 14 loops. Alton Towers says it features "a series of twisted psychological effects including optical illusions, blinding lights and near misses designed to mess with your mind."
It opened in May 2013, two months later than scheduled, and has twice been shut down because of technical or mechanical problems.