University committee OKs tuition hikes for nonresidents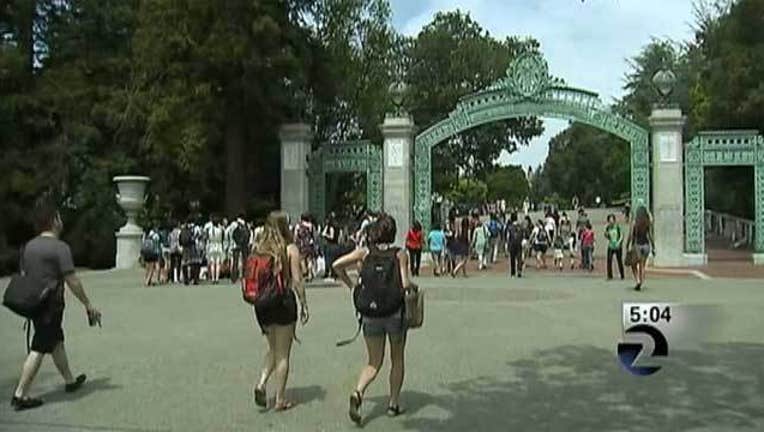 SAN FRANCISCO (AP) -- Undergraduates from outside California and graduate students preparing for careers outside academia will pay more to attend the University of California in the fall under a revised plan approved by members of the 10-campus system's governing board on Thursday.
The tuition hikes endorsed by a Board of Regents committee included an 8 percent increase in the premium non-Californians pay to pursue bachelor's degrees at UC schools. The number of students from other states and abroad has grown rapidly at most campuses in recent years, and the higher charges will bring their tuition and fees to nearly $37,000 in the fall.
The increase resulted from a budget compromise between Gov. Jerry Brown and UC President Janet Napolitano that for the next two years would freeze in-state tuition at $11,220 for all in-state students except those pursuing professional degrees but does not include any money to expand undergraduate enrollment for Californians.
Under their agreement, graduate students in fields such as medicine, nursing, business and journalism but not law would pay anywhere from 1.5 percent to 20 percent more next year. It also would keep nonresident tuition for graduate students in academic disciplines at $26,322 next year.
The full board was expected to endorse the deal on Thursday afternoon. UC officials, meanwhile, are lobbying the Legislature for $50 million above the $120 million budget increase Brown has proposed next year, money they said would allow them to expand undergraduate resident enrollment by 500 slots in the fall and another 2,110 the year after.
Democratic leaders have been pressuring Napolitano to prioritize California residents in admissions decisions over higher-paying nonresidents, who now account for about 14 percent of all UC undergraduates. They have also discussed tying any additional money to out-of-state tuition rates even higher than the one negotiated between the governor and Napolitano.
Christopher Kan, a UC Santa Cruz graduate student, told the board on Thursday that while California undergraduates were grateful to have been spared the 5 percent tuition increase they faced in the fall under an earlier plan adopted by the regents, the university now runs the risk of diminishing its reputation by making it too expensive for international and out-of-state students.
"The promise of the University of California is that of a world-class university, and such a university needs a diversity of thought and experience," Kan said.