Video: Cat trapped on Ohio interstate rescued by state trooper, good Samaritan
LUCAS COUNTY, Ohio - Two women recently combined forces to rescue a cat from an interstate in Ohio, a newly released video shows. 
Footage posted by Ohio State Highway Patrol on Tuesday shows the trooper, identified as Katie Thomas, approaching the cat, who was huddled against a concrete barrier on I-475 in Lucas County. 
The feline then scurries away and climbs on top of the tire of her patrol vehicle. Thomas then removes the cat – with the help of another woman – and puts the animal in her car's backseat.
According to the department, the lucky cat was taken to the Toledo Humane Society and named "Trooper."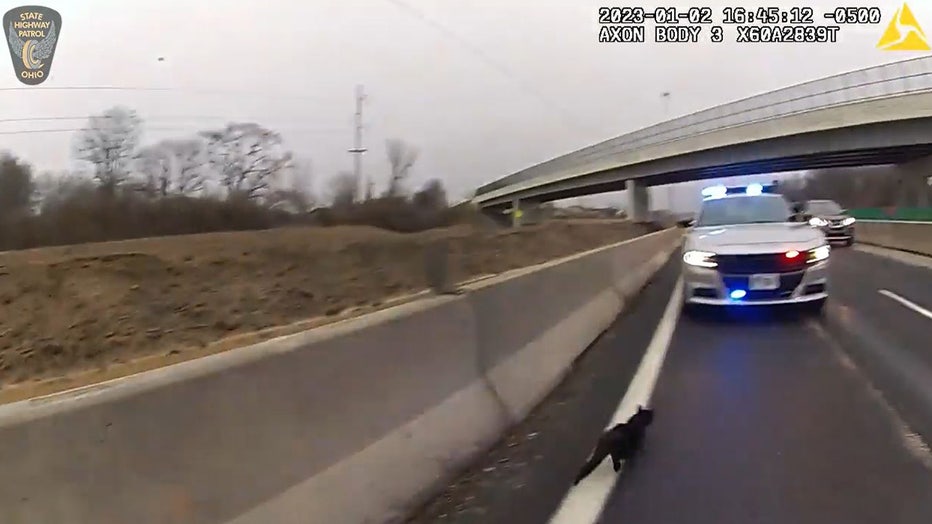 According to Ohio State Highway Patrol, the lucky cat was taken to the Toledo Humane Society and named "Trooper."
Trooper has since found his forever home and been adopted by a local family. 
The Toledo Humane Society thanked the women for rescuing the cat and shared a photo of the cat on his adoption day.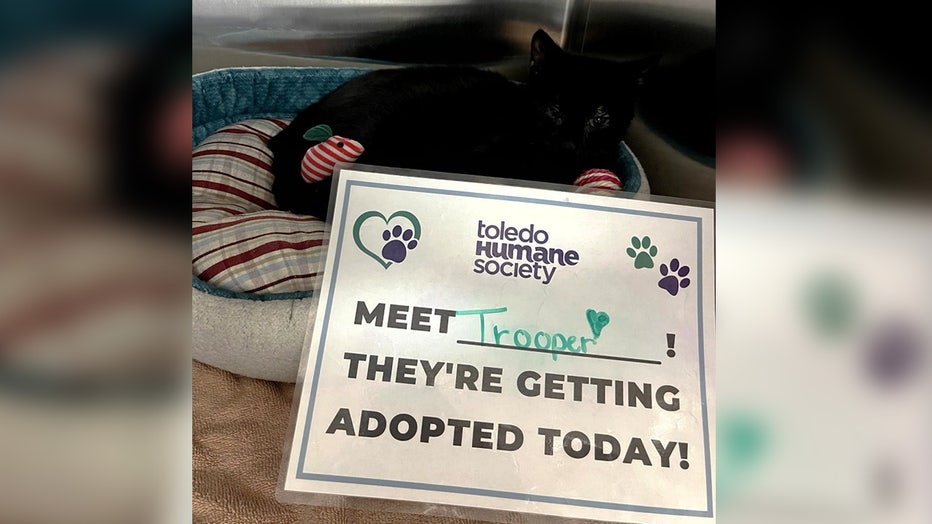 A picture of Trooper on adoption day (Credit: Toledo Humane Society)
"Talk about an amazing rescue!," the humane society said in a post. "We are thankful for everyone in our community who goes above and beyond to help those who cannot help themselves!" 
The organization said Trooper is "happy to be safe and living his best life" with his new family. 
"A BIG thank you to these two brave women who rescued him!," they continued. 
On Sunday, a neighborhood group in Lansing, Michigan, successfully removed a Halloween bucket from a deer's head, which media reported had been stuck on the animal for weeks.
Local media, citing witnesses, reported a young deer had been roaming Lansing with the plastic pumpkin candy bucket on its head for two weeks.
Video recorded by the South Lyon Murphy Lost Animal Recovery on Jan. 22, shows a net falling over the deer before volunteers carefully hold down the animal and release the bucket. The deer is then released into the wild. 
RELATED: Video: Michigan volunteers remove Halloween bucket stuck on deer's head for '2 weeks'
"Lucky has been released from his pumpkin prison," the rescue group wrote in a post on Facebook, adding, "On Halloween remind the folks that are trick or treating to cut the handles. We can prevent this. Deer are sooooo curious, like all life is. We are stewards of nature and we all can do a better job." 
This story was reported from Los Angeles. Storyful contributed.