Volunteer search planned for motorcyclist thrown over Antioch Bridge in crash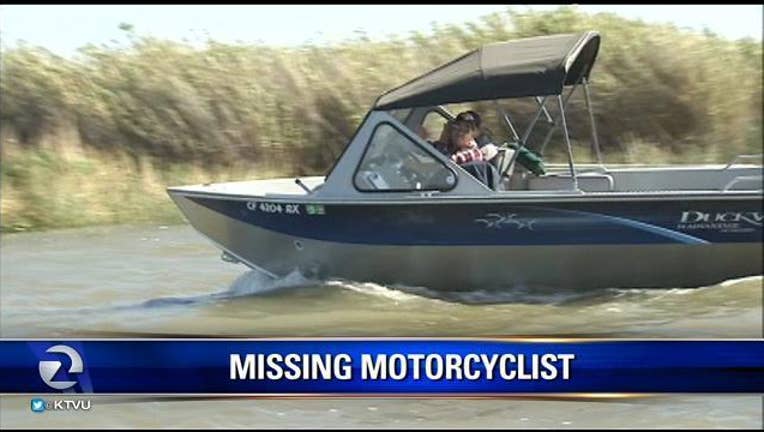 article
ANTIOCH, Calif. (KTVU) - A volunteer search effort is being organized on land and water for the man who was thrown over the side of the Antioch Bridge by the impact of a motorcycle crash.
His body has not been found after almost a week.
Twenty-seven-year old Dylan Rath was on his Harley Davidson, returning from a group ride about 4:30 p.m. on Sunday, April 12 when he collided with a car and plunged to the water, 135 feet below.
"The unknown is the worst," search volunteer Aaron Benson told KTVU at the Big Break Marina in Oakley, "if it was me, I know my family would want me home."
Benson was tinkering with his boat engine, in preparation for a flotilla planned for Saturday, April 18, in which anyone with a watercraft or willingness to walk the shoreline is welcome to help search.
An uncle of Rath's has set up a Facebook page: "Dylan Rath search page" to coordinate the effort and keep volunteers informed.
From Pittsburg to Rio Vista, dozens of people have promised to help.
"I've known Dylan and his brother Jordan since they were born, " volunteer Kim Mitchell told KTVU, as she distributed hundreds of "Find Dylan Rath" flyers at docks, parking lots, marinas, and bait shops on Friday afternoon.
"He has to be found for the family," added Mitchell, "and the only way for that to happen is for people to know he's still missing."
Rath was riding with two other motorcyclists on the two-lane bridge when he rear-ended a Honda sedan at high speed and was flung from his bike, over the guard rail.
The driver of the Honda was not injured.
Rath's fiancée Ashley, and other loved ones, came to the bridge after the accident.
The family was heartbroken as darkness ended the official search; Rath's motorcycle helmet was all that was found.
Rath worked for a beverage distributor and was the father of a three month old daughter.
An online "GoFundMe" account has been established on the baby's behalf.
"They should have closure, and they should have him home, " declared Benson, who said he will launch his boat every chance he gets.
"If the weather's not too bad and the water's not too choppy, and unsafe to be out on, then I'll go out and search," he vowed.
Even visitors renting kayaks this weekend are likely to see the flyers about Rath.
"It's really sad, it's horrible, and we've got to hope for the best for the family," Byron Baldwin told KTVU, at the counter of Adventure Sports, which rents kayaks at Big Break Marina.
Baldwin described the delta channels as often shallow, but murky and muddy on the bottom.
"When stuff gets down in there, it really holds it down, " explained Baldwin, "and from what they described, the man was wearing full leathers, which would weigh his body down".
Fishermen arriving to catch bass Friday afternoon thought it likely that Rath's body is caught up in submerged debris or thick tules.
"When we're fishing, we troll the tule lines, so if a body is pushed somewhere, it'll be pushed into tules, " Mike Gonzales of Oakley told KTVU, "and since there's a couple of bass tournaments this weekend, there's a good chance he might be found."
Gonzales had not heard about Rath's crash until he saw the posters, and as he and his fishing companions headed out, they were scanning the shoreline with concern.
"I have a 25-year-old son, and I can't imagine losing him," Bob Fambrini of Antioch told KTVU, "and to have it happen like that, just crazy."
Searchers were planning to meet Saturday between 11a.m. and noon at Laurenzens Harbor in Antioch, under the bridge.