Walk-on to Heisman: Oklahoma's Mayfield wins in landslide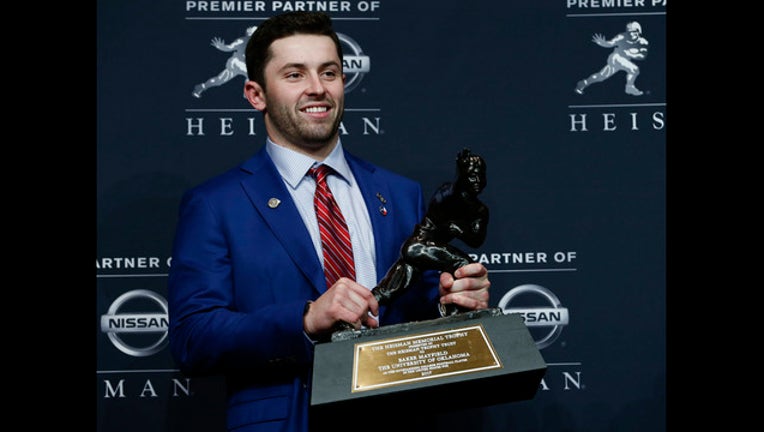 article
By RALPH D. RUSSO
NEW YORK (AP) -- Baker Mayfield took a unique road to the Heisman Trophy, a long and winding climb from walk-on to one of the most accomplished players to ever play college football.
The brash, flag-planting Sooners star became the sixth Oklahoma player to the win Heisman Saturday night in one of the most lopsided votes in the 83-year history of the award.
Stanford running back Bryce Love was the runner-up, making it five second-place finishes for the Cardinal since 2009. Louisville quarterback Lamar Jackson, last year's Heisman winner, was third, the best finish by a returning winner since Tim Tebow of Florida in 2008.
Mayfield received 732 first-place votes and 2,398 points. Love had 75 first-place votes and 1,300 points and Jackson received 47 and 793. Mayfield received 86 percent of the total points available, the third-highest percentage in Heisman history behind Ohio State's Troy Smith (91.63 percent) in 2006 and Oregon's Marcus Mariota (90.92) in 2014.   
Mayfield is the third player to win the Heisman heading to the College Football Playoff. The second-ranked Sooners meet No. 3 Georgia in the Rose Bowl on Jan. 1. He is the first senior to win the award since Smith and the first Heisman winner to begin his career as a walk-on since athletic scholarships started in the 1950s.
"It's been a tough journey," Mayfield said during his acceptance speech. He choked back tears thanking his parents and Oklahoma coach Lincoln Riley.
"Tried to play it cool," Mayfield said later. "That's not my thing though. I'm a guy that wears his emotions on his sleeve." 
Mayfield finished fourth in the Heisman voting two years ago and third last year. 
"It's motivating for me to be the best in the country," Mayfield said.
He entered this season as one of the favorites and jumped toward the front of the pack when he led the Sooners to an early victory at Ohio State that he celebrated by planting the OU flag in the Horseshoe turf.
He later apologized for that, but that has been Mayfield's career. Spectacular play fueled by grudges, slights and trying to prove doubters wrong. Moxie is the word that gets attached to Mayfield often, but at times poor judgment has gotten him in trouble on and off the field.
Those were really the only marks on Mayfield's Heisman resume because his play has been consistently stellar. He has thrown for 4,340 yards and 41 touchdowns this season for the Big 12 champion Sooners (12-1). For his career, Mayfield is eighth in FBS history in yards passing (14,320) and sixth in touchdown passes (129). He is likely to leave college with the two best single-season passer ratings in major college football.
Pretty good for a scrawny kid who grew up in Austin, Texas, rooting for Oklahoma, but did not receive a scholarship offer out of high school from either the hometown Longhorns or his beloved Sooners.
At Lake Travis High School, Mayfield won a state championship at a school that regularly pumps out Division I quarterbacks. Mayfield was undersized at 6-1 and received just one offer from a Power Five program -- Washington State.
Instead, he walked-on at Texas Tech and started eight games as a freshman. With a glut of quarterbacks in Lubbock, Mayfield left and had only one school in mind.
Oklahoma had Trevor Knight, coming off a Sugar Bowl victory against Alabama and with three more seasons left of eligibility, but that did not dissuade Mayfield. 
Mayfield thanked former Oklahoma coach Bob Stoops, who also was at the Best Buy Theater in midtown Manhattan, for welcoming a "chubby, unathletic kid into the program with open arms."
His departure from Texas Tech was contentious. At first, he lost a year of eligibility, despite not being on scholarship. Texas Tech could have given permission to waive the lost year, but did not.
Mayfield eventually got that year of eligibility back when the Big 12 tweaked its rules, but he never did let it go. For his last game against Texas Tech this season, he wore the "Traitor" T-shirt that some Red Raiders fans wore when he first returned to Lubbock with Oklahoma.
Later in the year, it was Kansas -- or all teams -- that tried to get the volatile Mayfield off his game. Jayhawks captains refused to shake his hand during the pregame coin flip. They trash-talked Mayfield and even took a late hit at him. He responded by screaming profanities and making a lewd gesture that television cameras caught. That led to a public apology from Mayfield, his third this year.
The first came after he was arrested in Fayetteville, Arkansas, in February for public intoxication, disorderly conduct and fleeing. He pleaded guilty to three misdemeanors and paid a $300 fine. The second came after that flag planting in Columbus, Ohio, after the Sooners beat the Buckeyes. Mayfield said before that early season showdown that the Buckeyes had irked him by celebrating on the Sooners' field in 2016.
Mayfield joins Jason White and Sam Bradford as Oklahoma quarterbacks who won the award since 2003. Only Notre Dame, Ohio State and USC have won more Heisman trophies with seven each.
Mayfield is an old-school winner. For decades, seniors dominated the Heisman, but over the last 10 years four juniors, four sophomores and two redshirt freshmen have won the Heisman. By comparison Mayfield has been around forever, that first season at Texas Tech coming in 2013. He has played 47 college games. Only USC's Carson Palmer with 50 had played more when he won his Heisman in 2002.
There is at least one more game to play for Mayfield, and maybe two. He and the Sooners will go into the playoff as a slight underdog against Georgia, which seems only appropriate for a player who has built his career on exceeding expectations. 
Asked what has been his best moment, Mayfield predictably answered: "It hasn't happened yet."