Walnut Creek police search for victims recorded in Starbucks bathroom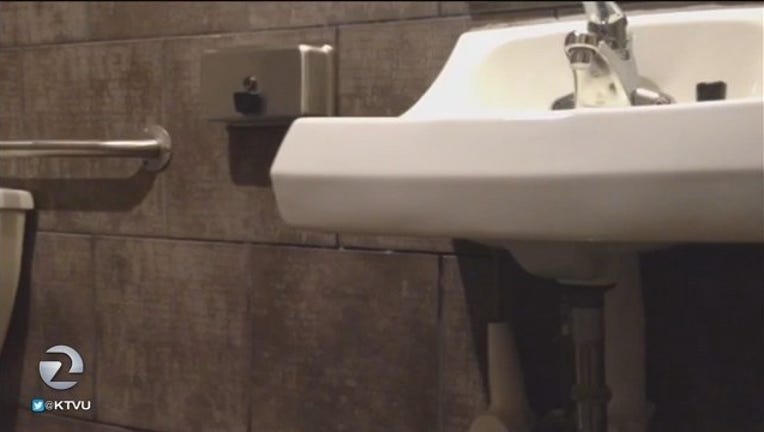 WALNUT CREEK, Calif. (KTVU) - Walnut Creek Police are making an unusual request – they are looking for people who've used a particular Starbucks restroom on two different afternoons, eight weeks apart.
That's because a man has been arrested for videotaping people in that bathroom, and investigators want to identify the victims.
"We'd like to find the 13 victims on the two videos," Detective Gabe Mauro told KTVU, "and we feel it's important that they know because they have a right to know."
The suspect, arrested Thursday at his Benicia home, is 34-year-old Jacob Turner.
Investigators seized his computer and other evidence that could reveal more alleged victims.
"Based on what we recovered, we believe there are going to be more victims, at least another dozen, and maybe more," said Det. Mauro, "we have evidence this has happened on other occasions, at other places."
Turner allegedly used a "Flip" video recorder, a camera that's a little smaller than an iPhone, to secretly record an hour of restroom video on both Friday February 6th and Tuesday April 14th.
The camera was affixed under the sink, where it wasn't noticeable to patrons.
The first time it came to light in February, a customer found the camera and turned it in, but it went into lost and found without anyone checking it.
Weeks later the manager turned it on - was horrified by what she saw - and called police.
Based on when it was discovered, and tracing credit card transactions and surveillance video, investigators were able to narrow their suspicions to Turner.
This week, as they prepared to seek an arrest warrant, a second camera was found stuck under the sink.
Employees had been instructed to examine the restroom since the first incident, and the second time, a worker made the discovery.
"It kind of makes me feel uncomfortable in any public bathroom," customer Joveili Gutierrez told KTVU,
"I wonder every time I use a restroom if there's going to be a camera."
Her companion Alex Murio was grossed out too.
"What was going through his mind," Murio wondered, "how would you feel if that was your wife or your family member in there?"
Both men and women were videotaped, since the restroom is unisex.
It appears juveniles are on the recording too, which could lead to more serious charges.
Turner is accused of electronic peeping. Police say he offered no resistance, or explanation, when they went to his house to arrest him. He is not a registered sex offender.
The dates and times in question are: Friday February 6th, between 2:30- 4 p.m. and Tuesday April 14th between 2-3 p.m.
Customers who recall being in the Starbucks at 1152 Locust Street and using the restroom during those hours, should contact Walnut Creek Police.